Oregon Man Airlifted to Hospital After Slashing His Leg With Machete While Hiking in the Wilderness
A man who accidentally slashed his leg with a machete while hiking in Oregon was rescued and airlifted to hospital.
The 28-year-old man called 911 at around 7 p.m on Saturday after he accidentally struck himself with the machete while hiking in the Mount Jefferson Wilderness, the Jefferson County Sheriff's Office said in a post on Facebook.
The man, who was not identified, had been traveling with another person when the accident occurred and he started bleeding.
The pair immediately wrapped the man's wound and began to hike out of the area, but they were a couple of miles from the trailhead, the sheriff's office said.
After they called 911, deputies from the sheriff's office and search and rescue personnel from the Camp Sherman Hasty Team responded to the scene along with medics from the Sisters-Camp Sherman Fire Department.
"The male walked as far as he could and met the first arriving units on the trail who provided advanced medical care," the sheriff's office said in a statement.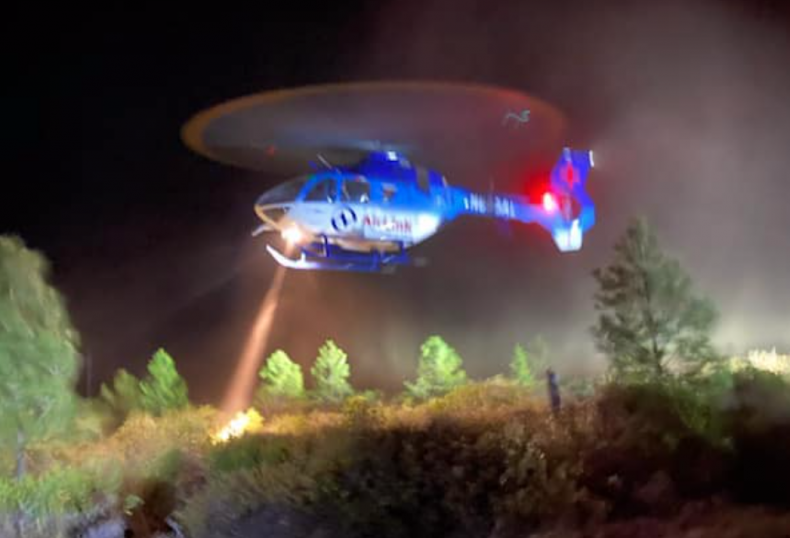 Several rescue teams had transported the man from the hiking trail to the trailhead before he was airlifted to St. Charles Hospital in Bend, the sheriff's office said.
The teams brought a wheel litter along the trail and the man was transported to a waiting ambulance at the trailhead. He was then transported around half a mile by ground ambulance to a waiting Air Life Helicopter who transported him to hospital at about 10.15 p.m.
"The Jefferson County Sheriff's Office would like to thank all those involved with the rescue and remind everyone SAR assets state wide are very stressed during the COVID-19 pandemic," the sheriff's office added.
"We ask people to please be extra cautious during this time and to choose where they go wisely."
Oregon's statewide stay-at-home order, imposed to stop the spread of coronavirus, remains in effect. Under Gov. Kate Brown's order, people in the state are permitted outdoor activities such as hiking.
Her office's guidance says outdoor recreation organizations are required to reinforce the importance of maintaining at least six feet of physical distance between parties on hiking trails, beaches and boat ramps through signs and education.
Last week, Brown announced that counties that meet certain criteria will be eligible to enter phase one of reopening on May 15, which will permit restaurants and bars opening for dine-in service, the opening of personal care and services businesses, and gatherings of up to 25 people.
Oregon has more than 3,200 cases of COVID-19, the disease caused by the novel coronavirus, and 130 deaths, according to the Oregon Health Authority.
This infographic, provided by Statista, shows the U.S. states with the most COVID-19 cases as of May 12.