Oregon Mayor Urges Businesses to Defy 'Arbitrary' COVID Restrictions
A mayor in Oregon wrote an open letter to Governor Kate Brown on Thursday calling the state's coronavirus rules "arbitrary," saying they have bankrupted family businesses.
"I can tell you that our neighbors are simply unable to continue drowning in arbitrary rules that are bankrupting their family businesses, disconnecting children from their friends and teachers, and causing our neighbors to spiral into depression and anxiety," reads Stan Pulliam's letter, posted to Facebook on December 17.
The mayor of Sandy encouraged Oregon business owners to join a coalition to reopen on New Years Day. He wrote that on January 1, members of a coalition in counties labeled "Extreme Risk" will voluntarily comply with the governor's less restrictive "High Risk" measures, which allow restaurants and gyms to open at a reduced capacity.
Pulliam stated the coalition will "follow with one level below the state mandate until the risk levels change to reflect our compromise."
He told local TV station KOIN 6 News the decision to act on January 1 was both symbolic and strategic, as it will let business owners start fresh in the new year and leave 2020 behind. However, it was also chosen because the government agencies that enforce COVID-19 restrictions are closed that day.
"My understanding is that OLCC and OSHA and other government agencies are typically closed on January 1, so it does provide our owners a little bit of comfort in knowing that," the mayor told KOIN 6 News.
Pulliam noted at the end of his letter that it was a statement by him alone and does not represent the collective feelings of the Sandy City Council.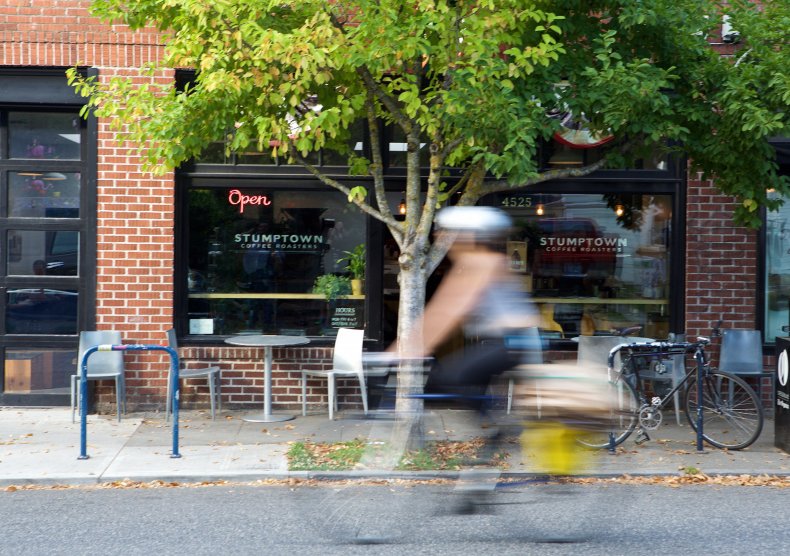 Earlier this month, following Oregon's two-week statewide freeze, which restricted restaurants to takeout only and closed gyms among other recreational businesses, Brown announced a four-category system of restrictions based on the rate of COVID-19 spread in each county.
The categories range from "Lower Risk" to "Extreme Risk". Each category comes with different rules, with more limitations for counties in higher risk zones.
At the time of initiation, 25 of Oregon's 36 counties fell under the "Extreme Risk" category, which limited restaurants and bars to a maximum of 50 people for outdoor dining only.
On December 19, Pulliam told KOIN 6 News that Brown hasn't replied to his letter. However, the mayor noted he would "welcome a discussion with Governor Brown."
In an emailed statement to Newsweek on Monday, Pulliam wrote, "The courageous business owners of our New Years Day opening coalition and their employees are in the fight of their lives. They're ready to open safely in a way that strikes a balance between slowing the spread of COVID and preventing irreversible economic destruction."
Pulliam continued: "Why is it that we can pack people into malls to support corporate America but we can't dine with Main Street business owners with proper safety? The double standards must end."
Newsweek reached out to Brown's offices but didn't hear back in time for publication.