Oregon Wildlife Refuge Occupiers Say They Fear Raids by Feds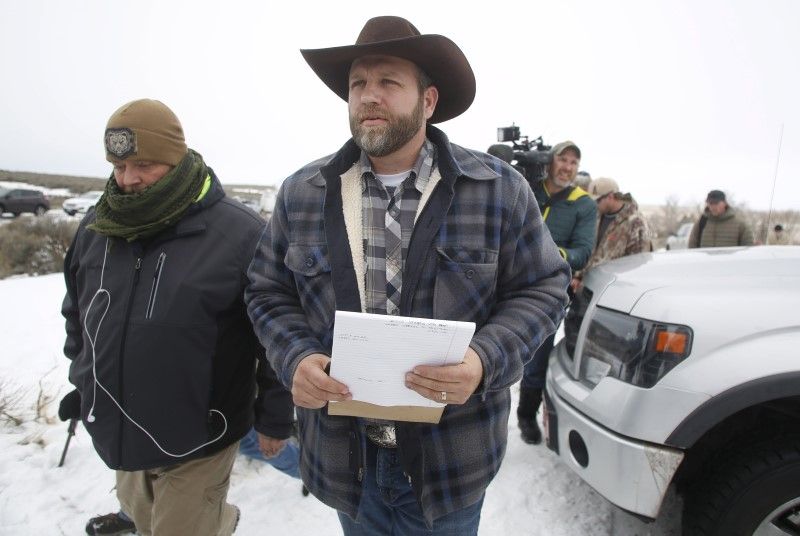 Updated | While tensions rise in the fifth day of their occupation of a federal wildlife refuge in rural eastern Oregon, a member of the armed group of men demanding the land be returned to local citizens has said they fear a federal raid is on the horizon.
Around 20 people remain stationed at the Malheur National Wildlife Reserve near Bend, Oregon. One of the militiamen, Arizona rancher LaVoy Finicum, told the Associated Press Tuesday that he believes federal authorities have issued arrest warrants for five group members, including himself and Ammon Bundy. The FBI in Portland is referring the press to the Harney County Joint Information Center, which said in a statement on Tuesday that it is "still working on a peaceful resolution" and has no information on arrests or arrest warrants.
On Tuesday, members of the group, which calls itself Citizens for Constitutional Freedom, placed a plow vehicle in the refuge's driveway to block it off.
Ammon Bundy, the leader of the group, and his son Cliven Bundy told reporters on Tuesday that in the event of a raid, the ranchers would take a defensive position. Cliven Bundy is best remembered for his own armed standoff with federal officials at his Nevada ranch over grazing rights in 2014.
CNN reported on Tuesday that Ammon Bundy took out a $530,000 federal loan from the Small Business Administration in 2010 for his company, a truck maintenance firm called Valet Fleet Services. When asked about the loan, Ammon Bundy said, "I am not anti-government," adding that "there is a role for government and that the federal government's role is to protect the states from the outside world."
The standoff in Oregon began as a peaceful protest against the conviction of Dwight and Steven Hammond, two ranchers found guilty of arson of federal land. A number of demonstrators on Saturday night broke off from the protest and started their occupation of the wildlife refuge, saying they intend to remain on the reserve until federal authorities return the land to local citizens.
Many members of the public have denounced the standoff as an example of white privilege. Militia members have pointed armed weapons at the police with no retaliation, which has been contrasted against the instances of police killings of black Americans that have made headlines recently. The protest has also inspired Twitter users to come up with alternative names for the group, including #YallQaeda, #VanillaISIS and #YeeHawdists, Americanized versions of extremist groups.
This article orignally included reference to a tweet appearing to be from an account belonging to Ammon Bundy that said, "we are doing the same thing as Rosa Parks." The tweet is actaully from a parody account that doe not belong to Ammon Bundy. Newsweek has removed the tweet.