Oregon Politician Admits Writing 'Racist Letter' Telling Himself He's 'Not Welcome Here'
An Oregon politician who claimed last month to have received a "racist letter" in the mail has admitted that he wrote the letter himself, law enforcement officials said.
Jonathan Lopez, a candidate for Oregon's Umatilla County commissioner, said he had received the letter via his mailbox on June 23. In a photo posted to his public Facebook account, the typed letter addressed to "Mr lopez" has parts blurred out and appears to contain racial slurs.
"Your not welcome here and will never be anything in this community or state," one part of the letter reads. "Umatilla County kills [redacted] like you and are dumped in the fields and river. That's why our crops are the best!"
Lopez's post had been shared hundreds of times in less than 24 hours, KEPR-TV reported.
Along with the letter, Lopez stated on Facebook that he had "no resentment for whomever wrote this" and that he was "heart broken for the lack of knowledge, education and respect missing," according to KEPR-TV.
Social media accounts for Lopez seemed to have been removed as of Wednesday. His official website, lopez4umatillaco.com, was also unavailable.
On Monday, Hermiston Police Chief Jason Edmiston wrote in an email statement to Newsweek that Lopez had confessed that he was the one who wrote the letter.
"From the onset, this alleged incident has been thoroughly investigated," Edmiston wrote. "Our investigation has shown that Mr. Lopez wrote the letter himself and made false statements to the police and on social media. The end result is a verbal and written admission by Mr. Lopez that the letter was fabricated."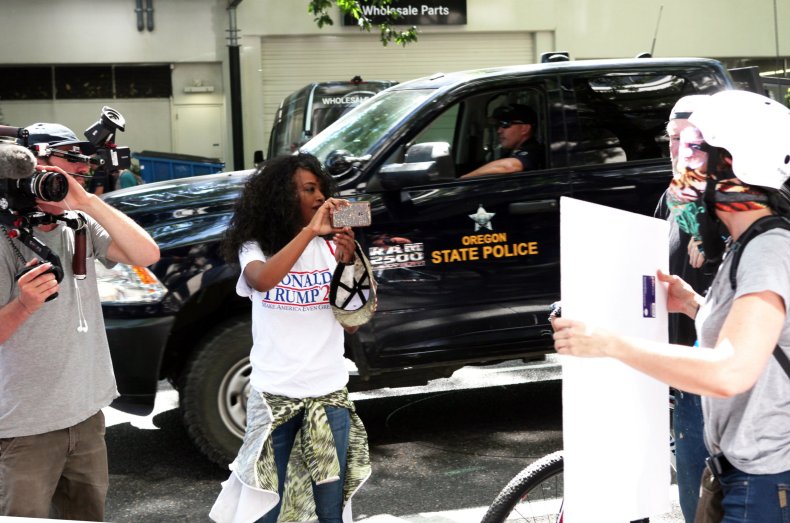 Police had initially launched an investigation into the incident for second-degree intimidation but closed it after realizing that the letter was fabricated, according to Edmiston's statement.
Edmiston added that the case would be sent to the Umatilla County District Attorney's office for review for initiating a false report, which is a Class A misdemeanor in Oregon.
Edmiston wrote to Newsweek that officers would also send to the district attorney's office "verifiable information of potential election fraud as it pertains to the Stolen Valor Act of 2013 and other false credentials presented by Mr. Lopez during his run for county commissioner," which could result in additional charges.
A representative from the Umatilla County District Attorney's office told Newsweek that a report under Lopez's name did not appear in their system.
Umatilla County District Attorney Daniel Primus told Newsweek that his office was aware of the investigation into Lopez and is awaiting the report.
In an emailed statement to Newsweek, Lopez apologized to Umatilla residents and the nation for his "wrongful doings."
"The letter written by me came from a dark low place," the apology statement read. "It should have never been written."
In the apology statement, which was dated July 8, Lopez said that he had accepted that he "was not suited or fit to be in public office or leadership," stating that he has been "dealing with many emotions, feelings, and thoughts for several months."
Lopez had told the East Oregonian that he "never meant to mislead the public," and that the situation was a big misunderstanding.
Lopez had initially wanted to speak with Edmiston about racism in Umatilla County and use the letter as an example of the kinds of racism people can experience, the East Oregonian reported.
Edmiston told Newsweek that what happens next will be up to Primus and his office.
"Under normal circumstances, we would have arrested and lodged Mr. Lopez in the Umatilla County Jail," Edmiston wrote, on one count of initiating a false report. "However, due to medical concerns relayed to us by Mr. Lopez, the follow-up interview was conducted via telephone."
Edmiston is hopeful that the district attorney's office and the Oregon Department of Justice will work together to decide the best outcome concerning Lopez's case, he said.
During the May 2020 primary, Lopez had run for a seat on the Umatilla County Board of Commissioners but placed fourth.
The letter incident is not the first time Lopez has encountered law enforcement officials, Edmiston told Newsweek.
Lopez, who said he had moved to Hermiston in January 2018, had applied four times to volunteer with the city or its fire district. Each time, Edmiston had to run a background check before Lopez could begin volunteering, Edmiston wrote.
When Edmiston ran a complete criminal history for Lopez through Oregon's Law Enforcement Data System (LEDS), he noticed a 2013 arrest in Virginia concerning "some very serious person-to-person crimes involving a weapon," Edmiston wrote.
LEDS showed that Lopez had also been arrested on January 3, 2018, for "impersonating a police officer," Edmiston wrote.
Neither of the charges resulted in convictions, Edmiston acknowledged, and the "matters in Virginia were all dismissed," he added.
But technicalities within LEDS allowed for some of Lopez's background checks to come back clean, enabling him to serve as a volunteer, Edmiston wrote to Newsweek.
According to the Umatilla County voters' pamphlet, Lopez, 29, had served with the U.S. Coast Guard Fire/Rescue team. He has also served as a pastor and worship leader.
Lopez aimed to "reestablish our place in the world by steering our government away from special interests and introducing policies that put money in people's pockets, restore love of our county and restore our presence in our state," the pamphlet reads.
He has served on the Hermiston Hispanic Advisory Committee and the Harrisonburg Chamber of Commerce, according to the pamphlet.
"Under a Lopez administration, as part of the Umatilla County Board of Commissioners, Umatilla County residents will begin winning again," the pamphlet reads.
Update (07/08/20, 3:03 p.m.): This article has been updated to include comments from Umatilla County District Attorney Daniel Primus and Hermiston Police Chief Jason Edmiston.
Update (07/08/20, 9:38 p.m.): This article has been updated to include comments from Jonathan Lopez.