Oregon Power Outage Map: Nearly 5,000 Without Electricity After 3 Days of Blistering Heat
Thousands of Oregon residents are without power on Tuesday following three days of record-breaking heat.
As of 7:10 a.m. local time, 4,911 customers were experiencing outages, according to Portland General Electric.
Users can report outages at Portland General Electric's website under the "Outages & Safety" section. That's where they can also check the status of their power and view a map of where the power has been lost.
There may be more Oregonians without power, but Portland General Electric's map only includes areas where five or more customers are experiencing outages.
One of the most affected areas is Multnomah County, which includes the city of Portland. Nearly 4,000 customers were without power as of Tuesday morning. Clackamas County had the second-highest number of outages, with 413 customers in the area without electricity.
The outages come amid a heat wave that has brought temperatures in the triple digits. The extreme weather was caused by an extended "heat dome" parked over the Pacific Northwest.
Portland International Airport reached a record-high 116 degrees Fahrenheit on Monday afternoon, according to the National Weather Service. It was the highest temperature ever recorded there since historical records began in 1940.
Monday's record-setting heat broke Sunday's record of 112 degrees. Sunday had broken the 108-degree record set on Saturday.
Portland General Electric spokesperson Andrea Platt told Newsweek that the outages are "likely related to the additional stress that high demand through a sustained period of extreme heat has put on electrical equipment within our system."
"In anticipation of this record heat event, and throughout, PGE has had extra crews at the ready to help quickly restore heat-related outages. We appreciate our customers' patience in these difficult circumstances," Platt said.
She added, "Safety is our No. 1 priority, and we have posted tips on preparing for outages, staying safe—through resources such as l211 and local cooling centers—and keeping cool at home on our website and through social media."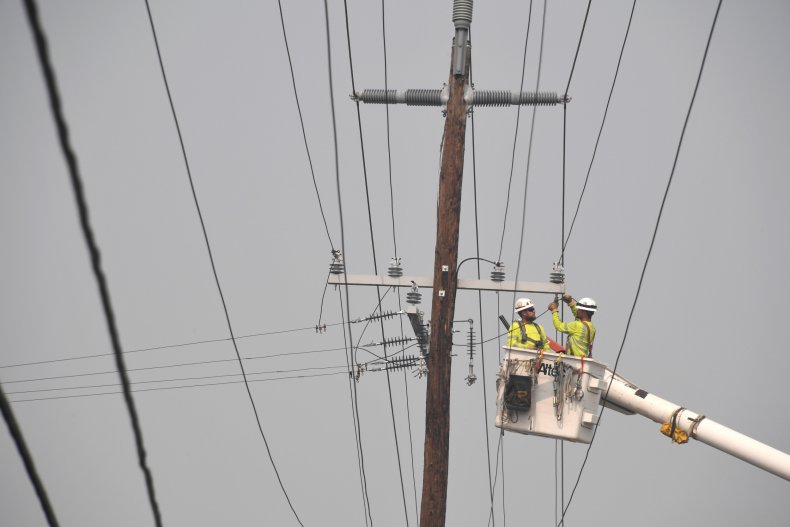 The extreme heat caused Portland Streetcar to suspend service as power cables melted and the heat strained the power grid. A photo posted on the service's Twitter page showed how the heat melted a rubber-lined cable.
Ahead of the heat wave, Portland General Electric said it was preparing for a high demand of electricity as residents attempted to stay cool. The company said extra cooling systems had been activated on essential equipment to help keep it from overheating, and that crews were mobilized to quickly respond to any outages.
Portland General Electric also encouraged customers to take steps to save energy, such as turning air conditioners up a few degrees, closing the blinds and not doing laundry.
Temperatures are expected to cool down by Tuesday evening, according to the National Weather Service. But during the day, eastern Oregon cities, including Pendleton, could see temperatures between 110 and 115 degrees Fahrenheit.
According to Oregon Live, emergency services in Portland reported a spike over the past three days amid the record-breaking heat. A manager for American Medical Response, a private ambulance company, told the news outlet they saw a 24 percent increase in daily call volume compared to this time last year.
The company also reported a 120 percent jump in heat-related dispatches compared to this time in 2020.
Update (6/29/2021, 12:15 p.m. ET): This story has been updated to include a comment from Portland General Electric.