Oregon Prisoners Pepper-Sprayed After Botched Wildfire Evacuation Sparks Riots
Prisoners in Oregon were repeatedly pepper-sprayed after fights broke out during botched wildfire evacuations, according to an attorney representing the inmates.
Attorney Tara Herivel said the state completely mismanaged the evacuation of more than 3,000 inmates who were moved from four prisons in the Willamette Valley last week.
Herivel told Newsweek that officials "created riot conditions" after inmates with minimum- and medium-security classifications were "dumped" at the maximum security Oregon State Penitentiary (OSP) in Salem. "Many of them were supposed to be segregated from each other because of gang affiliations," she said.
When fights broke out, guards at the prison were unprepared and "completely outnumbered," she said. They responded by repeatedly using pepper spray on inmates, further exacerbating the health risks posed by the wildfire smoke as well as the COVID-19 pandemic.
Herivel added that around 1,400 inmates from three prisons in the Willamette Valley were moved to the OSP just four miles away. The state penitentiary has reported at least 143 coronavirus infections among inmates.
"It makes no sense at all. They did not remove them from the danger, they actually increased their danger exponentially," she said.
"They took minimum- and medium-security people who are at the end of their sentences, many medically vulnerable, and put them in the only maximum-security prison in the state where they don't even have a central air system. They have the windows open because the smoke has been so bad."
On a Zoom call Monday, family members of inmates urged Oregon Gov. Kate Brown to release additional prisoners as the state continues to battles the dual crises of the pandemic and fires.
Lynn James-Jackson, whose husband Tacuma Jackson is being held at OSP, said he described the past few days to her as a "nightmare."
Jackson, who has Crohn's disease, was suffering chest and throat pains because of the smoke from the fires, but his condition has worsened after he was pepper-sprayed and denied medical attention, she said.
"He said it's been a nightmare," she said. "He said that when they moved the other two prisons into Oregon State Penitentiary, fights broke out, and an inmate was stabbed.
"At that point, pepper spray was sprayed on everyone in that block... and they moved them out to the yard, however, they never got any medical attention."
An OSP spokesperson told The Guardian that guards had deployed pepper spray "to gain compliance."
Herivel described the cramming of so many inmates into overcrowded facilities as a "superspreader" event, saying inmates have reported that no measures are being taken to limit the spread of coronavirus at the state penitentiary.
"In the middle of a pandemic, in the middle of wildfires, where the Willamette Valley was being hit as hard as almost anywhere in the state, they are using chemical sprays against people, increasing the likelihood of spreading COVID and certainly causing incredible harm in this environment of these twin catastrophes of wildfires, and a pandemic," she said.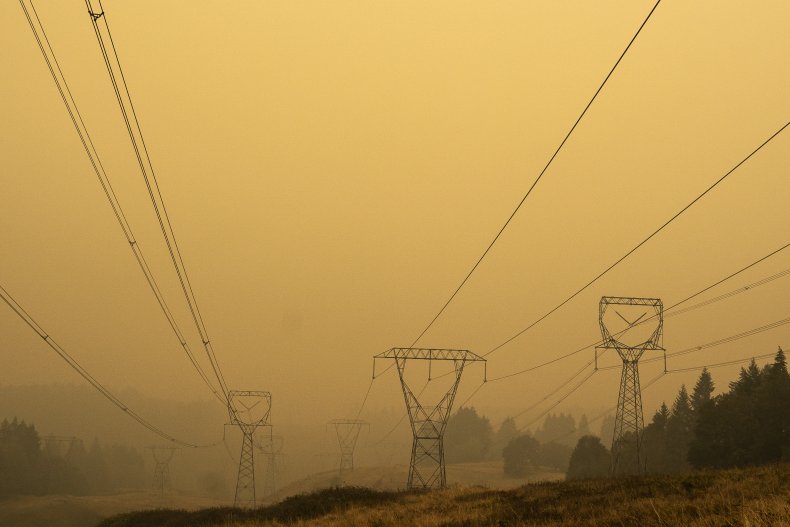 "Everybody that we've spoken with has said there's zero COVID protections taken, nobody wearing masks, no guards wearing masks. It's as if COVID never happened or isn't happening now."
Women evacuated from the Coffee Creek Correction Institution in Wilsonville were left on buses for hours in the middle of the night and not given food, medication or access to restrooms during their transfer to Deer Ridge Correctional Institution in Madras, Herivel said.
"Once they got in, it was a more smoky dangerous environment. No mattresses, no medications or food for 24 hours," she told Newsweek.
Rod Richardson, whose wife Tammy Saylor was among the inmates moved from Coffee Creek, said: "During the recent evacuation, Tammy sat on a bus for eight and a half hours.
"Everyone was told by the officers to go to the bathroom in their pants, women were peeing in cups and throwing tampons and feces out the windows of the buses, because they could not leave the bus to use the bathroom."
When she got to Deer Ridge, she was forced to sleep on a metal bed because bedding had not arrived, Richardson said. The air quality was just as bad at Deer Ridge as it had been at Coffee Creek and "there was nothing really to protect them from COVID," he added.
Chris Gillespie said his wife Mari-Teresa Gillespie, who was also moved from Coffee Creek, is medically vulnerable and has just over two months of her sentence left to serve.
He said she "didn't eat for nearly 24 hours" and said another woman suffered a seizure on the bus after not getting medication.
"The building that they're now in has more smoke in it than the one that they left," he said, describing conditions at the prison as "horrific."
"I understand the nature of the evacuation and the necessity of it but the risk of COVID-19 is even more prevalent and worse than it was before."
More than 180 habeas corpus court cases are pending against the Oregon Department of Corrections, arguing that prison conditions are unsafe and increasing their risk of inmates contracting the coronavirus.
But Herivel said the cases appear to have made no difference to the department's policies.
"That's really remarkable," she said. "There's a class action regarding failure to protect and it's as if these things don't even exist, the way they behave.
"Obviously, staff were totally panicked. They obviously didn't have the protection that they needed from the Department of Corrections. And so everybody who's in that environment is now subject to contracting COVID and sending it out into the community."
In a statement to The Oregonian, Jennifer Black, a spokesperson for the Department of Corrections, said several altercations took place among inmates at the OSP, usually during mealtimes when inmates from different facilities shared the same area, but said no-one had been stabbed.
She added that the department has extensive emergency preparedness plans for evacuations, but that it faced "unique circumstances" it couldn't predict with the latest wildfires.
She conceded that "parts of our plan did not go as smoothly as we would have liked."
But Herivel said the explanation lacked credibility. "You have to predict that there's going to be a natural disaster that requires moving a body of people," she said.
"They're saying, well, we never predicted that there could be wildfires. That's not reasonable. That's what they're supposed to do, predict potential disasters like this and have a plan."
Gov. Brown has not approved mass releases of inmates due to the pandemic or fires, but recently said she would continue making decisions on a case-by-case basis.
The Department of Corrections and Brown's office have been contacted for additional comment.