Oregon Republican Threatens State Troopers Over Climate Change Bill: 'Send Bachelors and Come Heavily Armed'
An Oregon Republican state senator threatened violence against any state troopers the Democratic governor may send over a dispute on climate change legislation.
Update: Oregon Senate Republicans issued a Thursday statement that negotiations with Democrats failed and they are walking out to avoid the cap and trade vote. Democratic senate leader Peter Courtney responded, saying authorities have been contacted to track down the GOP state senators: "I'm requesting you direct Oregon State Police to assist Senate for purposes of establishing quorum."
KGW-TV's Morgan Romero described the scene in Salem Thursday: "Democratic Senators are sitting on the floor waiting to find out if OSP troopers can track the missing Republican Senators down. It's unknown right now how long they'll be waiting for... hours, days..."
Oregon state senator Brian Boquist, a Republican from Dallas, Oregon, was responding to Democratic Governor Kate Brown's ultimatum that she would call state police to round up GOP legislators who are threatening a second walkout intended to block a greenhouse gas emissions cap-and-invest bill. Brown said she would notify state police to compel the GOP lawmakers to attend a special session at the Capitol in Salem until the Legislature's work was complete. But soon after, while speaking with local television station KGW-TV Wednesday, Boquist said the governor better send Oregon state troopers who are "bachelors" and "heavily armed."
Boquist later doubled down on the threat against state police—which he bragged was not "thinly veiled"—and said he will refuse at all costs "to be arrested as a political prisoner in Oregon, period."
Local news outlets initially reported Boquist having responded with, "If you send the state police to get me, hell is coming to visit you personally." But he later clarified his comments to another reporter, saying, "Send bachelors and come heavily armed."
Willamette Week first reported in 2012 that Boquist is a U.S. Army veteran, owned an ammunition company and has ties to the CIA and private military companies.
"I have been in political coup attempts. I have been held hostage overseas. I have been jailed politically overseas," he wrote in an email to The Oregonian/Oregon Live Wednesday.
"I am doubtful the governor will actually come arrest us," Boquist told Salem-based journalist Dick Hughes Wednesday, as the Stealers Wheel song Stuck in the Middle With You played loudly in the background. "The Oregon State police are not authorized under statutory things for civil arguments."
Several state officials suggested Thursday that Republicans may flee the state given that Oregon State Police jurisdiction ends at state lines.
The tense senate situation was first prodded Monday after Republicans debated the prospect of a walkout in order to prevent the large climate change legislation, House Bill 2020, from receiving a vote before the Legislative session ends June 30. In May, the GOP lawmakers walked out and avoided floor sessions over pension reform demands.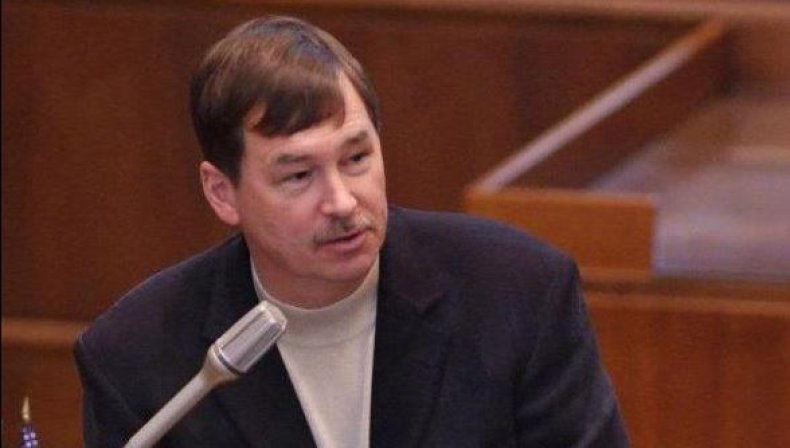 In response, the governor and Democratic Senate President Peter Courtney hinted at their use of state police to bring the Republicans back on July 2 to finish their work and to vote on the greenhouse gas emission bill.
"We ask for, and take on responsibility, as elected representatives of the people of Oregon to show up and speak up on their behalf," Brown said in a statement. "I am prepared to use all resources and tools available to me as governor to ensure that Oregonians are being served by their leaders ... I am in close communication with Oregon State Police."
The Senate Republican leader appeared to side with Boquist in a Wednesday statement.
"My caucus and I have been threatened by the Governor, Senate President and Majority Leader with fines and arrests because they do not agree with our stance to protect rural Oregonians from cap and trade," Senate GOP Leader Herman Baertschiger Jr., said in a statement. "Walking out is part of the conversation because the Governor is not willing to move on her position on the bill, and she is only representing Portland and the environmental community, not rural Oregonians."
The climate change legislation is aimed at compelling companies that operate in Oregon to decrease fossil fuel usage. After Republicans failed to kill the greenhouse gas emissions bill Monday, GOP Representative Carl Wilson issued a statement declaring, "Climate change is a global problem, not an Oregon problem. Oregon's workers should not be punished for the reckless environmental policies of China and India."
Three Republican senators confirmed to Oregon Public Broadcasting they will not be present at the Capitol today. One GOP state senator, Cliff Bentz, said the party is willing to supply at least two legislators needed to reach quorum -- but only if a deal is made beforehand.
"I can safely say that a significant portion of the Republicans will not be in the building today," he told OPB Thursday morning.