Oregon, Scorched By Fire, Braces for Floods as California Blaze Prompts More Evacuations
As the Bobcat Fire rages across the Los Angeles National Forest for its 12th day, emergency officials issued new evacuations for areas north of the blaze.
Concurrently, fire-ravaged Oregon may face flash floods as badly needed rains quickly wash over areas cleared of trees by the recent wildfires.
In California, evacuation orders were issued for the areas north of Angeles Crest North and between Clear Creek Station and Highway 39, Juniper Hills, Devils Punchbowl, Paradise Springs and the area east of Devils Punch Bowl Road, south of the Big Pines Hwy, north of the Big Rock Creek and west of Jackson Lake, according to KTLA-TV.
In an evacuation alert issued Thursday, officials wrote, "If you have not already done so, gather your family, pets, important papers, medications and any emergency supplies."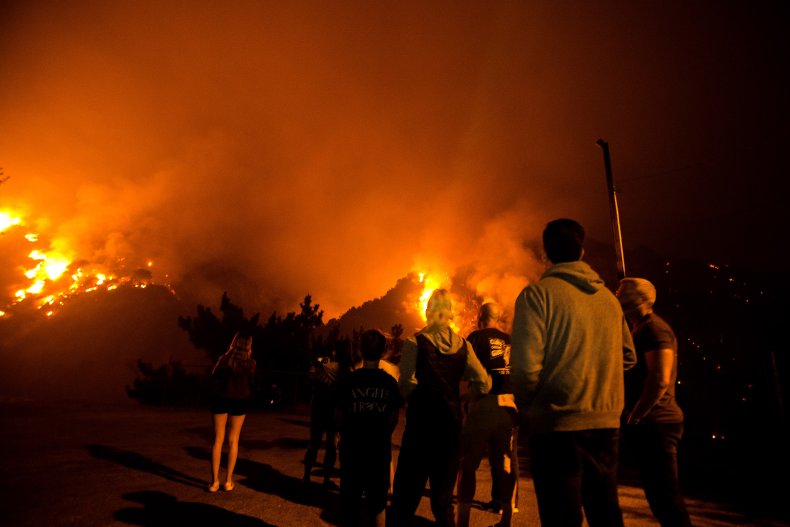 The Bobcat Fire has already destroyed 50,539 acres, 5,400 structures, 25 lives and is only 3 percent contained, despite the deployment of 1,158 firefighters.
The fire is also less than 500 feet away from the historic Mt. Wilson Observatory, an important scientific facility. Firefighters have fought with aircraft water drops, plowing lines by hand and bulldozer and setting strategic backfires.
In Oregon, wildfires have cleared large portions of trees throughout the state's central and western regions. While a rainstorm is expected to begin late Thursday night, the heavy storm could trigger flash floods and dangerous debris flows throughout the state, according to KOIN News.
The debris flows could cause literal landslides that travel quickly at avalanche speeds, hitting homes, roads and vehicles with very little to no warning. Such flows typically happen within canyon and river valleys as well as gorges situated below very steep cliffs.
Residents are encouraged to listen for the sounds of trees cracking and the faint rumbling of boulders knocking together, to run uphill and to avoid bridges if they witness a coming landslide.
As of September 14, the wildfires have already burned over 2.2 million acres of land in California with nearly 14,000 firefighters battling 25 major wildfires that have collectively destroyed 3,300 structures, eight people and untold numbers of wildlife, livestock and housepets.
In Oregon, hundreds of thousands of acres are covered in flames as at least 15 major wildfires rage through the central and western parts of the state. Last Thursday, the National Weather Service issued an urgent fire weather warning, stating that warm temperatures, very low humidities and stronger winds would combine to create an increased risk of fire danger.
The EPA's Air Quality Index has listed numerous cities across the west as having "unhealthy," "very unhealthy" or "hazardous", potentially causing "adverse" or "serious" health effects, especially to those who already have respiratory illnesses or difficulties.