Oregon Sees Record Daily Coronavirus Cases in Spike Linked to Church That Reportedly Defied Reopening Restrictions
Cases of the novel coronavirus in Oregon have climbed to at least 5,820, with a record 184 new infections reported Monday, the Oregon Health Authority (OHA) confirmed. The latest daily case count was reported to be the highest since the outbreak began.
More than half of the new cases were reported in Union County, where several cases were linked to the Lighthouse Pentecostal Church in Island City, the medical director of the Acute and Communicable Disease Prevention Section of the OHA, Dr. Paul Cieslak, confirmed.
Union County reported 99 new infections on Monday, a dramatic increase from 22 recorded Sunday. Authorities did not specify how many cases in the county were associated with the church.
The church has deleted a video posted May 24 on its Facebook page, which showed hundreds of worshippers standing together in close proximity during a service that was allegedly held during phase one of the county's reopening when such gatherings were not permitted, The Oregonian reports.
During phase one of the reopening, faith-based gatherings were limited to 25 people, provided social distancing practices were in place. Larger faith gatherings were permitted from phase two, which began on June 5 in Union County.
Oregon's Center for Human Development, which arranged the test results and contact tracing in Union County, also confirmed several of the new cases were associated with the church, The Oregonian reports.
Cieslak noted the county worked with the church to host a testing clinic. He confirmed that 365 people in Union County were tested over the weekend and officials are expecting the remaining test results Tuesday.
"We have been doing testing, especially targeted testing, around the places where we are starting to see clusters," Cieslak said.
"The clusters cue us off where the disease transmission is going on and once you find a cluster and have a testing event like this [hosted by the church], you find a lot of people infected," he added.
Cieslak warned that "large gatherings, especially in close quarters if distancing can't be maintained, are really an efficient way in spreading COVID-19. Whether it be in a workplace, or especially a closed assembly area, this is really a concern."
A person who answered the phone at the church on Monday hung up when contacted about the cluster of new cases in Union County, The Oregonian reports.
Newsweek has contacted the Lighthouse Pentecostal Church for comment.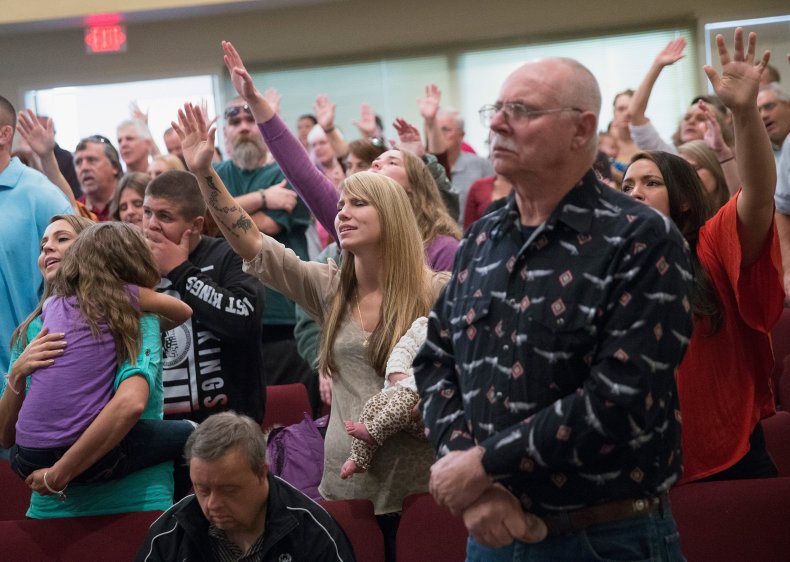 The OHA said it cannot confirm whether the church was holding services leading to the recent spike in cases. A public health administrator for Union County said: "I can't speak specifically to the congregation. What I can say, in general, when we've received complaints or we've received concerns or we receive information, they do get referred to the appropriate entities."
Last Thursday, Oregon's reopening was paused for a week following a spike in average daily cases. The state saw its seven-day rolling average of new daily cases increase from 54 on June 1 to 89 on June 7, marking a 65 percent increase in average daily cases, according to the OHA website.
"The noticeable increase in COVID-19 infections in Oregon over the past week is cause for concern. In order to ensure that the virus is not spreading too quickly, I am putting all county applications for further reopening on hold for seven days," Oregon Gov. Kate Brown said in a statement Thursday.
"This one week pause will give public health experts time to assess what factors are driving the spread of the virus and determine if we need to adjust our approach to reopening. I will work with doctors and public health experts to determine whether to lift this pause or extend it or make other adjustments," she added.
The novel coronavirus, which was first reported in Wuhan, China, has infected over eight million people across the globe, including over 2.1 million in the U.S. More than 3.8 million globally have reportedly recovered from infection, while over 437,400 have died, as of Tuesday, according to the latest figures from Johns Hopkins University.
The graphics below, provided by Statista, illustrate the spread of COVID-19 in the U.S. and the worst-affected countries.