Oregon Senator Calls for Removal of Federal Troops, Says Portland 'Has Been Invaded'
Oregon Senator Ron Wyden said his Portland hometown "has been invaded by militarized federal law enforcement" during a Senate Intelligence Committee hearing on Wednesday and warned that a continued presence of federal forces could negatively impact the country leading into the 2020 presidential election.
"These federal forces are beating, tear gassing and detaining my neighbors," Wyden said. "If the line is not drawn in the sand right now, America may be staring down the barrel of martial law in the middle of a presidential election."
Wyden, a Democrat, addressed his concerns to Patrick Hovakimian, an associate deputy attorney general at the U.S. Department of Justice whom President Donald Trump nominated in May to become the new general counsel for the Office of the Director of National Intelligence. Hovakimian answered questions Wyden and other members of the Senate Intelligence Committee posed during a nomination hearing Wednesday morning.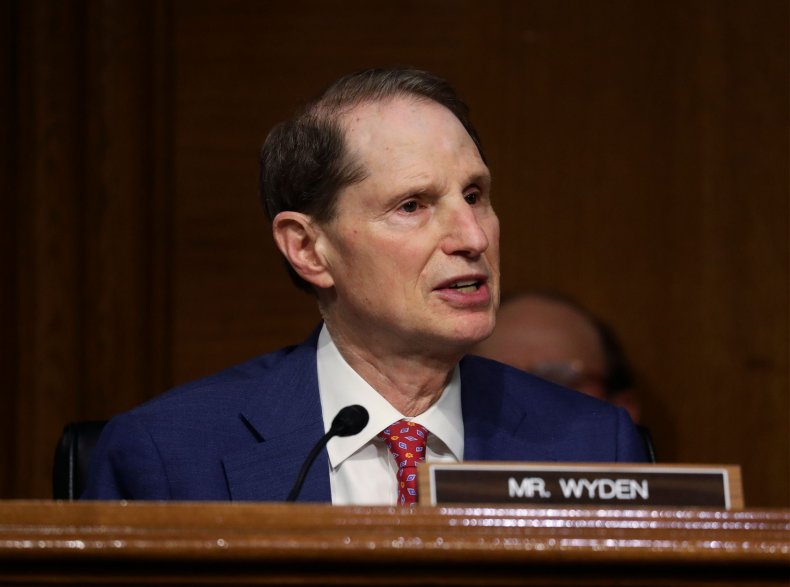 Wyden, who ultimately did not vote to approve the nomination, asked Hovakimian repeatedly about the legality of the federal agents that Trump said were in Portland to assist local law enforcement with protest management. Portland is just one of several cities in which violence erupted since Black Lives Matter protests began sweeping the country in the wake of the death of George Floyd, a Black man who died while in Minneapolis police custody on May 25. On Monday, Trump said he was considering sending federal forces to other Democrat-led cities that have also recently reported protest-related violence, including New York City, Chicago and Oakland.
Hovakimian said he believed in Americans' "absolutely sacrosanct" First Amendment rights and said, "Neither law enforcement nor the intelligence community should target or surveil Americans who are engaged in activity that's entirely protected by the First Amendment." Hovakimian offered Wyden's constituents his "best wishes" but declined to comment on the legality of the federal agents' actions.
Hovakimian referenced a lawsuit Oregon Attorney General Ellen Rosenblum filed last week as his reason for declining to comment further. The lawsuit, which Rosenblum filed against the U.S. Department of Homeland Security, the U.S. Marshals Service, U.S. Customs and Border Protection and the Federal Protection Service, alleged unidentified agents physically attacked one peaceful protester and drove another detained protester to a federal courthouse in an unmarked vehicle.
Newsweek reached out to the U.S. Department of Justice for comment but did not receive a response in time for publication.
Wyden criticized Hovakimian for "ducking the question" and said "people know all about" the alleged incidents.
"I consider these practices a massive invasion of the constitutional rights of my constituents," the senator said. "I think that these practices are essentially fascist practices that, until recently, would have been unthinkable in America."
Wyden announced legislation earlier this week that aims to prevent the kind of federal force deployments seen in Portland, which a press release from his office described as "a shadowy paramilitary against Americans." Despite the legislation and calls from Oregon Governor Kate Brown and Portland Mayor Ted Wheeler to remove the federal agents, Portland police said Tuesday federal law enforcement deployed tear gas overnight as thousands of protesters gathered in the city.
"My constituents are interested in more than your best wishes," Wyden told Hovakimian. "What they want to know is that these forces can't go wherever they want over the objections of local authorities."