Oregon Sheriff's Department Investigating Video of Officer Allegedly Punching Homeless Person
A video of an Oregon sheriff's officer aggressively arresting and allegedly punching a homeless person was captured Monday by a local news station covering a different story. The sheriff's office said they will now investigate the incident.
A camera person covering the search and rescue of a father and son who had gone missing in Detroit, Oregon, captured the arrest. The man, Kevin Straw, 28, was arrested for allegedly interfering with the search-and-rescue operation.
"I am not resisting," Straw shouted as he was being arrested and hit in the video captured by KGW, a Portland, Oregon–based NBC affiliate.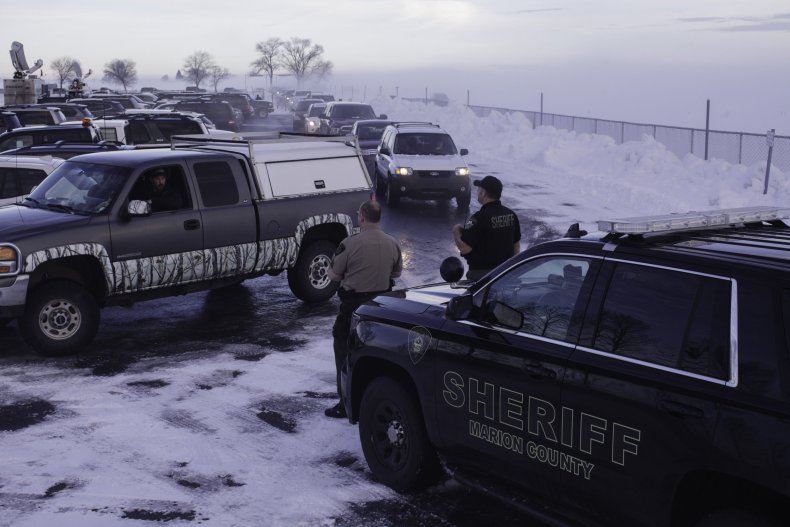 "Stop, stop … help, help," Straw continued to shout as he was arrested by four and then eventually five officers, one of whom appears to be punching him.
Straw also said that he was disabled during the arrest and that he required medical attention. Straw then, as he was subdued, said that, "I just wanted to brush my teeth before I left town," and "I came to warn you about the cougar … it's hurting people."
Straw also calls out for the arrest to be recorded and posted online. One Marion County Sheriff's officer appears to remove what police said was a knife from Straw, who had on a large backpack and other gear.
"You cut my scarf, why? You jerks," Straw said later in the incident.
Straw said that he was being punched in the head in the video.
"Mr. Straw's actions were so disruptive our rescuers could not hear and communicate with search and rescue personnel. Deputies made two requests for Mr. Straw to leave the command post area, but he continued to return and interfere with the search operations," said the sheriff's office in a statement provided to Newsweek.
The sheriff's office said that Straw had resisted arrest and that they had been called about his disruptive behavior Saturday.
The sheriff's office said that it will review the video and other documents and reports related to the incident in conjunction with the county's district attorney.
"Repeatedly punching someone who is apprehended to the ground by four police officers is a clear example of excessive use of force. Period," tweeted the American Civil Liberties Union of Oregon with a video of the event.
The man and son in the search-and-rescue mission were found and in relatively good condition, according to police.