Why Ammon Bundy's Arrest Will Likely End the Oregon Standoff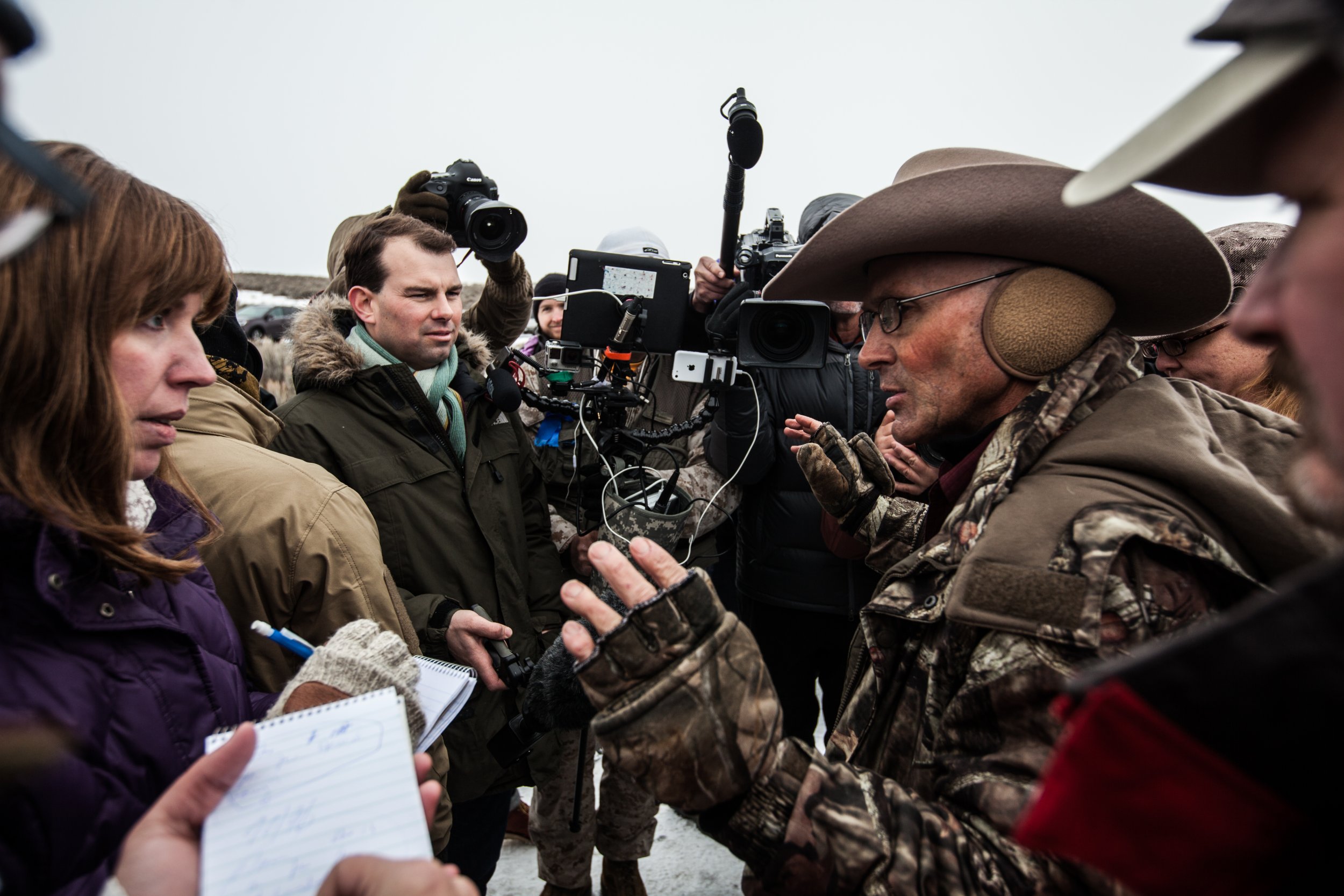 Hours after a dramatic showdown between state and federal law enforcement officers and the leaders of a group of armed protesters who took over a wildlife refuge in rural Oregon January 2, an emotional Harney County Sheriff Dave Ward stood before a bank of microphones Wednesday morning with a direct appeal to the militants who remain holed up at the Malheur National Wildlife Refuge: Go back to where you came from.
"It's time for everybody in this illegal occupation to move on," Ward said. "There doesn't have to be bloodshed in our community. If we have issues with the way things are going in our government, we have a responsibility as citizens to act on those in a responsible manner. We don't arm up and rebel."
Anti-government militias across America disagree with the sheriff. They've been watching the 26-day standoff near Burns since the day Ammon Bundy and others took over the federal compound and vowed to hold it, until a pair of local ranchers convicted of arson are freed from federal prison. Bundy, whose father engaged in similar tactics after the feds attempted to collect nearly $1 million in unpaid fees and fines at his Nevada ranch, also insisted that the government return land it controls to the hands of "the people of Harney County."
The federal government was never going to meet those demands—the Hammonds' sentence can't be overturned by law enforcement and the refuge never belonged to ranchers—but for more than three weeks the FBI, Oregon State Police and Sheriff Ward have taken a "wait-them-out" approach, allowing furor to build among locals who opposed the armed occupation. Law enforcement also waited for the Malheur militants to get sloppy, according to experts in standoff tactics, holding back until just the right moment.
That moment arrived on Tuesday afternoon when a convoy of militants left the refuge to attend a public forum about 45 miles north of the facility. As at least two carloads of armed protesters drove down Highway 395, they hit a roadblock and a passel of state and federal vehicles. What happened next remains unclear, but the authorities wound up arresting six protesters—including Bundy, the group's leader—and killed one of the militants, a 54-year-old Arizona rancher named LaVoy Finicum.
How the protesters respond to Finicum's death could determine what happens next, both in Harney County and across the country. One of the passengers in his vehicle, 18-year-old Victoria Sharp, said in a radio interview that Finicum was shot multiple times with his hands up and no weapon drawn. "He had his hands in the air," she said. "He said just shoot me, just shoot me, and they shot him dead." Another protester—in a different vehicle—said Finicum tried to flee in the truck he was driving, then got out and goaded them into shooting him. "Anytime somebody takes off with a vehicle like that, it's typically considered an act of aggression. It's foolish," said Mark McConnell in a video he posted to Facebook. "He went after them."
Authorities declined to clarify any of the details on Wednesday, citing an ongoing investigation. But that won't deter rampant speculation from right-wing militia members across the country. Posts on the "Bundy Ranch" Facebook page describe Finicum's death as "murder" and the arrests of occupiers as kidnappings, as "peaceful patriots...attacked on a remote road for supporting the constitution."
On Tuesday night, the FBI and Oregon State Police set up checkpoints along the roads leading to and from the wildlife refuge, saying they will no longer allow the militants to freely come and go. FBI Special Agent in Charge Greg Bretzing said the government will "work to empty the refuge of the armed occupiers in the safest way possible," at a press conference on Wednesday. "If the people at the refuge want to leave, they can do so through the checkpoints where they will be identified." Bretzing did not promise they'd be able to leave without arrest.
Some of the occupants of the refuge heeded Bretzing's request Tuesday, according to The Oregonian and other media outlets in Harney County. The rest, militia member Gary Hunt told the newspaper on Wednesday, "have decided they're going to hold their ground."
There may still be dozens of occupants inside. Jason Patrick, a protester who has acted as spokesman throughout the standoff, told KGW that all women and children have left the refuge but there are no plans for the men to depart. "Nothing's changed," Patrick told the network, "Except one of my friends is dead."
On Wednesday afternoon, militants at the refuge posted a video threatening to escalate the standoff. "Media's been waiting for a bloodbath this whole time we've been here," an unidentified man carrying a rifle in the video screams at the camera. "Now there's gonna be one.... American people better wake up, fight for your country!"
The Pacific Patriots Network, a militia group that has sent members to Burns to support the occupants, issued a press release Wednesday morning vowing to act "as a buffer between the Refuge and the FBI." But the group added that "no call to actions have been issued."
So, what now? Anti-government and counter-terrorism experts say the law enforcement response seemed "textbook," and will likely lead to the end of the standoff. Except for the casualty, Tuesday's arrests were "really well-executed," Brian Levin, director of the Center for the Study of Hate and Extremism at California State University, tells Newsweek. "They were going to a town hall meeting," Levin adds, "so it would be reasonable to think they wouldn't have the same kind of access to heavy weaponry as they would back at the compound."
Former FBI agent Clint Van Zandt agrees. "It's going to come to a close" at least at Malheur, he says, even though some will take Finicum's death as an example of "excess of force."
Some "will make a martyr out of him" no matter what, Levin says, but "this sends a message that merely displaying weapons and acting in a lawless way without consequences is no longer an option."
"A lot of people who joined this movement did so for the same reason a lot of Cubs fans came out last year," he adds. "They started winning."