The Oregon Standoff: Armed Revolt or Carefully Orchestrated Gambit?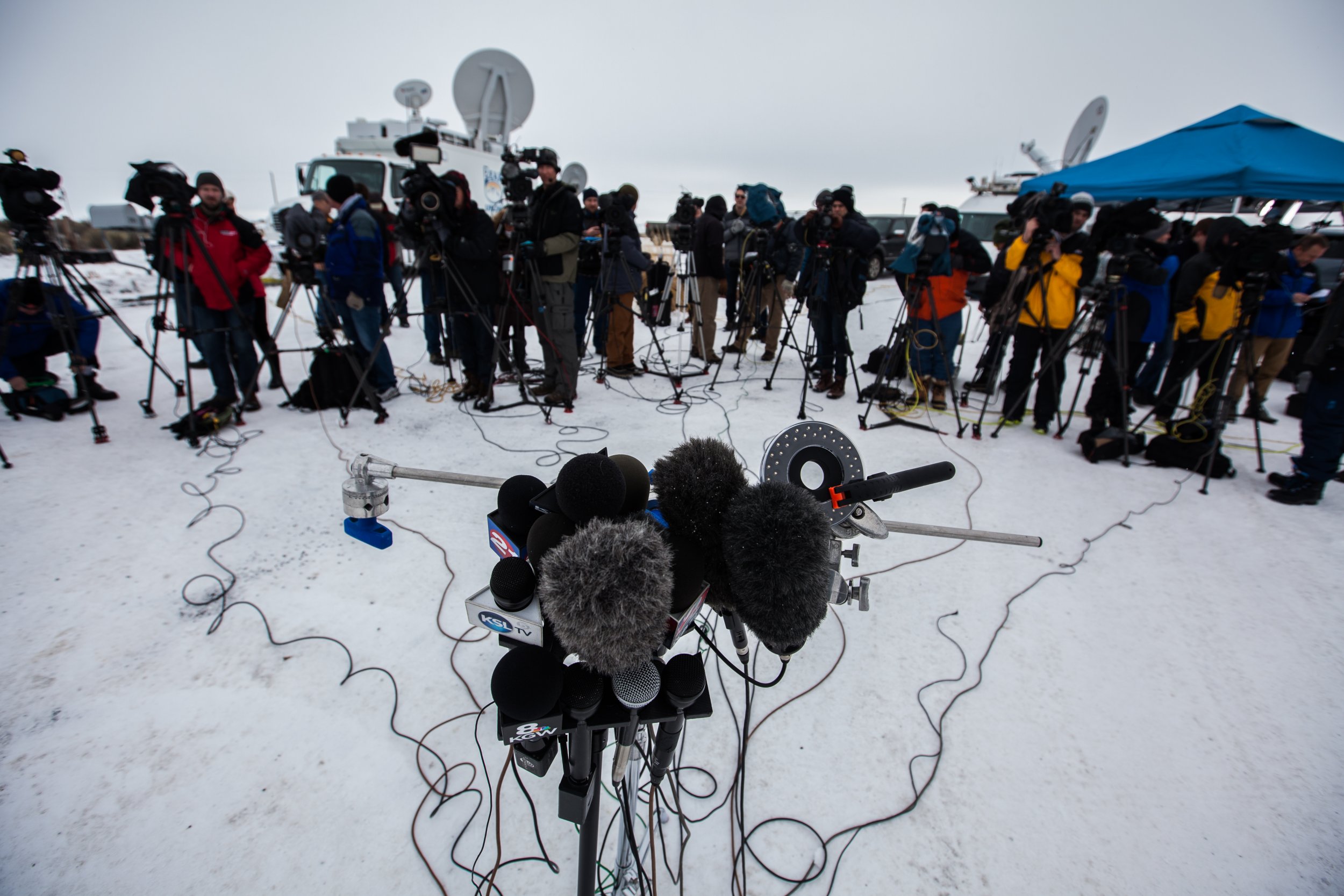 The sun rises low above the Steens Mountain Range in southeastern Oregon, casting a placid glow over the frozen landscape of the Malheur Wildlife Refuge, a federal facility occupied by armed protesters.
More than 320 species of birds live in the area, which draws tens of thousands of ornithologists every year. Since Saturday, however, all eyes have been on the bearded, self-styled militia members.
I arrive here just after 9 a.m. on Tuesday to find a couple 20-somethings in Carhartt jackets chewing tobacco in a pickup truck blocking vehicles from entering the refuge. I wave, hoping they won't stop me as I walk down the hill to the collection of low-slung brick buildings where dozens of armed protesters remain hunkered down until the federal government addresses their concerns.
Those grievances center around the prosecution of Dwight and Steve Hammond. They're two Harney County ranchers who were convicted of setting fire to federal lands near their ranch in the 2000s (they say they did it to protect their property from wildfires). Their battle against the government is the latest chapter in the decades-long Sagebrush Rebellion, a conflict between landowners who say the government exerts too much control over territory they should be allowed to openly—and without paying taxes or fines—use for hunting and grazing.
As I walk down the hill, I keep a watchful eye on a shadowy figure looming above me in a tower. Anyone who steps foot on this property can expect to have several sniper rifles trained on them, other reporters have warned me.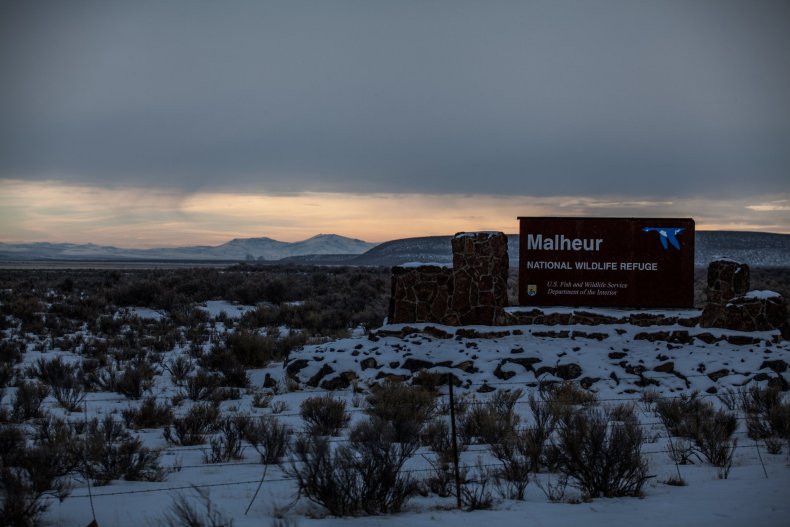 I get to the bottom of the hill and a man in an all-terrain vehicle speeds toward me. His eyelids are tattooed and he sports a thin beard and a tan knit cap, with a patch that reads "Major League Sniper" on the front.
"Can I help you?" he asks.
I introduce myself. He shakes my hand.
"I'm Fluffy Unicorn," he says.
I tell Mr. Unicorn I'd like to take a look around. He urges me to attend a press conference up on the hill instead. I demur. He grimaces, and picks up his walkie-talkie.
"Fluffy Unicorn to all posts," he barks. "Go to conceal mode. I will be with press that is uncooperative to everything we're doing. No radio comms until I advise. Over."
Fluffy and I spend the next 10 minutes walking the grounds in silence—he refuses to answer any questions—until suddenly a voice again barks over his walkie-talkie: "This is front gate. I have somebody saying they have an urgent message for Ammon Bundy."
Bundy is leader of the Malheur militants and the son of Cliven Bundy, whose 2014 standoff with the federal government over $1 million in fines and grazing fees generated national attention.
Fluffy takes a swig of his Monster Energy Drink, holsters his walkie-talkie and speeds back up the hill in his vehicle, leaving me to walk back alone.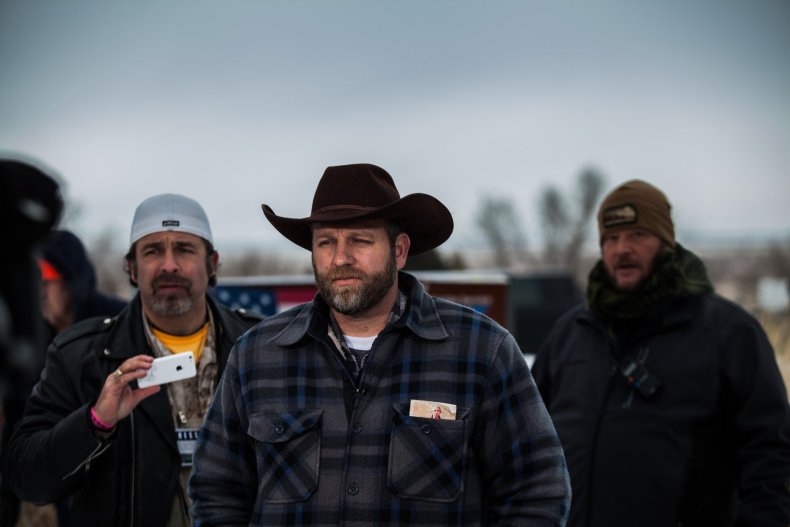 The "urgent message," it turns out, is from a television news producer who managed to arrange an interview with the younger Bundy ahead of the press conference. Ammon Bundy arrives moments later, sporting a cowboy hat and a soft gray flannel with blue and black stripes. With his calm blue eyes and awe-shucks demeanor, Bundy projects peace, not terror, an image that sets him apart from some of the camo-clad members of militants many have mocked as "YallQaeda."
Bundy says he's here to help the people of Harney County get their land back from the government. He says the refuge's "doors have been swinging" since the militants took over, as local ranchers and others have come to them with food and supplies and shared their stories of government overreach. "I'm not anti-government," Bundy says. "All those here believe this is a role for the federal government. But when those governments step out, we step in."
Soon, another militant named LaVoy Finicum steps to the microphone and outlines the group's plan: to review all land transactions in Harney County and determine which tracts have been "unconstitutionally" acquired by the federal government. The group then plans to turn their research over to the locals and leave.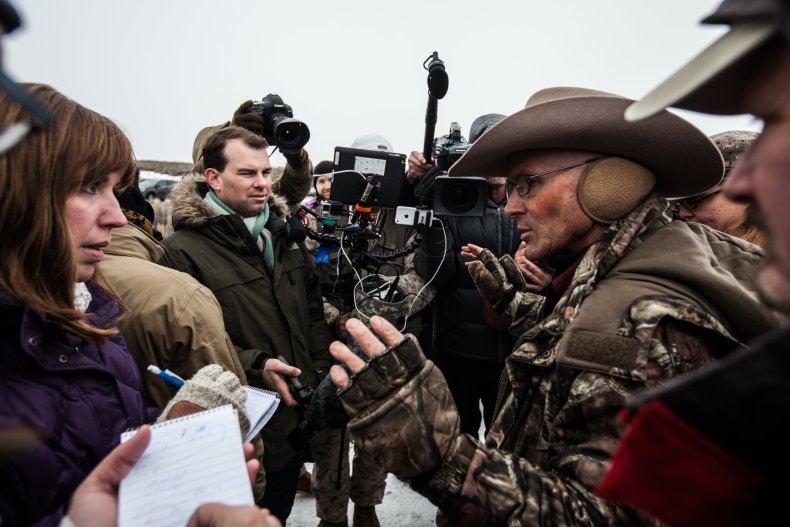 "I'm just a rancher," Finicum tells reporters. "I need to get home. I've got cows scattered and lost."
With that, he walks back to the compound, a pack of reporters in tow.
'It's Not About the Hammonds Anymore'
On the surface, a federal facility occupied by heavily armed militants who say they're willing to die for their cause—they released tearful farewells to their families on YouTube—might seem terrifying. What's really happening though is a carefully orchestrated gambit designed to rally support for the militants' cause. And depending on who you ask around here, the Malheur militants are either here to rescue downtrodden landowners from government overreach, or they're carpetbagging rabble-rousers foisting their agenda on a community that never asked for their help.
"The sad thing is, it's not about the Hammonds anymore." That's what Holly Shroyer says as I wait for the gas tank to fill at the Riley Store and Archery, a few miles outside Burns, the town closest to the standoff. She's a pleasant middle-aged woman who says she's known the Hammonds for years.
A major reason why Shroyer and other locals are upset is the way the Hammonds' sentence went down: Federal courts overturned the ranchers' original punishment because it didn't adhere to the mandatory minimum five years that statutes require for such cases.
"The Bureau of Land Management (BLM) now burns up thousands of acres out here, and nobody has ever been prosecuted from the federal government," says Shroyer. "But the Hammonds accidentally burn 120 acres in a fire they put out themselves, and they're in jail. They did their time and then someone got a grudge and got them a longer sentence."'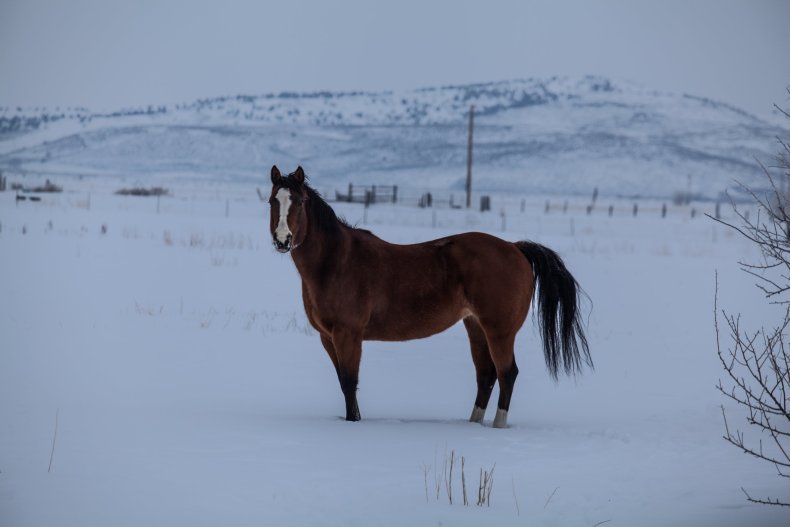 That's how Anna Surber feels about the situation, too. A 40-something woman wearing jeans and a "Darth Tater" T-shirt, she was born in Harney County and comes from a logging family. Her parents left the business not long before the last mills closed in the 1980s and had to find new ways to make a living. Today, Surber works at the Narrows cafe and country store near the refuge. She also knows the Hammonds. "I think the Bundys are doing this not just for Harney County but for people everywhere," she says. "They're drawing attention to the land-grabbing government issues that have extended to everyday life."
Not everyone agrees. Down the road from the Narrows, I catch up with J.R. Davis, 33, who is stacking hay bales on a nearby cattle ranch. "I don't know that...overtaking that refuge is going to do any good," he says. " But I know the Hammonds, and they're good people." Davis used to trap gophers and haul cows with Dwight, who along with his son Steve checked into prison on Monday to finish their five-year sentence. That punishment, Davis says, is unfair.
A few miles down the road, I knock on the door of a retired Bureau of Land Management employee, who once ran the government's fire prevention program, he says. He won't give me his name, because he's worried about the repercussions of speaking out in a small town. He, too, knows the Hammonds. The government may have mishandled the sentencing, he says, but the Hammonds aren't victims. They've been setting fires for years, purportedly to protect their own property but often in violation of local and federal regulations."They're outlaws," he says. "They set a lot more fires than the ones they were charged with, and they put a lot of... firefighters' lives in danger. Law enforcement and the court system finally had enough."
Tension between cattle ranchers and the federal government goes back decades, the retiree said, but ranchers aren't the only interest group in Harney County. There are environmental groups, motorcycle clubs, snowmobilers and hunters all with different agendas, "You make these middle-of-the-road decisions on land management," he says, "and there's always someone unhappy. You can't win."
Guns, Bulldozers and Fire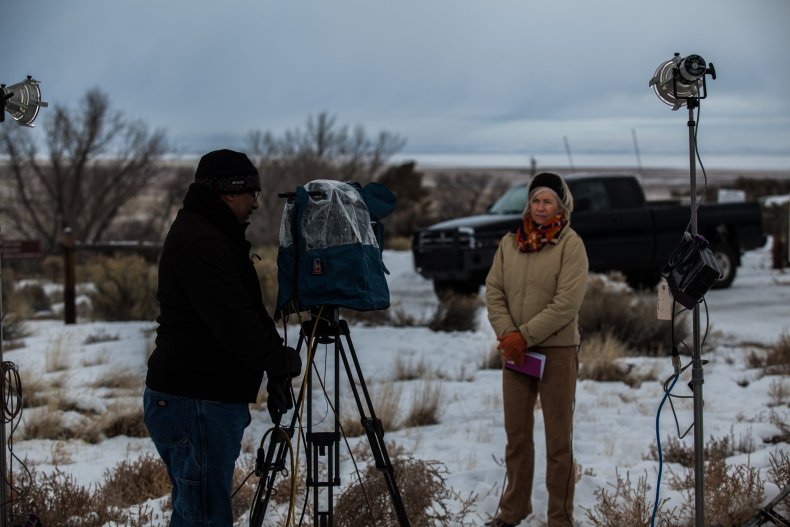 It's hard to gauge how many side with the militants in this large, sparsely populated county. On Wednesday, Sheriff Ward will convene a public meeting at the Harney County Fairgrounds that's designed to ascertain whether the public wants Bundy and his crew to stay. That's a tactic, aimed at wresting the narrative back from the militants.
For their part, the militants say they're being welcomed with open arms. Michael Stettler arrived at Malheur with his dog Wolffie on Sunday, taking a few days off from his gig "in retail hardware, part-time" to join Bundy and his cohorts. Stettler, 49, is from nearby Lake County, and he brought enough food to last himself two days. He also has a rifle, but only because he always keeps it in his truck.
"I didn't know what to expect," he says. But turns out, the standoff is "pretty cush."
"It's heated," he adds. "There's barracks to sleep in, and four freezers full of pre-cut and wrapped beef the local farms brought in."
Late on Tuesday night, not long after polishing off half a pizza, the situation becomes a bit less cush. Around 8 p.m., I get a frantic text from a network reporter who stayed at the scene.
"Dude—come back," he writes. "Guns, bulldozers, fire. Come."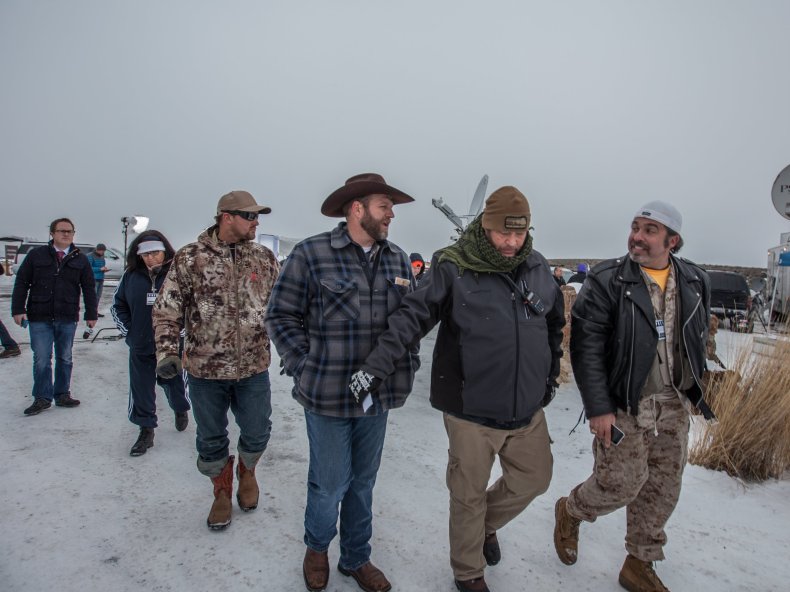 I speed back to Malheur and find the militants giving animated interviews at the top of the hill. A few of the younger ones gather around a newly lit campfire near the road, rifles strapped to their shoulders. Someone had parked two yellow bulldozers on the road. I ask the men with guns whose bulldozers they are. "The people of Harney County," one of them says.
In the middle of the parking lot is LaVoy Finicum, who has hauled a rocking chair, a sleeping bag and a blue tarp up from the compound. He's planning to spend the night in the chair, he tells me, because the group got word that the FBI issued warrants for his arrest, along with Ammon Bundy and a few others. "Instead of federal agents having to run around in the dark and kick in doors," he says, "I wanted to let them know I'm right here."
He says he'll stay there as long as he has to, which makes sense: A gaggle of reporters are still along for the ride.