Oregon State Capitol Shut Down Amid Threat of Militia Violence; Republicans Flee to Idaho to Escape Statehouse
Democratic state lawmakers in Oregon cancelled Saturday's Senate session out of fear for their personal safety, according to local media reports and social media posts from state representatives.
Sara Gelser, a Democratic state senator, wrote on Twitter that members of her party "were notified we were physically in danger."
The Associated Press reported Friday night that the Capitol building in Salem would be closed due to a "possible militia threat."
The standoff originated when Republican lawmakers walked out of the Senate on Thursday, later reportedly fleeing the state to deny the chamber a quorum and prevent it from moving forward with official business.
Democrats were considering a recently passed House bill that would enact a statewide "cap and trade"-style program to mitigate fossil fuel emissions. Republicans contended that this issue shouldn't be for lawmakers to decide and that it should be put to a ballot measure for Oregon residents to vote on.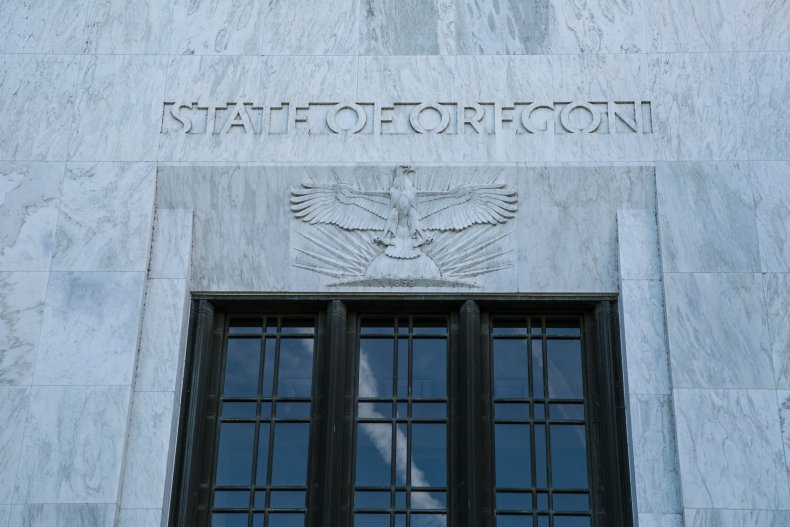 To block the bill from moving forward, GOP state senators abandoned the Capitol and absconded to an undisclosed location in Idaho, according to CNN. Governor Kate Brown, a Democrat, dispatched the state police to locate the lawmakers and return them to the Capitol.
In protest of the cap and trade proposal, local right-wing activists planned to demonstrate at the statehouse Saturday, and anti-government militia groups reportedly planned on joining them. The recommendation to close the Capitol then came down from the state police, according to the Associated Press.
The Oregon Republican Party chided Democrats for suspending Saturday's session, writing on Twitter that their real fear was that "Republican voters may show up."
In a statement released Thursday, Senate Republican Leader Herman Baertschiger, Jr., explained his party's abandonment of the statehouse by claiming the move "represents our constituency and exactly how we should be doing our job."
"We have endured threats of arrest, fines, and pulling community project funds from the Governor, Senate President and Majority Leader," he said. "We will not stand by and be bullied by the majority party any longer."
Senate Democrats called the walkout a "slap in the face" to Oregonians.
"The taxpayers are paying them to do a job for their constituents and they are not doing that job," a statement from the Senate Democrats read. "Yet, they are collecting their salaries and per diem payments for not doing their jobs."
One of the militias that reportedly expressed interest in attending Saturday's demonstrations was the Oregon Three Percenters, an anti-government paramilitary group that joined the armed occupation of the Malheur National Wildlife Refuge in 2016.
According to local CBS affiliate KOIN-TV, as of Saturday morning, a few dozen anti-cap-and-trade protesters were trickling into a demonstration outside the Capitol. It is unknown if any of the militia groups were planning on following up with their threats to join the protest.