49-4!?! Oregon State Is Making It Rain In Baseball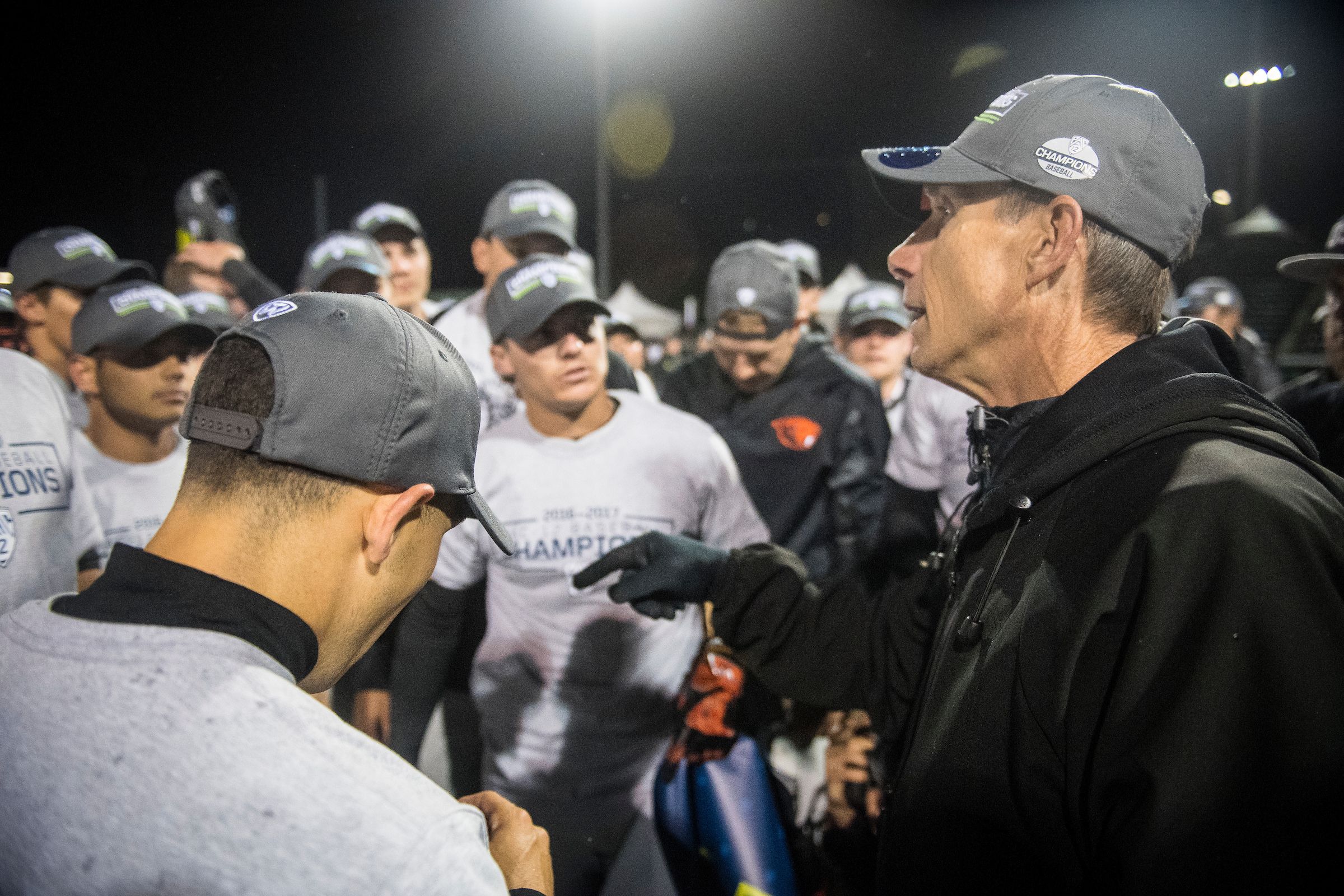 When you ask Oregon State baseball coach Pat Casey how he has led his top-ranked Beavers to an otherworldly 49-4 record this spring, or how the Corvallis-based program over which he has presided for 23 seasons is the only school north of Palo Alto to win the College World Series in the past half-century, he provides a succinct answer.
"I had the good fortune," says Casey, "of not having anybody take care of me."
Long before he became a Beaver, the Oregon native demonstrated the industriousness of one of nature's engineers. While finishing up his undergrad degree at George Fox University in Newberg, Oregon, Casey played on the basketball team, coached the baseball team and worked as a janitor.
"In the seven years I was at George Fox, I earned $30,000 cumulative," says Casey, 56, who led the Beavers to NCAA championships in 2006 and 2007. "When Oregon State offered me the job, I didn't care if I had to ride a tricycle to get there. I was going to make it."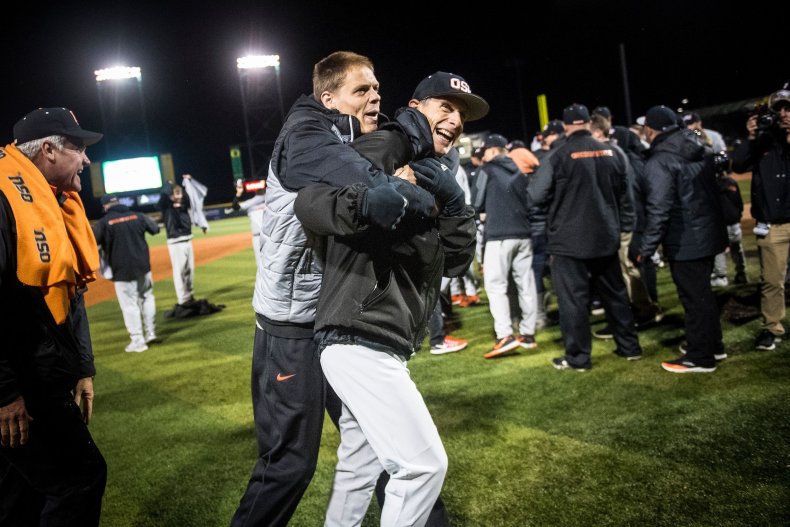 The Beavers will open the NCAA baseball tournament this Friday as the top overall seed by hosting Holy Cross (23-27) at their historic Goss Stadium, which predates Fenway Park by five years (it opened in 1907). Oregon State enters the tournament on a 16-game winning streak, and they had a 23-game win streak earlier this spring. Of the 13 three-game series Oregon State has played this season, the Beavers have won all 13.
"This is where the value of short-term goals lies," says Casey. "Of course, we want to win the College World Series, but we set a goal of winning every series this season."
Oregon State, should it win a third national championship this June, would likely set the all-time mark for top winning percentage in a season. The Beavers' .924 winning percentage is better than the NCAA mark set by Arizona State in 1972. (The Sun Devils finished 64-6, for a .914 average, losing to fellow Pacific-12 school Southern California in the College World Series.) No opponent has defeated Oregon State more than once. Only Mother Nature has stopped Oregon State on multiple occasions this spring, inflicting four rainouts at Goss Stadium (this Casey also presides over a Mudville nine).
"As a baseball player, I look at our record and think this is a joke," says sophomore second baseman Cadyn Grenier. "As a member of this team, I'm really not surprised."
While beavers are magicians with wood, Casey's Beavers are more renowned for how they work with leather. Or at least how they operate from an earthen mound. Paced by southpaw Luke Heimlich's 0.81 earned-run average, tops in the nation, the Beavers pitching staff leads the country in both ERA (1.84) and walks plus hits per inning pitched (0.98). Casey's players like to credit their grounded coach, though, for the team's success.
"Coach Casey is one of the only coaches I've ever met where 100 percent of what he does is for us," says Grenier. "Earlier this year, we played at Stanford, and there were six of us whose hotel rooms were not ready. Coach was a little irritated, but he stayed down in the lobby with us until everyone had a room. He doesn't put himself before anyone."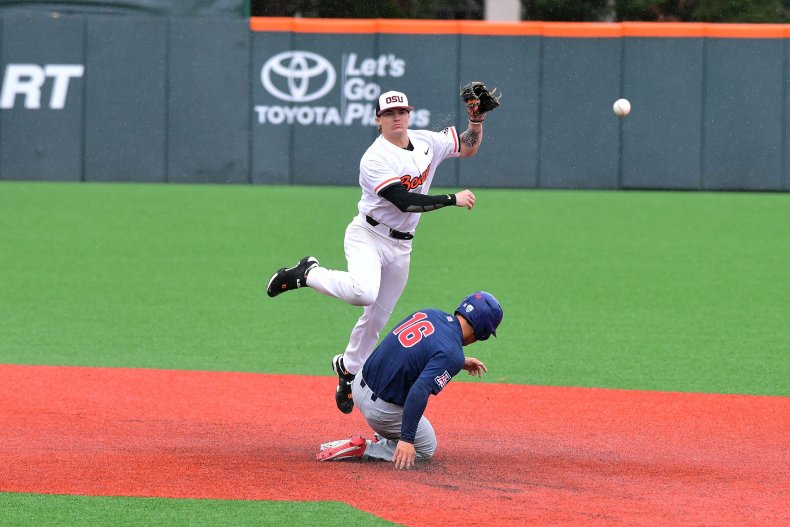 That Casey guided the Beavers to consecutive national championships in 2006 and 2007, making them the first non-Sun Belt school to do so since Ohio State in 1966, is remarkable. That a program moored in the rain-blessed Pacific Northwest has become perennially dominant in the Pac-12 conference, which has produced five Sun Belt schools that have won 19 NCAA championships since that Buckeyes triumph a half-century ago, is borderline miraculous.
The Pac-12 is to collegiate baseball, after all, what Mexico is to tequila manufacturing, but Oregon State should be the padre-y-madre facility in Tijuana. The Beavers lack the obvious advantages of their counterparts' sun-splashed campuses (e.g., Arizona and Arizona State, UCLA, USC, Stanford), but they still thrive. In fact, when Casey arrived in Corvallis in 1995, the Beavers and three other then-Pac-10 schools located in the Pacific Northwest were embargoed from competing in conference play.
So how did Casey overcome these obstacles? By being, in the manner of his school's mascot, industrious.
In Casey's third season, Oregon State finished 38-12-1 but failed to earn a wild card berth to the NCAA postseason. He knew that as long as Oregon State remained segregated in baseball, as opposed to all other sports in the Pac-10, his program was opening each season with two strikes against it. "How do you tell a kid you're recruiting that we play in the Pac-10 but that we don't play Stanford or USC or Arizona State?" asks Casey. "So I started rallying coaches in the north to fight for inclusion."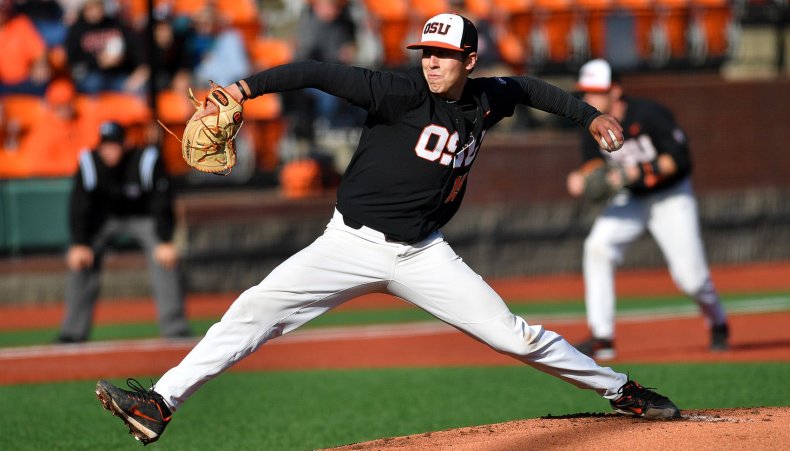 Casey's Ned Stark act did not play to universal acclaim, either above or below the California-Oregon border. "The coaches in the south were very opposed to it, and I don't blame them," says Casey, who in the late 1990s was earning less than $40,000 a year and traveling with his players by bus to Pullman to play Pac-10 counterpart Washington State. "Some of the coaches in the north didn't like it either because that meant a dramatic upgrade in competition."
Related: When will baseball open its Doors to women?
In 1999, the Pac-10 eliminated the "Six-Pac" (Arizona, Arizona State, Cal, Stanford, UCLA and USC) and opened up conference play to all 10 members. The Beavers would finish below .500 in conference play every season for the next six years. In 2005, led by future Major League All-Star Jacoby Ellsbury (currently patrolling center field for the New York Yankees), Oregon State finished 46-12 and made its inaugural trip to Omaha, Nebraska, for the College World Series. In nine of the 12 years since, the Beavers have won at least two-thirds of their games.
"Everything we've achieved since we've gotten here," Casey says without a trace of arrogance, "we've earned."
The current 49-4 record, though, represents a new summit not just for the program but for all of college baseball. "I've never seen anything as odd as our record in 30 years of being involved in college baseball," Casey says. "On the other hand, when you examine it game by game, I don't think we're doing anything crazy. We're bold but humble."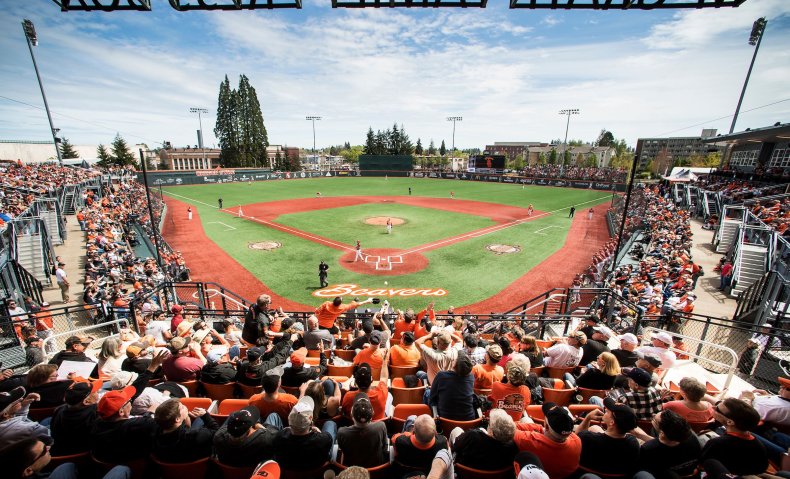 Humility comes easily to a man who spent seven years riding buses betwixt baseball backwaters. Casey once played 144 games in 150 days in the Texas League. The closest the former outfielder, a 10th-round pick by the San Diego Padres in 1980, got to The Show was a one-game call-up during spring training in the early 1980s.
"I was with Seattle, and they called up me and Danny Tartabull on the same day," recalls Casey. "My first at-bat, I hit a home run off [13-year Major Leaguer] Vern Ruhle, and I thought, I've made it. After the game, they put me back on a bus to the minors."
Casey glances at his past without a trace of regret but rather with appreciation and fondness for the wisdom that it allows him to pass on to his players. He smiles at memories of the early days in Corvallis, when he signed 11 consecutive one-year contracts (the Beavers finally offered him a long-term deal after he took them to the College World Series). He laughs about a recruiting budget that did not allow for hotel expenses, so that he'd change into his suit in the men's room of a fast-food joint.
"My assistant coach and I would take turns changing into our suits during lunch, and then after the visit we might stop for a 'coldie' on the drive back home," Casey says. "Those were good times."
As are these. Casey understands that he does not have the built-in advantages of fertile recruiting grounds or being located in a sexy college town or even, on far too many days on the western side of the Cascade mountains, a blue sky. He relishes the type of player who chooses his program despite those superficial disadvantages.
"It's no secret that coaching young men gets more difficult each year as society loses its grip on reality," says Casey, whose distinctly Irish name is accentuated by his birthdate: March 17. "But what I've learned is that kids haven't changed that much, only their outside influences have. When we take the team photo each year, I ask my guys, 'Ten years from now, do you want to be one of the guys that people point out or are you going to be happy being just another face?'"
This spring, the Beavers' team photo is loaded with faces worth pointing out. Not the least of which is the skipper's.