Oregon State Police Pull Out of Portland, Say DA Won't Prosecute Protesters
Oregon State Police (OSP) withdrew approximately 100 officers from their duties of protecting federal property during protracted periods of civil unrest in Portland on Thursday. Meanwhile, District Attorney Mike Schmidt announced Tuesday that many of the protesters involved in the demonstrations would not be prosecuted.
State police had been assisting federal agents and other law enforcement authorities during protests against police brutality following the May death of George Floyd, who died while in custody of Minneapolis police officers. Many of the demonstrations in Portland centered around the Mark O. Hatfield Federal Courthouse. Protestors broke some of the building's windows and defaced the facade with graffiti.
President Donald Trump authorized agents from the Department of Homeland Security to guard the building with the assistance of local and state law enforcement authorities.
While announcing the reassignment of the state police officers, OSP spokesperson Captain Timothy Fox told Oregon Public Broadcasting that the department was "inclined to move those resources back to counties where prosecution of criminal conduct is still a priority."
Newsweek reached out to the Oregon State Police for comment. District Attorney Schmidt's office declined to comment but pointed out a tweet from Oregon Governor Kate Brown.
"As has been planned for the last two weeks, last night was the final night for @ORStatePolice to take responsibility for keeping the peace and protecting free speech around the federal courthouse building downtown," Brown tweeted on Thursday.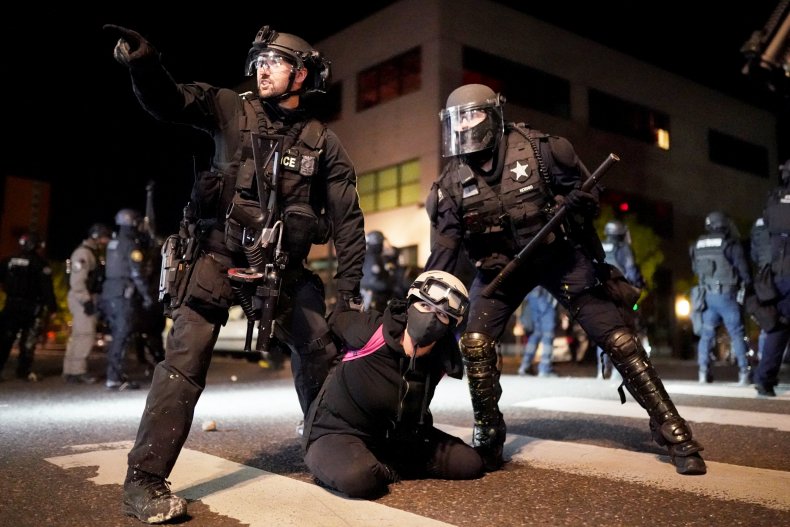 District Attorney Schmidt said Tuesday that his office would not seek prosecutions in a majority of cases filed in relation to the protests out of a desire not to exacerbate the situation in Portland. According to a Tuesday press release, Schmidt's office would not seek charges against "crimes that do not involve deliberate property damage, theft, or the use or threat of force against another person."
Roughly 550 protest-related cases have been forwarded to Schmidt's office. Many of those cases will be dropped. Prosecutors are seeking charges against individuals in approximately 45 felony cases.
"I want to make it very clear though," Schmidt said during a Tuesday news conference, "this is not a free pass. While I will do what I can to provide protesters with a forum to make their voices heard, I will not tolerate deliberate acts of violence against police or anyone else."
President Donald Trump singled out Portland demonstrators in July as "sick and deranged Anarchists & Agitators." After federal agents had been deployed to the city to patrol the protests, Trump said they had done a "great job."
"Portland was totally out of control, and [federal agents] went in, and I guess we have many people right now in jail and we very much quelled it, and if it starts again, we'll quell it again very easily," Trump said in July.
Local leadership accused the agents of being an inflammatory presence during the demonstrations. Portland Mayor Ted Wheeler said during a July interview with NPR that the assignment of federal agents to the city constituted "a last gasp effort by a failed president with sagging polling data who's trying to look strong for his base, and so he is actually using the federal police function in support of his candidacy."