Oregon State Representative Called to Resign for Letting Far-Right Group Enter State Capitol
An Oregon state representative has been called to resign after he opened the doors of the Oregon State Capitol building in Salem to admit right-wing protesters during a one-day special session last month.
In a statement released Monday, House Speaker Tina Kotek called for the removal of Republican Mike Nearman, who has also been removed from all committees and made to pay $2,000 for damage done by the rioters.
"Representative Nearman put every person in the Capitol in serious danger," Speaker Kotek said in the statement. "As we tragically saw last week during the insurrection at the United States Capitol, the consequences could have been much worse had law enforcement not stepped in so quickly. His actions have created immense fear among legislators and Capitol staff. I believe he should resign immediately because he has already breached the public trust and endangered our ability to safely conduct the people's business."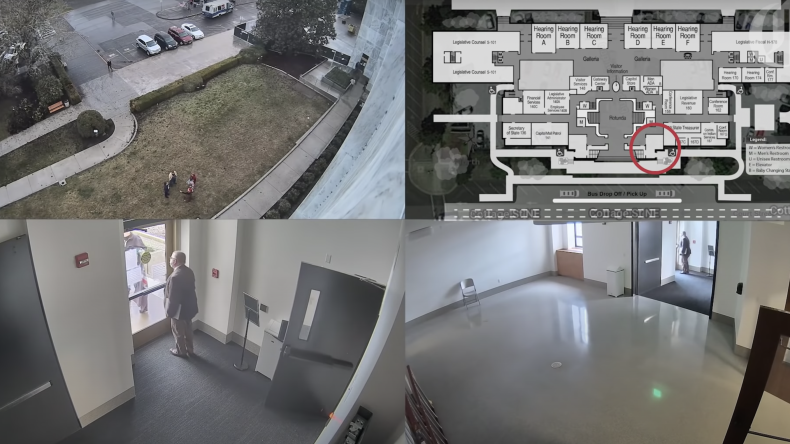 The group gathered outside the Capitol building on December 21 as legislators inside debated four bills associated with pandemic relief, including an extension to an eviction moratorium.
Surveillance footage captured Nearman opening the door of the capitol building for the protestors, one of them carrying an American flag. The video shows two protestors entering the building and waving for more supporters to follow. Police shortly arrived skirmished with the protesters, who used chemical sprays against the officials.
Oregon Public Broadcasting reported that Nearman walked around the Capitol building and re-entered on the other side. The crowd, some of which were armed, continued to persist outside of the Capitol building. One man has since been arrested for attacking two journalists reporting on the scene.
Nearman has yet to express his reason for letting the protestors inside, nor given an apology to his colleagues for potentially endangering the legislature in a special session that day.
"I don't condone violence nor participate in it. I do think that when Article IV, Section 14 of the Oregon Constitution says that the legislative proceedings shall be 'open,' it means open, and as anyone who has spent the last nine months staring at a screen doing virtual meetings will tell you, it's not the same thing as being open," Nearman said in a statement released Tuesday night.
Kotek stated she also intends to file a conduct complaint with the Legislative Equity Office, saying in her statement that Nearman "created a hostile work environment at the Capitol."
The decision to demand for Nearman's removal comes just days after insurrectionists breached the U.S. Capitol Building in Washington, D.C. during a joint session of Congress.
Following warnings from the FBI of armed protests planned for state capitols in all 50 U.S. states surrounding the inauguration of President-elect Joe Biden, local authorities are planning increased security measures.
At least five men have been arrested in relation to the Dec 21 protests so far.