Peacocks Euthanized for Pecking at Car, Outraging Oregon Residents: 'Humans Are Trash'
Two wild peacocks in Oregon known to local residents as Bert and Ernie were euthanized by wildlife officials last weekend, sparking anger online.
The animals, which roamed freely in the River Terrace neighborhood in Tigard, were recently accused by some of the Oregon residents of causing damage to their property. But the birds were praised by others, who denied they were ever aggressive, KPTV (Fox12) reported.
The local police department told KPTV two complaints about the birds had been made in the past 12 months. Officials with the United States Department of Agriculture's Animal and Plant Health Inspection Service (APHIS) claimed several efforts to relocate them had failed.
A spokesperson for the agency said its staff members had contacted an animal shelter, rescue organization and a local zoo, but no-one could take the wild animals under their care. As a result, the spokesperson confirmed they had been captured and "humanely euthanized."
Media representatives for the APHIS did not immediately respond to a request for comment. On social media this week, commenters expressed shock and frustration about its decision.
"Tigard Police has had a total of two whole calls to report aggressive peacocks roaming the neighborhood and all of a sudden people tryna put them down? Ugh. Humans are trash. We really don't deserve this precious earth that we keep destroying," one Twitter user fumed.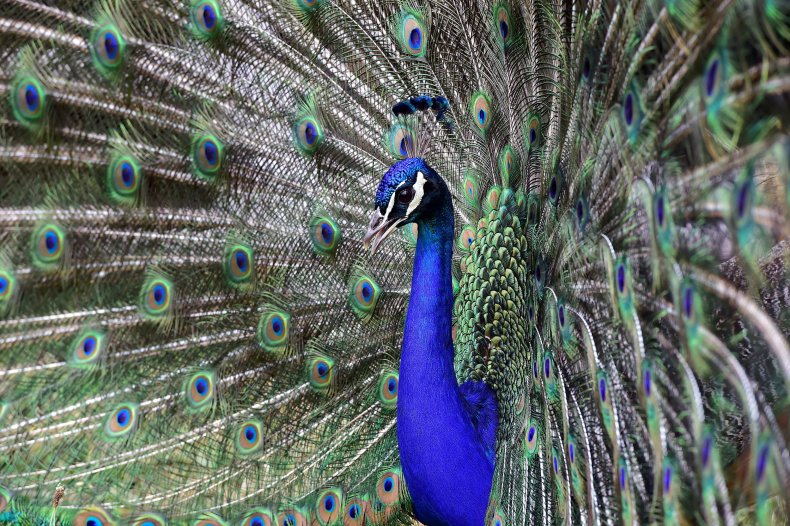 On Facebook, after being shared by community newspaper Tigard Life, users were shocked the zoo would not house the birds. "What's it to the city to have beautiful wildlife living their lives? And where will it stop? What other animals will they justify killing?," read one comment.
Sharing the story to the platform, another Oregon resident, a co-founder of a Portland animal shelter, added: "Why does it seem like killing is always the first response in dealing with wildlife? So frustrating." A Facebook user, also of Portland, raged: "The USDA can stay the hell out of my neighborhood! Our neighborhood peacocks are annoyingly loud but they are characters!"
Based on social media posts, it seems the peacocks have lived in the area for years. "Found the mystical peacock of Tigard," one Twitter user posted in 2014 alongside an image of the bird.
Some River Terrace homeowners told KPTV they did not share the irritation seemingly held by other Tigard residents, including one who alleged the peacocks pecked their vehicle.
"I have two young kids who would hang out play right next to them like less than a foot away from them, they wouldn't touch the birds, the bird wouldn't touch them," Amisha Sah Punj, who lives in the neighborhood, told the outlet. Another woman, Tram Nguyen, said: "They were not aggressive. If anything, they were afraid of us."