Oregon Tougher on Thanksgiving Families than Antifa Terrorists | Opinion
The state of Oregon is now in the middle of a two-week coronavirus "freeze period." If you violate its Democratic governor's draconian mandates you will be treated more harshly than an Antifa domestic terrorist interfering with a police officer. What message does that send?
Governor Kate Brown issued an executive order ahead of the Thanksgiving holiday amidst an increase in coronavirus cases. During the so-called freeze period, Oregonians will not be allowed to host too many family members for a turkey-day meal.
Under the mandate, you can have no more than six people in one home and they cannot represent more than two households. In other words, you'll be forced to choose between aunts, grandparents and nephews. Who will you invite? You'd better decide now.
If you're looking to work off some of that stuffing and pumpkin pie, I hope you can make do with body weights and outdoor cardio. Under Brown's rules, gyms are closed—even though, the healthier you are, the better you tend to fight off COVID.
If you're a family of faith, you may be out of luck if you don't line up early for church. While faith institutions may stay open, they can only host 25 people indoors. Be thankful, this holiday season, if you're able to enjoy your constitutionally protected right at all.
If you violate any of the governor's orders, you'll be subject to hefty fines or even jail time. According to the order, knowingly violating the will of Brown is a misdemeanor offense. You could be hit with $1,500 fine or 30 days in jail—or both.
In stark contrast, if you're an Antifa domestic terrorist who participated in near-nightly riots in Portland, you weren't treated as harshly. Indeed, if you managed to get arrested, you were likely quickly released and almost certainly not charged.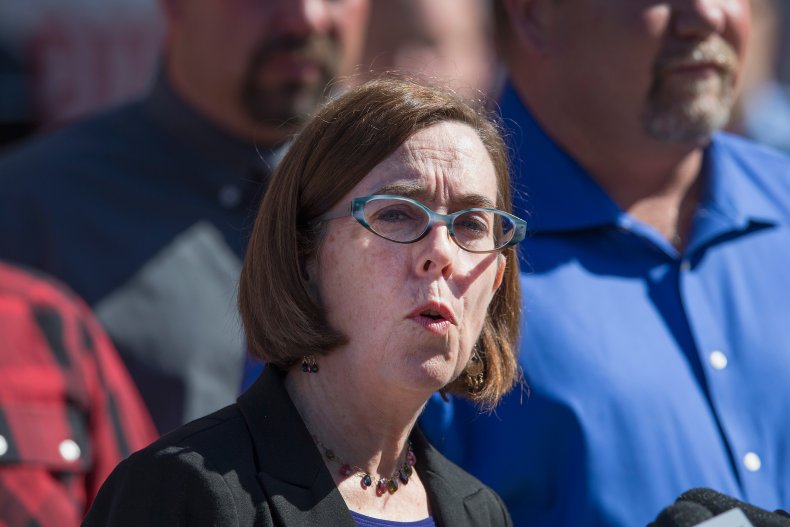 Over the summer of "peaceful protests" in the Rose City, Multnomah County district attorney Mike Schmidt told criminal activists that, for the most part, they won't face any legal consequences for their dangerous behaviors. Of course, that remark only enabled more violence.
Schmidt introduced a new policy making it clear he had little interest in fulfilling his charge. If you were involved in certain crimes, like damaging property or resisting arrest, you'll pretty much get a pass. If you assault a police officer, Schmidt promised he'd give your case a hard look to review the context in which it occurred.
In August, Schmidt indicated he wouldn't move forward with charges against most suspects arrested during the peaceful protests/riots. The message to police officers? You put your lives on the line, I guess. You're doing work to protect our community, I suppose. But the county doesn't care. It was all for nought.
This raises the question: does Governor Brown expect law enforcement to do her dirty work, policing the homes of families in Tigard and Eugene? Will they do house checks in Corvallis to make sure you don't let a seventh family member tag along? Sure, your recently widowed grandmother would otherwise be alone on Thanksgiving, but Brown is just looking out for her. In that scenario, who would even go to jail or be fined? The whole family? Or just grandma?
When you're treating families more harshly than actual criminals, you're doing something wrong. But that seems to be the direction Democrat-run states and cities are going.
If Democrats are already taking these drastic measures to curtail our freedoms, what will America look like when they have the White House? I'd be rather thankful this holiday season if Republicans could hold on to the Senate.
Jason Rantz is a frequent guest on Fox News and is the host of the Jason Rantz Show on KTTH Seattle, heard weekday afternoons. You can subscribe to his podcast here and follow him on Twitter: @jasonrantz.
The views expressed in this article are the writer's own.