Girl, 8, Loses Unvaccinated Parents to COVID
An eight-year-old girl has been left without the two most important people in her life after COVID killed her unvaccinated parents. Friends believe they may have been infected while attending a fair.
Tom Burko, 38, his wife Josie Burko, 39, and her daughter Lillie from a previous relationship, caught the disease soon after they went to the Grant County Fair in Washington on August 18.
Lillie and Tom's 70-year-old vaccinated mother, who also attended the event and suffered a breakthrough infection, managed to recover.
But Josie Burko was not so lucky and died on August 28 at their home in Moses Lake, Washington. Tom Burko was rushed to hospital the same morning, succumbing to the disease 11 days later.
"It happened so suddenly," said Jennifer Desantis, from Forest Grove, Washington County, who was a lifelong friend of the couple. "We didn't know they'd gone to the fair."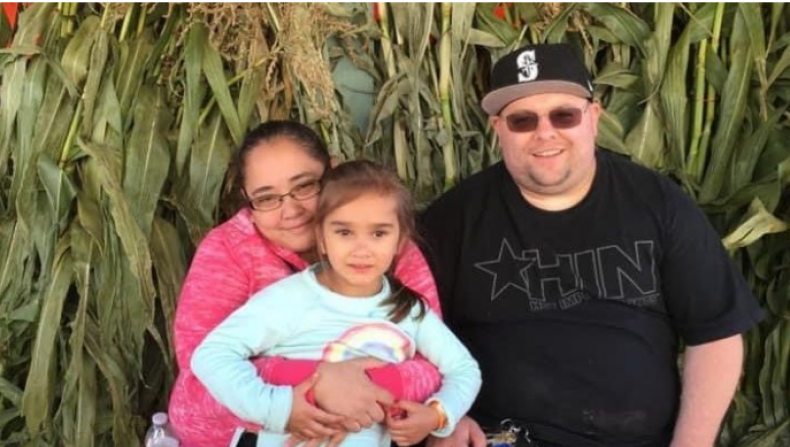 "When Lillie's mom died, it was devastating, but in the back of her head it was still, 'I have my dad and when is he coming home?'" Desantis told Oregon Live.
"When she found out he died, that's when everything fell on her," she added. Lillie will live in San Diego, California with her maternal aunt.
The publication noted that it was impossible to know for sure if the family contracted the disease at the fair attended by 72,000 people over five days where few wore masks, but county health officials said that several dozen COVID cases were linked to the event.
Newsweek has contacted Washington County Public Health for comment.
"They were 100 percent pro-vaccination," Desantis said of the couple, although Josie Burko was reluctant to get the jab because she feared adverse reactions due to health problems that included severe diabetes, a heart murmur and chronic bronchitis.
Because she was unvaccinated, Josie Burko had stopped working as a caregiver in local nursing homes. She wanted to wait until she recovered and a vaccine got full approval from the U.S. Food and Drug Administration (FDA).
The FDA granted full approval to the Pfizer-BioNTech COVID-19 vaccine on August 23.
Another friend, Lynn Schuler, said the couple "were afraid" to get the jab, because "they were worried it would agitate or make their conditions worse."
In her last conversation with Tom Burko, Desantis promised she would take care of Lillie. There was no will or life insurance and DeSantis and Schuler have set up a GoFundMe page to help the eight-year-old, which as of Thursday morning had raised over $4,000.
The page is both homage and appeal, as it mourns the loss of the couple and describes how close the family of three were, with their love of road trips, movie nights, walks to the park and "all the family time they could get."
"She's the main priority and we're just making sure she has everything she needs," said Desantis, whom Newsweek has contacted for comment. "We have a little girl here, and she doesn't have her people."