This story is co-published with Capital & Main
In a portrait of progress, it almost looked like a missing tooth. While the U.S. overall was experiencing a significant decrease in new COVID-19 cases, and once-troubled California dropped to the lowest case rate in the nation, two Pacific Northwest states took an abrupt turn in the other direction.
It wasn't subtle. In Oregon, weekly case counts of the virus more than doubled in a month, going from a seven-day rolling average of 419 on April 1 to 861 on May 1, according to data compiled by Johns Hopkins University. Washington state, meanwhile, saw its seven-day average shoot from 784 on March 22 to 1,405 just a month later.
The states' governors responded by either preparing or initiating rollbacks on reopenings in an attempt to avoid a 2020-like spread. But what is driving the sudden spikes in numbers—and what does it suggest for California and the rest of the country?
The answers diverge along two distinct paths. First, the presence of mutations of the virus, particularly the B.1.1.7 variant first identified in the United Kingdom, is telling. Oregon officials believe B.1.1.7 is now responsible for a majority of the cases in the state, and the Centers for Disease Control and Prevention (CDC) says the strain may be 50 percent more transmissible than other COVID-19 variants.
But the second path is the most troubling. In both Washington and Oregon, politics, vaccine hesitancy and COVID fatigue have become significant factors in the story. And at a time when most health experts agree that vaccinations are the frontline defense of choice against further viral spread, anything that prevents shots from going into arms is a problem to be reckoned with.
"The harsh reality is, the sooner Oregonians get vaccinated, the more people that get vaccinated, the more quickly we can reopen our economy," Oregon Gov. Kate Brown (D) said at a news conference recently. Earlier, Brown designated 15 counties as being at "extreme risk" for COVID spread, placing strict limits on public activities and once again banning indoor dining at restaurants. The counties included most of Oregon's largest cities such as Portland, Eugene and Salem.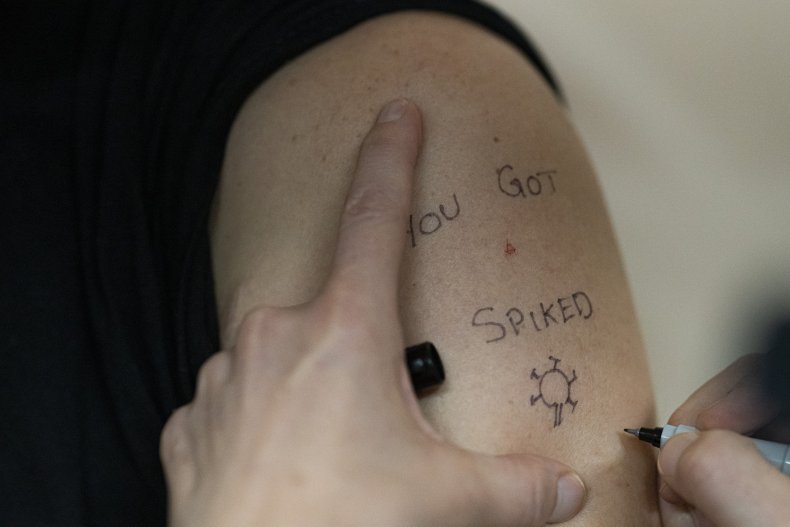 Washington Governor Jay Inslee (D), meanwhile, pleaded with residents to get vaccinated and said several counties were just days away from moving backward in their reopening plans. "I'm not asking people to listen to the governor," Inslee said. "I'm asking them to listen to the facts here. And the facts are, if we don't want our hospitals to be overrun, we need to continue to do what we know works—and that's to get ourselves vaccinated."
Strictly speaking, neither state lags behind the national average in vaccinations, with Washington and Oregon both slightly ahead of the 31.8 percent figure for fully vaccinated people in the U.S., according to the CDC. But in both states, vaccine distribution remains uneven, with surplus doses in some areas and a lack of supply in others.
In both states, too, the demographics are tricky. It's the younger age groups that are fueling the rise in caseloads and hospitalizations, and health experts suspect that's partly because younger people aren't getting vaccinated as readily as older residents and are more likely to gather in large groups or ignore safety advice altogether. "We've let our guard down to some degree," Inslee said.
And as the states strive for 70 percent to 85 percent vaccination rates, politics are front and center. John Shafer, a commissioner in East Oregon's Umatilla County, recently made news by volunteering to have his photo taken while receiving a shot, just to show that a Republican in the deeply pro-Trump county was willing to get vaccinated. In Ferry County, Washington, meanwhile, a poker night and karaoke gathering led to a COVID outbreak in the gold-mining town of Republic, where only about a fifth of the county's residents have received even one shot. County health administrator Matt Schanz told the Associated Press that vaccine-hesitant people there say, "Jeez, I don't want to be a government experiment."
Will the Pacific Northwest's spike in cases spread to California and reverse its recent good fortune? "I don't see why [the surge] would skip California. I don't know why we would be spared," Stanislaus County Public Health Officer Dr. Julie Vaishampayan said during a recent presentation to her county's supervisors. She added that her agency was preparing for an uptick in new cases.
Others aren't so sure. While it's too early to know with certainty, it appears as if a California-based mutation of the virus has taken hold in the state, and while dangerous, it is actually less contagious than the B.1.1.7 strain that is ripping through Washington and Oregon. "There's real supposition that [the California variant] may be out-competing the U.K. variant" among people in the Golden State, UC San Francisco epidemiologist Dr. George Rutherford told the Los Angeles Times.
California also outpaces the national average in the percentage of residents who are fully vaccinated, with a 40.4 percent figure as of May 1. But like its neighbors to the north, the state is beginning to realize slowing rates of vaccination, with political differences once again on display, and the question is whether the state can get enough of its citizenry inoculated to withstand an insurgence of something like the highly transmissible U.K. variant.
As far as achieving herd immunity in the U.S., the New York Times recently quoted a cross-section of experts as saying it's more likely the virus will become "a manageable threat" in the future than something actually eradicated. Getting enough people to agree to be vaccinated, the experts said, was one of the most significant hurdles.
As the recent experience in the Pacific Northwest shows, pushing that vaccination percentage high enough to stave off a malicious variant of the virus is going to be crucial. It's also going to be a challenge—and it won't end soon.
Copyright 2021 Capital & Main
Uncommon Knowledge
Newsweek is committed to challenging conventional wisdom and finding connections in the search for common ground.
Newsweek is committed to challenging conventional wisdom and finding connections in the search for common ground.