Two States, D.C. Say 'Yes' to Legal Weed, Florida Says 'No' to Medical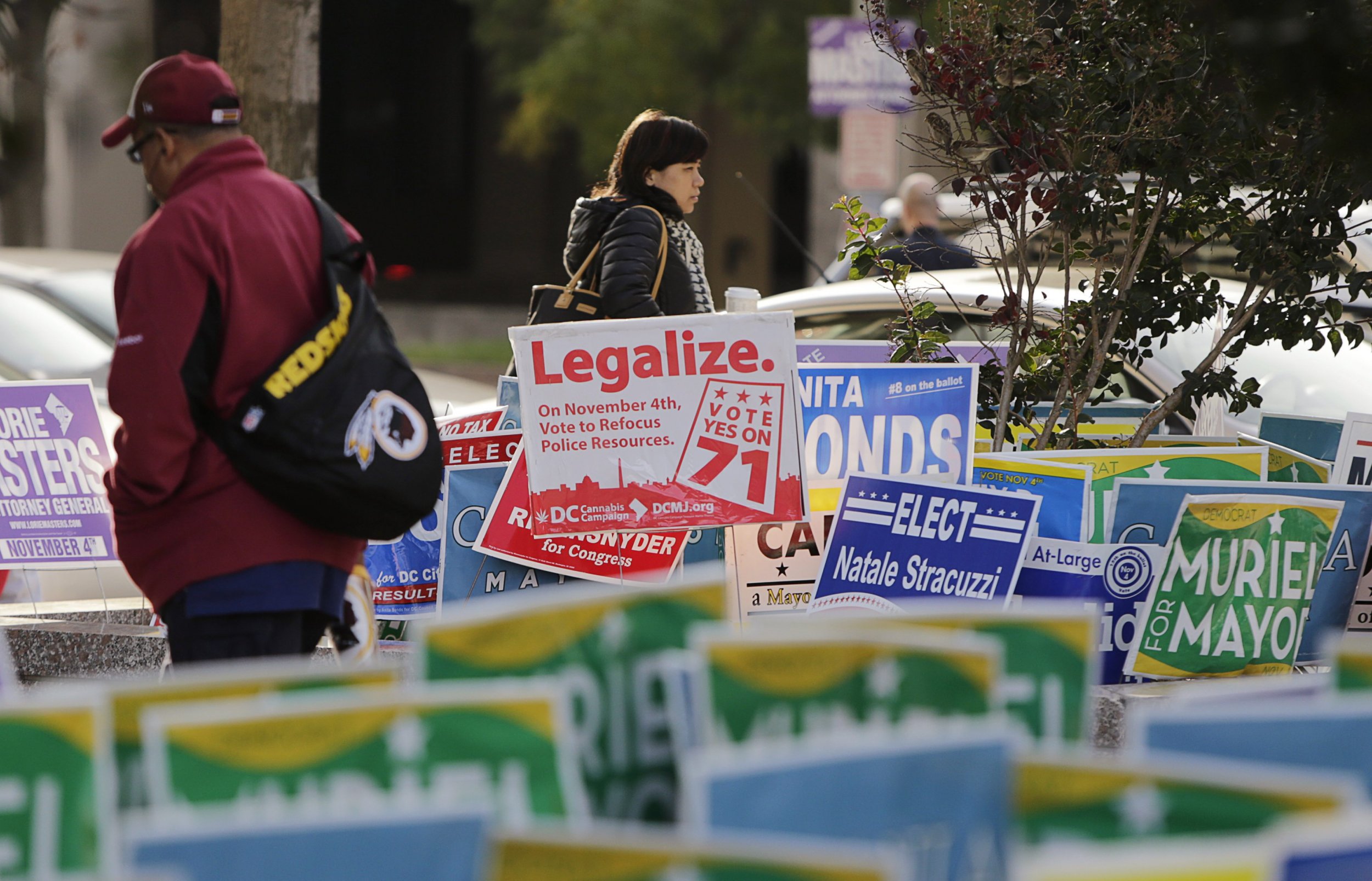 Updated
In Tuesday's midterm elections, voters in three states and the District of Columbia were given the opportunity to vote for ballot measures related to the legalization of marijuana in the midterm elections.
D.C. voters approved an initiative that allows persons over 21 years old to possess up to two ounces for marijuana for personal use, and grow up to six marijuana plants, with three or fewer being mature, flowering plants.
Initiative 71, or the "Legalization of Possession of Minimal Amounts of Marijuana for Personal Use Act of 2014," does not create a regulatory framework for the sale of marijuana — a sticking point for some members of the D.C. city council.
"[T]he initiative as it is written doesn't give us the certainty we need," at-large councilman David Grosso told The Washington Post before the election. The city council has the power to delay implementing the act, which it may choose to do while it establishes a regulatory framework for the sale of marijuana. That delay could mean it will be months or years before D.C. residents are legally able to enjoy recreational marijuana.
Oregon voters also supported the legalization of weed in the form Measure 91, also known as the "Oregon Legalized Marijuana Initiative." The measure would allow Oregonians 21 years of age or older to possess more weed than D.C. residents — up to eight ounces of dried marijuana — but fewer plants. It also allows for the in-state manufacturing, processing, taxation, and sale of marijuana. The measure tasks the Oregon Liquor Control Commission with regulating those sales.
Voters in Alaska, where a local news anchor famously quit her job on live TV in September to campaign for legalization, also voted to legalize. Alaska's Ballot Measure 2 will allow persons 21 years of age or older to possess up to one ounce of marijuana and up to six plants. The measure will also make manufacture, sale, taxation, and possession of marijuana legal in the state.
Voters in the more conservative state of Florida could not muster the 60 percent "supermajority" required to approve medical marijuana, however. The measure received the support of approximately 57 percent of voters, falling short by a mere three points. Initial returns showed the U.S. territory of Guam reportedly voting yes for the legalization of medical marijuana use.
A 2013 Gallup poll found a majority of Americans favored legalizing marijuana, with Colorado and Washington becoming the first states to okay its recreational use.
This article was updated to reflect the passing of Ballot Measure 2 in Alaska, which legalizes the use of recreational marijuana.