Oregon Wildfire Map: Residents Forced to Evacuate as Bootleg Fire Doubles in Size
Oregon's wildfire season got off to an early start this year as the state faced a lack of spring moisture and 11 wildfires were burning throughout the state on Monday.
The Bootleg Fire is by far the biggest one that firefighters are battling, burning more than 150,000 acres and conditions aren't in firefighters' favor. Amid a heatwave and windy weather, the fire doubled in size over the weekend, firefighters have had to retreat to safety zones and residents have been forced to evacuate.
Residents in Klamath County, north of the town of Beatty and near the town of Sprague River were under a level 3 evacuation notice, meaning they needed to leave immediately. Other residents in the area were told the "be ready" and "get set" to depart their homes in the event conditions of the fire changed and their lives were in danger.
"The Klamath County Sheriff's Office has begun to issue citations and will make arrests if necessary to keep people out of the level 3 evacuation areas," officials said.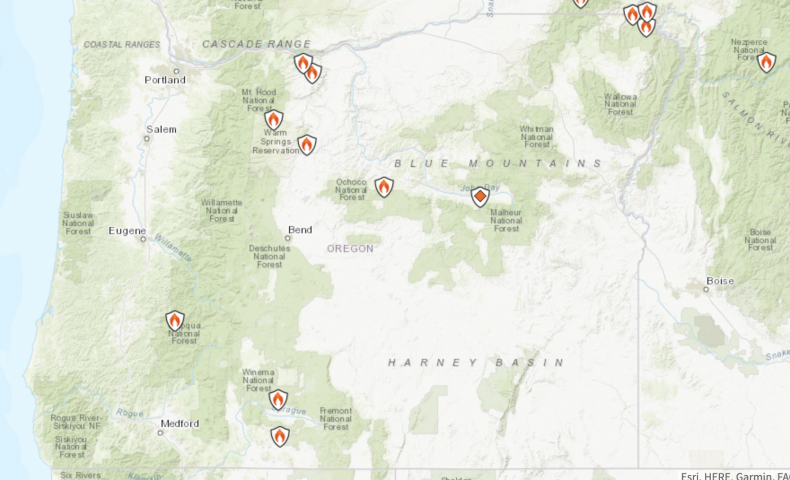 Parts of Oregon were under a Red Flag Warning, a measure used by the National Weather Service to indicate to residents that wildfires were possible and to curb certain behaviors. Residents were advised to avoid throwing burning cigarettes on the ground, parking their "hot vehicles" on dry vegetation and using equipment that could cause sparks.
Officials also requested that residents not fly drones in the vicinity of the fire because it could prompt the grounding of firefighting resources. As of Sunday, 10 helicopters were working on the fire, which was zero percent contained.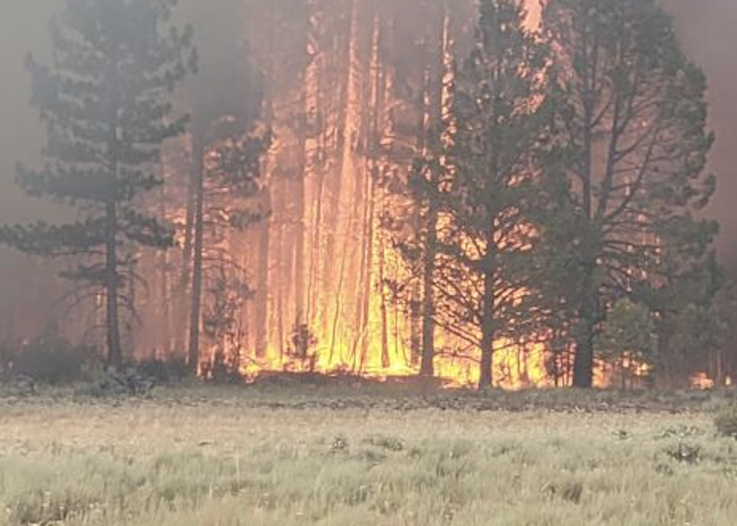 Firefighters face adverse conditions fighting the Bootleg Fire in Oregon because the weather has been very dry and windy.
Fremont-Winema National Forest
Residents are also fleeing the Grandview Fire, which is burning north of the Bootleg Fire. The flames spread rapidly through grass and juniper on Sunday and grew to 2,000 acres with zero percent containment.
Residents of Jefferson and Deschute counties were under a level 3 evacuation order and were advised not to delay in leaving their homes to gather belongings or try to protect their home from the flames. Others in Deschute County were under a level 2 evacuation order.
The Jack Fire, burning over 10,000 acres, also prompted mandatory evacuations for the Apple Creek, Eagle Rock and Horseshoe Bend campgrounds and the Dry Creek community and residence on Illahee Road.
Without the regular moisture Oregon is used to, vegetation in the state has become very, very dry, helping fuel the flames burning throughout the state. Last year, nine people lost their lives to wildfires in Oregon and thousands lost their homes.
To help assist with firefighting efforts, Gov. Kate Brown signed an emergency declaration in early June to deploy resources from other state agencies to the flames.