Oregon Wildfire Map, Update as PGE Outage Fears Rise Over Huge Infernos
Wildfires have burned through 168,000 acres across Oregon, with emergency power shutoffs by Portland General Electric and Pacific Power expected to hit 40,000 households on Friday.
A red flag warning issued by the National Weather Service for Portland is in place until 11 p.m. on Saturday, with the agency warning of "rapid fire spread" which "may threaten life and property."
There are currently seven active wildfires raging across Oregon, with another two contained, according to the emergency response Northwest Interagency Coordination Center.
The largest is the Double Creek Fire, in the north-east by the Idaho border, which has consumed 100,182 acres.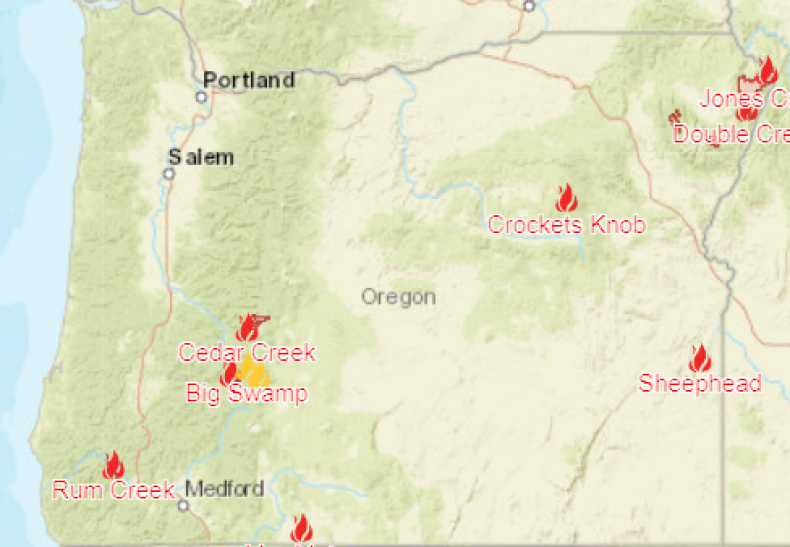 Further south, just above Oregon Route 58, the Cedar Creek Fire has burned its way through 27,512 acres.
The third largest fire is in the Siskiyou National Forest, near the California border, where 21,227 acres have been destroyed by the Rum Creek Fire.
All three main fires were started by lightning, according to the Northwest Interagency Coordination Center.
On Wednesday, Portland General Electric said it expects to cut power to 30,000 Oregon households on Friday morning, lasting until Saturday night, in a bid to stop damaged powerlines causing more wildfires. These are forecast to take place in Washington, Clackamas, Marion and Multnomah counties, along with the Columbia River Gorge and Mount Hood foothills.
Pacific Power also announced a planned shutoff for 12,500 customers, lasting from 12 a.m. on Friday until Saturday evening.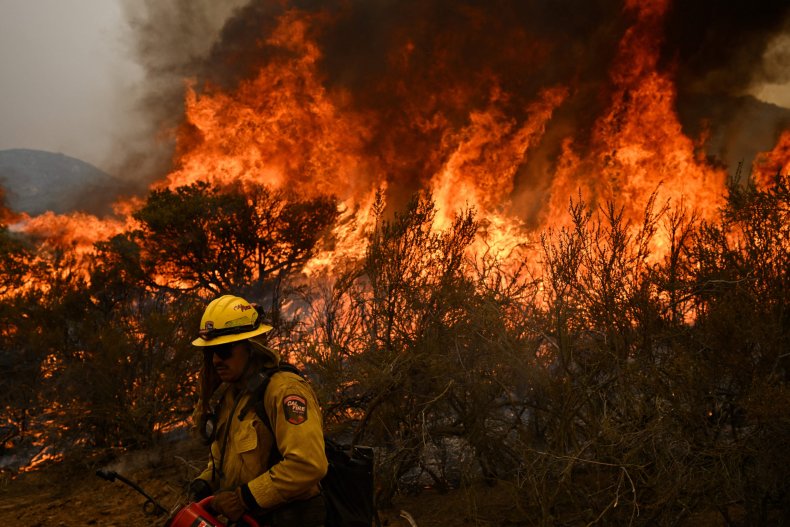 Speaking at a press conference on Thursday, as reported by Oregon Live, Chief Deputy State Fire Marshal Travis Medema said: "We're really concerned about the next 72 hours."
Governor Kate Brown said: "Go to bed tonight with a plan in the event your family needs to evacuate or you wake up without power. If you're asked to evacuate, do so immediately."
Brown later tweeted: "The forecasted wind patterns, hot dry weather, and potential for lightning are making a challenging environment for increased fire danger in the coming days. There is also the possibility of public safety power shutoffs to mitigate potential fire risks.
"As with every fire season, we are prepared to do whatever it takes to protect you, your homes, and the places we all love and cherish."
Also at the press conference was Andrew Phelps, director of the Oregon Department of Emergency Management, who said: "The time to prepare is over. Now is the time to act."
More than 41,000 acres have been burned by a number of wildfires across California, most of which have yet to be contained.
Two people have been killed and another seriously injured by the Fairview Fire, which has been burning since Monday.
California has experienced a week of extreme temperatures, which at times exceeded 110 degrees Fahrenheit in Central Valley and went above 100F for much of the coastline.