Oregon Fires 'Knocking on Doorstep' of Portland As Official Warns of Mass Fatality Incident
Raging wildlifes scattered across Oregon are predicted to result in a mass fatalities and are "knocking on the doorstep" of the city of Portland.
Andrew Phelps, director of the state's Office of Emergency Management, said yesterday that the disaste will be a "long-term recovery operation" as flames fuel mass destruction to forests and towns—and potential loss of life for residents unable to flee.
Firefighters continue to battle the spread of flames that have now burned more than one million acres of land. Forty thousand Oregon residents have had to flee their homes and an estimated half a million people are currently living in evacuation zones.
It's believed that more than 20 people have died from wildfires that have spread across California, Oregon and Washington. Authorities are aware of dozens missing.
With the skies and sun appearing bright red due to pollution and smoke, officials warn some wildfires are now encroaching on the surrounding areas of Portland, the largest city in the state with a population of more than 650,000 people.
"It's certainly burning into the wildland urban interface that surrounds Portland," Phelps said in an interview with NPR's Sacha Pfeiffer on Friday.
"We've got most of Clackamas County, which borders on Portland, under at least Level 1, in many cases Level 2 or Level 3 notices. And that's the entire Clackamas County, which has a population of over 400,000 people. So it's knocking on the doorstep.
"I've got to say, the firefighters have been nothing short of heroic in difficult, dangerous conditions to try to keep the fire from progressing into that wildland-urban interface."
In a press briefing on Friday, Oregon Gov. Kate Brown said level one means to pack up valuables and monitor for official news, level two means to get ready to evacuate at a moment's notice if required, while level three translates to leave immediately.
"I can't say this enough, if you are notified by emergency officials to evacuate, please do so immediately. You may not get a second chance," Gov. Brown said.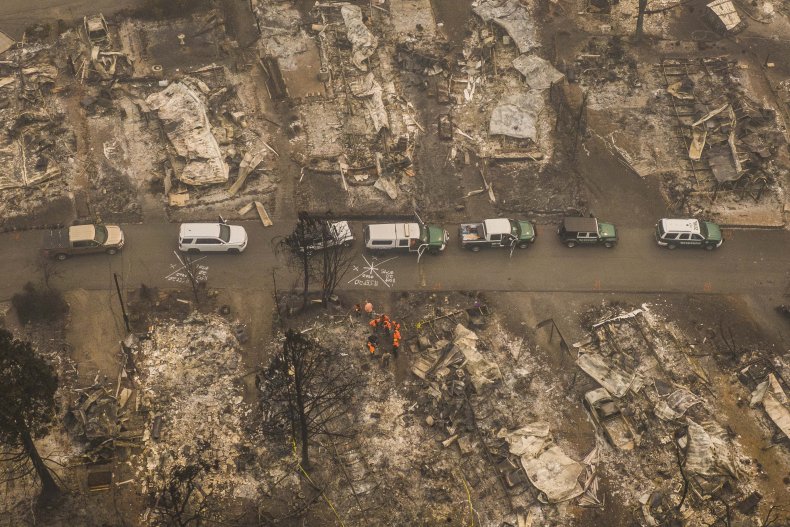 As the unprecedented wildfires wreak havoc along the U.S. west coast, Phelps said that authorities are tragically predicting that not everyone will have made it to safety.
"These fires have already resulted in loss of life and thousands of structures have been lost. We know we're dealing with fire-related deaths and we're preparing for a mass fatality incident based on what we know and the number of structures that have been lost... if you have evacuated and you are someplace safe stay there," he said.
He added: "If you are home and not under evacuation orders or levels one or two, make sure you are tuned in to official government sources."
Officials in the state have stressed that citizens should rely on official channels after a surge in misinformation online about the origins of the fires, with some suggesting they were started by left-wing protest group antifa—a claim without evidence.
The FBI said it had probed the reports and found them untrue. "Help us stop the spread of misinformation by only sharing information from trusted.. sources," it tweeted.
Elaborating on his stark Friday assessment, Phelps told MSNBC the grim prediction was partially made by analyzing similar wildfire outbreaks in California.
"We are seeing those same types of conditions here in Oregon—fast moving fires. Fires that damage the only means of egress for a lot of communities and we just know that so many many structures were lost. There are going to be a number of fatalities, folks who just couldn't get warning in time and evacuate their homes," he said.
Gov. Brown said that while analysis suggests cooler air and moisture are coming in the next few days, the situation is far from over. Oregon's quality currently ranks the worst in the world. "Almost anywhere in the state you can feel this right now," she said.
In California, firefighters have battled outbreaks for weeks, with 28 major wildfires still burning across the state, which has logged 19 deaths and more than 3,900 structures destroyed. "This year's acres burned is 26 times higher than the acres burned in 2019 for the same time period, and the combined amount of acres burned is larger than the State of Connecticut," officials from Cal Fire said in a media release.
Speaking from fire-ravaged ground Friday, Gov. Gavin Newsom linked the increase in fires to climate change. "What we're experiencing right here is coming to communities all across the United States of America," he warned, The Guardian reported.
Official government information is published via the Oregon state government's online hub and the Office of Emergency Management Twitter accounts. Additional updates are published by the Department of Forestry and state Fire Marshal's social profiles.