O'Reilly Harassment Accuser Andrea Mackris Breaks NDA: 'Bill Wasn't a Victim'
Former Fox News associate producer Andrea Mackris revealed the emotional fights she had with her own legal counsel in 2004 after she came forward with damning evidence of sexual harassment from then-host Bill O'Reilly, which led to a $9 million settlement agreement.
Mackris, who was one of several alleged victims of O'Reilly's insidious sexual misconduct at Fox News before he was ultimately fired in 2017, broke her 17-year-old non-disclosure agreement (NDA) this week. Speaking with The Daily Beast for an article published Tuesday, Mackris said she fought to avoid signing the 2004 settlement agreement which allowed O'Reilly to claim he was actually the "victim" of the sexual misconduct allegations. Mackris had produced several audio tapes of her boss' alleged late-night sexual fantasy phone calls and demands for mutual masturbation.
Mackris said this week she battled high-profile lawyers for O'Reilly, Fox News and News Corp—as well as her own attorney, David Ratner—in an effort not to sign the $9 million settlement agreement. Mackris and several people close to her said she didn't want the money, she wanted to continue her TV production career and hold O'Reilly accountable.
She detailed a 2004 Manhattan boardroom scene in which attorneys on both sides of the settlement, including Ratner, were demanding that she take the $9 million deal and sign the "draconian" NDA.
"[My attorney Ratner] was yelling because I was yelling back at him that Bill wasn't a victim," Mackris recalled to The Daily Beast. "I was saying, 'I'm not doing this, I'm not doing this. I'll walk out. No, I'm not signing.' I was sobbing and screaming. I couldn't comprehend what was happening—that Fox heard the tapes and was doing nothing."
"No one believes you, and you'll never be hired again, and if you walk out of this room like this, no other lawyers will work with you. You didn't hire us to go to trial, you hired us to make him stop,'" Ratner allegedly told Mackris during a private moment between the two at the 2004 litigation meeting.
A Fox News spokesperson issued the following statement to The Daily Beast, which appeared in the initial report published Tuesday:
"The claims outlined in this report took place under the leadership of Roger Ailes, who along with Bill O'Reilly and the management referred to here, have been long gone from the network. Since the summer of 2016, FOX News has worked tirelessly to transform the company culture, including naming a new chief executive, tripling the size of our HR footprint, designating a new senior leadership team predominantly comprised of women and establishing a Diversity, Equity and Inclusion Council. We have also instituted mandatory in-person, live harassment prevention training, designated multiple avenues to report 'concerning behavior' including an anonymous alert line, enhanced company-wide communication with quarterly company meetings and mentoring events, as well as implemented a zero tolerance policy regarding workplace misconduct of any kind for which we engage outside independent firms to handle all investigations. No other media company has undergone such a comprehensive and continuous overhaul which resulted in our designation as a Great Place to Work last year."
Ratner told The Daily Beast this week "no one" in the boardroom yelled or threatened Mackris, noting the $9 million settlement offer was the result of hours of negotiations.
"I am distressed that Andrea's memory is so faulty," Ratner reportedly added.
In addition to the silencing caused by the NDA, Mackris' signing of the agreement allowed O'Reilly to go on his top-rated program that same night in 2004 to denounce the allegations as both false and an attack on him.
"This brutal ordeal is now officially over, and I will never speak of it again. This matter has caused enormous pain, but I had to protect my family, and I did. All I can say to you is please do not believe everything you hear and read," O'Reilly said on the O'Reilly Factor later that evening. "[There was] no wrongdoing in the case whatsoever by anyone."
O'Reilly's current legal counsel echoed this same sentiment 17 years later, penning a letter to The Daily Beast which succinctly stated, "Ms. Mackris issued a public statement in 2004 in which she stated that 'there was no wrongdoing whatsoever by Mr. O'Reilly.'"
But Mackris maintains O'Reilly's threats went unchecked throughout her four-year tenure at Fox News, including a notorious alleged sexual fantasy he had about soaping her body with an item he described as either a "loofah...or falafel thing."
"I'm going to make you play," O'Reilly reportedly told Mackris during her tenure at Fox.
"Here was my boss, a man who held my career and future in his hands, acknowledging that he knew I'd never consented but he didn't care," Mackris told The Daily Beast.
O'Reilly was not fired by Fox News until an April 2017 New York Times report revealed the series of sexual misconduct allegations and multimillion-dollar payouts which occurred for years.
Newsweek reached out to representatives for O'Reilly for any additional response Tuesday afternoon.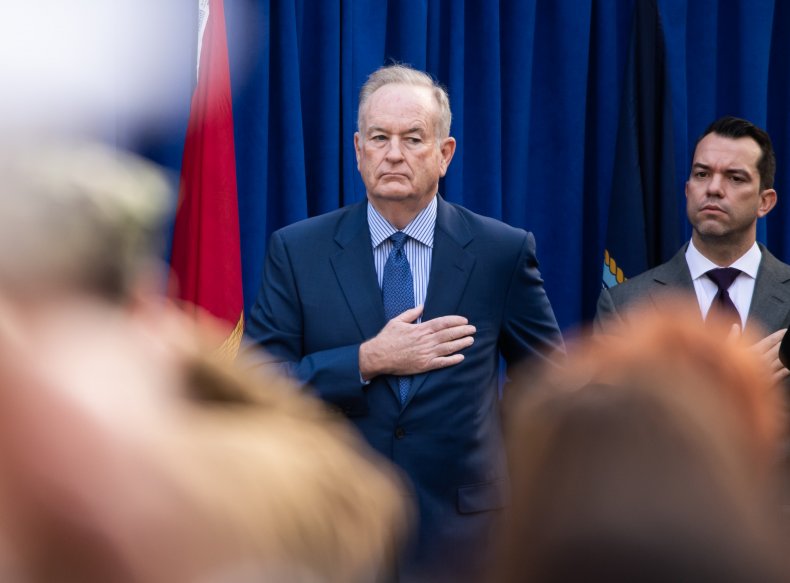 Updated 07/13/2021, 3:54 E.T.: This story has been updated with a statement from a Fox News spokesperson Tuesday afternoon.