How to Get Oreo's 5 New Cookie Flavors: S'mores, Latte, Marshmallow Moon, Mint Chocolate Chip and Maple Cream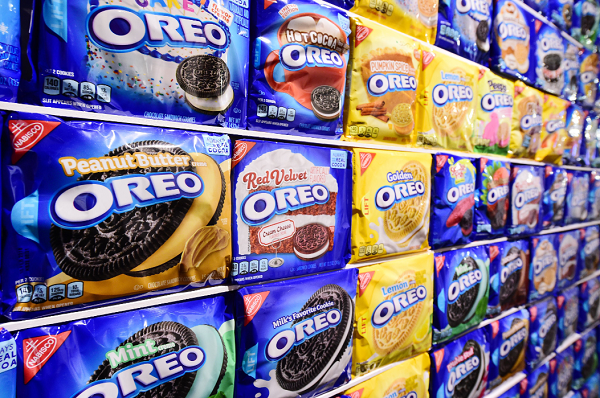 Over the years Oreo has blessed the masses with a plethora of cookie flavors. The cookie company has experimented with Birthday Cake, Lemon, Mint, Peanut Butter, Golden, Golden Birthday Cake, Red Velvet, Cinnamon, Chocolate Hazelnut and even Peep flavors. We've tried Oreo cookies that have somehow managed to capture the taste of Spring. There has been Thin Oreo, Mini Oreo, Double-Stuffed and Mega-Stuffed Oreo too.
The list truly goes on and on and, now, the classic chocolate and white cream-filled cookie will add yet another addition to the list—actually five new additions—all of which will become available over the course of the summer, according to Food & Wine magazine.
Oreo announced an onslaught of new flavors releasing within the next few months, starting with the first—a returning favorite—S'more. Just in time for summer camping, the S'more flavored cookie hit store shelves on Monday. Oreo's take on the campfire classic, which was first unveiled in 2015, includes two graham cracker-flavored cookies with marshmallow and chocolate-flavored cream sandwiched in between.
With ice coffee season finally upon us, Oreo will also soon deliver a new cookie with an espresso edge. The Oreo Thins Latte will feature the favorite extra-thin chocolate cookie, but the cream inside is café au lait-flavored so you can skip the several sugar packets in your morning brew and nibble on a few of these instead. Oreo Thin Latte will be available at the top of June and will be here to stay as they will be the newest permanent addition to the Oreo Thin troupe.
If coffee-flavored and S'mores cookies aren't your jam, then how about a little American nostalgia with your sweet treats? In honor of the 50th Anniversary of Neil Armstrong and Buzz Aldrin's historic 1969 moon-landing, Oreo will release Marshmallow Moon-flavored cookies in July. The cookies, filled with galactic purple cream, will come in glow-in-the-dark packaging, and the chocolate cookies will feature lunar designs.
In addition to the Marshmallow Moon cookies, Oreo will also release a Mint Chocolate Chip cookie in July. A collaboration with Baskin Robbins, the Mint Chocolate Chip Oreo will feature mint and chocolate cream, dotted with chocolate chips, sandwiched between chocolate cookie discs.
The final cookie of the season is the Maple Cream Oreo, filled with—you guessed it—sweet, golden maple-flavored filling. It's also the only new cookie featuring Oreo's Golden wafers. The limited-edition Maple Oreo hit shelves in late August.
How to Get Oreo's 5 New Cookie Flavors: S'mores, Latte, Marshmallow Moon, Mint Chocolate Chip and Maple Cream | Culture