Conservatives Attack Wrong Group for Oreo's LGBT-Inclusive 'Pronoun Packs'
The snack giant gave away special-edition Oreo packages at NYC Pride with 'she/her,' 'he/him, and 'they/them' imprinted on the cookies.
Nabisco joined the multitude of corporations celebrating Pride Month, giving away special-edition Oreo "Pronoun Packs" at World Pride in New York on Sunday.
"We're proud to celebrate inclusivity for all gender identities and expressions," Oreo tweeted. "In partnership with NCTE, we're giving away special edition Pronoun Packs and encouraging everybody to share their pronouns with #Pride today and every day."
Three different packs—"she/her," "he/him," and "they/them"—had pronouns written on the cookies themselves, with blue, pink and purple packaging reminiscent of the transgender flag.
In addition Oreo-cookie pins that read "Ask Me My Pronouns" were given away on Sunday.
Even though the Pronoun Packs were only available at the PrideFest street fair, and not sold in stores, they garnered a fair amount of attention online.
"These are beautiful," wrote one fan on Facebook, "and I'd purchase one in every design and hand them out to the people in my life who would appreciate these."
"Thank you, OREO!" another replied. "Representation matters. Normalizing asking what a person's preferred pronouns are matters. It's just plain human decency."
Not all the reactions were positive, though: "And this is why I'm glad that my diet doesn't allow your cookies," one person tweeted. You've lost a customer. Get woke, go broke."
"After decades of being a customer, we've bought our last package of Oreos," added another.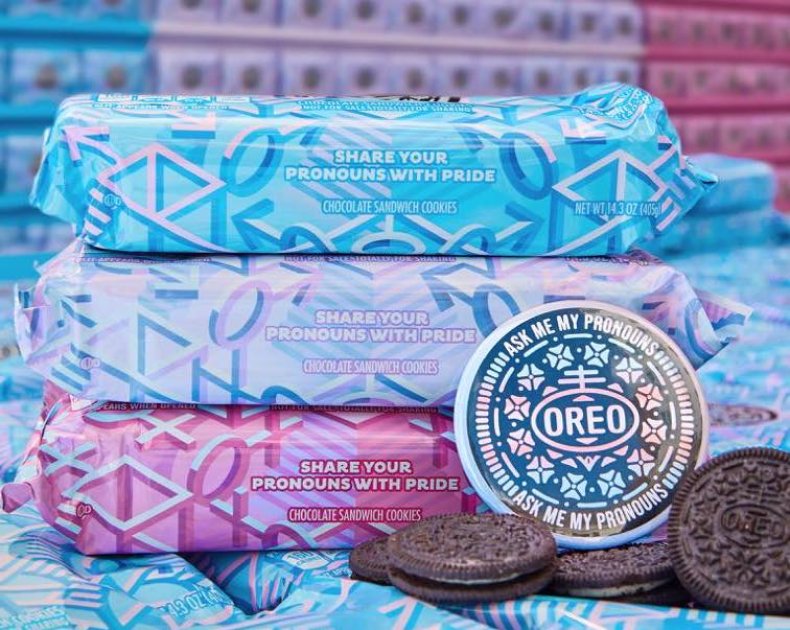 On The Federalist, executive editor Joy Pullman wrote that Oreo "made clear they're taking sides in the culture war against half of America."
She also claimed the cookie-maker was trying to have it both ways by only releasing the packs at Pride: "It wants to get all the cred from LGBT politics without alerting the majority of their customers, who probably won't see their Facebook post and or this offensive product in any store to tip them off."
Pullman added that NCTE, which said was the "National Council of Teachers of English," served only "to degrade instruction with politicization and gobbledygook."
"While it sounds benign, this massive organization that affects millions of teachers all over the country—and helped write Common Core—has been politically far leftist for decades."
"NCTE is in fact largely a political organization, not a professional organization, at this point," she wrote. "Assisting with these "pronoun packs" only makes publicly obvious what has been true about NCTE for decades."
In reality, though, Oreo partnered with the National Center for Transgender Equality—a completely different organization with the same initials.
"We are so proud to partner with Oreo on this campaign and grateful for their support for our work," Mara Keisling, executive director for the National Center for Transgender Equality, told Newsweek. "It's a sign of how far our community has come that business leaders across the nation are proud to show their support for inclusivity and representation of all identities."
This isn't the first time the 107-year-old snack company has supported of the LGBT community: In 2012, the company posted an Oreo with six layers of cream—one for each color of the rainbow flag—along with the caption "Proudly support love!"
"This is absolutely disgusting. Your attempt to 'normalize' the behavior of homosexuals has cost you a customer," one upset commenter wrote at the time. In that instance, the Pride Oreos were only virtual and never put into actual production.
Oreo has made special limited-edition packages before, though—including Birthday Cake Oreos to celebrate its centennial in 2012, Firework Oreos for Fourth of July—with popping candy embedded in the cream—and, this past March, Easter Egg Oreos filled with purple cream.
Update: This story has been updated to reflect the organization that partnered with Oreo was the National Center for Transgender Equality, not the National Center for Teachers of English, as Pullman suggested.