Organ Donation: 7-Year-Old Boy Becomes First Child to Undergo Five-Organ Transplant
A seven-year-old boy in the U.K. has become the first child to undergo a five-organ transplant in one operation.
A team of 12 medics at Birmingham Children's Hospital in the West Midlands, U.K., operated on Crouch for 10 hours to implant a liver, two kidneys, a pancreas and bowel. Following the surgery in March, the seven-year-old was able to swallow food for the first time in his life, according to a statement released by the hospital. He is now at home, recovering with his family.
Crouch, from Market Harborough, Leicestershire, was diagnosed with short bowel syndrome when he was six weeks old. The condition caused his small intestine to twist, and triggered complications with his kidneys and other vital organs. As a result, he had never eaten or digested food before the procedure, and was instead fed intravenously throughout his life.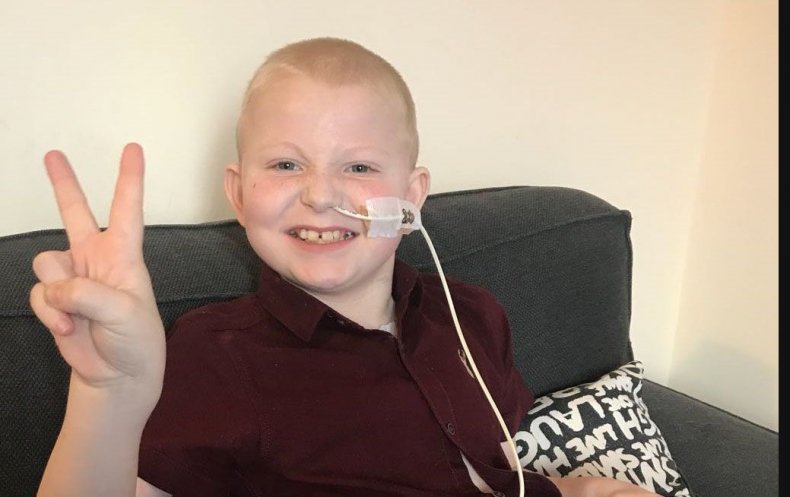 As the child's organs struggled to cope with the constant treatments needed to ease his symptoms, medics said surgery would be his best option for survival.
Crouch is currently being fed primarily through a tube running from his nose into his digestive system, but he is able eat small amounts of food. Doctors hope he will be able to eat normally in the coming years.
James Neuberger, trustee of the organ donation charity Transplant Sport and transplant consultant at Queen Elizabeth Hospital Birmingham, told Newsweek: "This is another example of the great potential that transplantation has to save and improve lives. We applaud the bravery of Jay and his family, the generosity and altruism of the donor family and the skills of the clinicians involved in the care."
Crouch said in a statement: "I want to say thank you to my mum for looking after me and my grandma and granddad, who have been telling me every day that I'm getting better."
Crouch's mother, 28-year-old Katie Freestone, said: "We're all absolutely amazed at the incredible progress Jay has made in a relatively short space of time. Being able to go home is fantastic as it means we can finally get back to our own routine and Jay can be comfortable in his own space."
Acknowledging her son's deceased organ donor, Freestone said: "There also aren't enough words to say thank you to the donor and their family and while we're thrilled that Jay has been given this chance, we're also incredibly aware of the sadness and tragedy that another family had to endure to make this possible."
Khalid Sharif, consultant surgeon and lead for transplantation who operated on Crouch, said: "It's incredibly rare for this many organs to be successfully transplanted at once and shows the difference that organ donors make to the lives of others. Without the generosity and selflessness of donors, their families and loved ones, such life-saving procedures simply couldn't take place."