Organ Donor's Mom Receives Touching Letter From Transplant Recipient
What's the best thank you letter you've ever received? Whatever it was, it probably wasn't as good as the one that Reddit user u/stratospher got recently.
The Redditor posted a picture of the letter on the r/mademesmile forum, with the caption, "[OC] My uncle recently passed away, and it turns out that he was a registered organ donor. My grandmother got this letter in the mail—it gave our family some much needed solace." The heart-warming letter has since attracted more than 10,000 upvotes and 300 comments.
The letter is addressed to the "Donor Family" and begins, "I am writing to express my gratitude for the gift of a new ligament in my knee."
The letter-writer, who eventually identifies herself as "Leslie," explains that she's a mother of four children and has been a lifelong athlete who's always loved to "be active and play sports."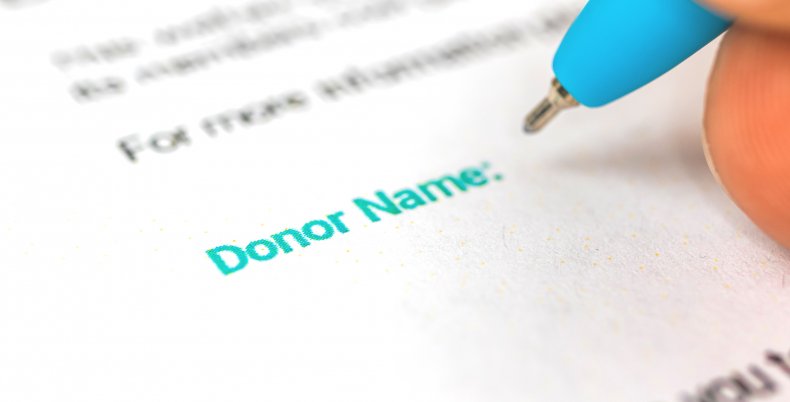 "I had to have my MPFL ligament in my knee reconstructed after an accident while sledding with my church youth group," Leslie wrote. "I am so grateful for this gift of the new ligament so that I have the ability to be active once again with my family. The gift to be able to walk is not one that I take lightly and feel gratitude each day for it."
Leslie goes on to send her love and condolences for the family's loss, adding that she has "prayed many times for you."
"May you have peace knowing that a Mom in California is able to be active with her family because of your family's gift," Leslie wrote. "My whole family is now on the donor registry in your family's honor."
The letter elicited absolute delight from fellow Redditors, plus several responses expressing surprise over the kinds of things that can be donated after you pass away.
For example, u/saoiray wrote, "Wow, I never heard of anything like a knee ligament as a donor thing. I thought it was only livers, hearts, and kidneys for the most part." That user added, "Thanks for sharing, sorry for your loss, and glad you were able to have this contact to know that even in death your uncle is able to love and help others."
The OP (original poster) responded with concurrence: "Me either! It's amazing what we can do for each other without knowing it. Thank you for your kind words."
Some users shared similar stories. This included u/michaelfiber, who wrote, "Sorry for your loss and grateful for you sharing this. I knew a person that received a similar donation for his knee and when I knew him he was constantly volunteering his time building playgrounds and houses and fixing things for people that needed help. The donation really made that possible."
OP responded, "They truly can mean so much for people. It's amazing what humans can do when our hearts are full of love!"
Turns out OP's real name is Ian Anderson ("no, not the one from Jethro Tull," he told Newsweek). He's based in the Cleveland-Elyria Metro Area and his uncle's name was Mike Jacobs. Anderson said that he wasn't aware that his uncle had registered as an organ donor.
"But we weren't surprised to find out," he told Newsweek. "I often say Uncle Mike was as generous in death as he was in life."
Anderson said that he and his family were "deeply impacted" by the loss of his uncle, particularly because "he was so young and left behind his partner of 21 years and a young daughter." As such, the letter brought the family some "much-needed comfort."
"We were so glad to get it," he said. "I'm sure that many of my family members are already organ donors but now I think we're all going to be encouraging others to do it."
Anderson said he thought that his post might get some attention but nowhere near as much as it did. The stories from fellow Redditors about their experiences with organ donation really put the situation into perspective for him.
"I hope I can meet the recipient someday and let her know how much we appreciated her correspondence," he said. "Also, I'd like to encourage people to please consider organ donation but also blood donation and bone marrow donation. Giving the gift of life is one of the greatest things we can do for each other. I try to donate blood as much as I can because of this, and I hope to one day donate bone marrow."
Organ donations are incredibly important, and there are still more people in need of transplants than people willing to donate organs, according to the U.S. Health Resources & Services Administration (HRSA). There are over 105,000 Americans on the national transplant waiting list, and 17 people die waiting for an organ transplant every day.
In 2021 alone, more than 40,000 transplant surgeries were performed, but another person is added to the transplant waiting list roughly every nine minutes. According to the HRSA, each donor can save an average of eight lives, and "enhance" over 75 more.
The magnanimity of Anderson's uncle, and the gratitude expressed in Leslie's letter touched the hearts of innumerable Redditors. For example, u/Gnarlyfest wrote, "Thank you...I'm crying so hard now." Similarly, u/Decent_Establishment commented, "All the best people save others even after they're long gone," along with a heart emoji.
"I think it's pretty much everything in a human body that can be donated. Even skin veins and other things you'd never suspect," wrote u/Sad_Ordinary8623. "It's an awesome way to help someone else out when your time has come imo."
U/Substantial_Act3036 perhaps summed it up, writing, "I'm speechless," to which Anderson replied, "So were we. We couldn't contain our emotions reading this."
UPDATE 05/16/2022, 09:55 a.m. EDT: This article was updated with comments from Ian Anderson.