Organization Says It Lost 57 Santas to COVID as Malls Take Precautions for Visits
Santa Claus is coming to town, though this year it might be through a glass barrier.
Many mall Santas and the organizations that employ them are taking precautions to keep performers and children safe amid the COVID-19 pandemic while trying not to dampen the magic of the experience.
Stephen Arnold, 71, is a longtime Santa performer from Memphis, Tennessee, and the head of IBRBS (formerly the International Brotherhood of Real Bearded Santas), the largest organization of professional Santas and Mrs. Clauses, boasting about 2,000 members.
Arnold told the Associated Press that his organization has lost 57 members to COVID.
"Most of us are overweight, diabetic, with heart conditions," Arnold said. "I mean, we're prime targets for a disease like COVID."
According to the AP, there are 15 percent fewer Santas this year, as many are wary of the virus. Depending on the location in the U.S., Father Christmas will appear in-person without masks, in-person with masks and distancing, from inside a globe or log cabin, virtually and a host of other ways.
But no matter where in the country, the Santas agree they want everyone involved to be safe.
"Be smart. Be caring," 57-year-old Santa performer Kevin Chesney told AP. "If you have the tiniest tickle in your throat, the tiniest feeling, worry about yourself and worry about everybody else, and know Santa will always be there next year."
For more reporting from the Associated Press, see below.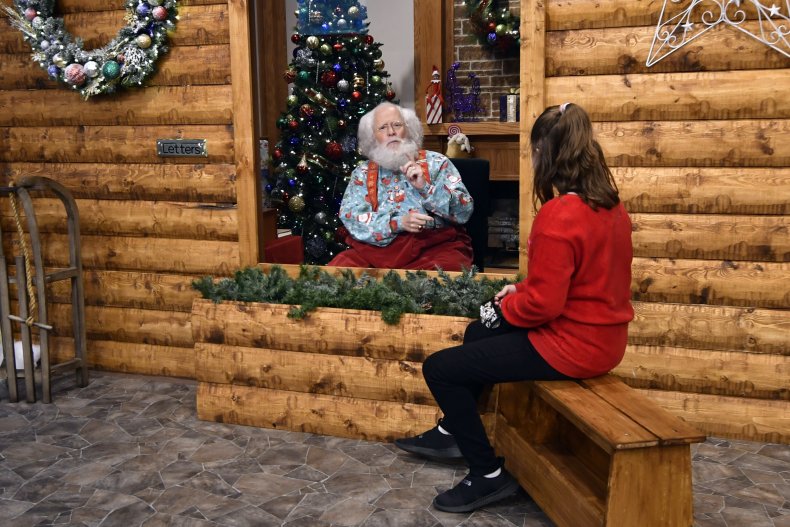 Some Santas will remain behind barriers that popped up last year for safety. At Minnesota's Mall of America, the big man will be housed in a log cabin behind a window with guests seated on benches in front of him. At 169 locations for the outdoor retailers Bass Pro Shops and Cabela's, benches will also be used, with plastic partitions deployed at some stores for Santa's photo ops.
Other retailers and Santa hosts are offering the option of no or full contact, even when mandates to distance aren't in place. And many require or encourage reservations online to cut down on the number of people waiting.
More than 10 million U.S. households visited Santa in a mall or store in 2019, according to GlobalData Retail's managing director, Neil Saunders. Nearly 73 percent of them also spent money at nearby restaurants or stores, he said. Last year, the company's research found that 6.1 million households visited Santa, with fewer retailers and malls offering the holiday star in person. Of those visitors, 62 percent ate or shopped nearby.
Saunders said projections this year have about 8.9 million households expected to visit Santa in person, with virtual visits still a big option.
"Lingering concerns about the virus and ongoing restrictions in some states and localities continue to act as a brake on visiting Santa in person," he said.
Chris Landtroop, a spokeswoman for Santa vendor Cherry Hill Programs, is optimistic. The new rollout of vaccinations for children 5 to 11 will certainly help.
"Santa is so back and we are super excited about that. Last year was incredibly tough," Landtroop said.
The company has been sourcing Santas all year for the 800 malls, big-box stores and other locations it serves, with options for no-contact visits, too. Cherry Hill requires its Santas and other employees to be vaccinated and those with exemptions to be tested regularly.
"At the end of the day, we want guests to feel comfortable," Landtroop said.
Luther Landon has been providing the Santa Experience at Mall of America in Bloomington, Minnesota, for nearly two decades. Last year, he hit on the log cabin idea but was shut down after a day due to the pandemic. He pivoted to virtual Santa and this year will offer both.
"We think that it would be very irresponsible of us to just ignore it and pretend like everything's back to normal," he said of the pandemic. "We've hidden some microphones so Santa can hear just fine. I know from our Santa community and knowing so many other Santas that the majority of them are reluctant, highly reluctant, to go back to the way it was before the pandemic. But we also have some who are just like, you know what, I don't care. Having both of those groups is what's happening in the country, too."