Organizations Springing Up to Recruit Younger Poll Workers Amid Coronavirus Threat to Older Americans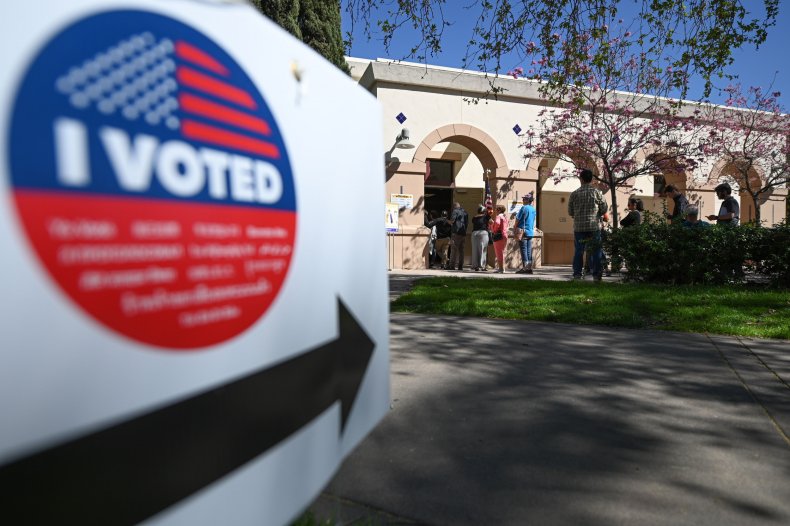 With the coronavirus pandemic potentially creating a critical shortage of poll workers this fall, several groups are actively working to recruit younger people—in some cases as young as 16—to staff up polling locations in November.
"I always just thought of it as a volunteer job that retired people do," Jasmine Clay, 29, told Newsweek of her decision to become a poll worker in Northern Virginia this fall. "It never clicked that someone my age could do that."
Poll workers--who verify voter identities, help voters sign in, provide ballots and assist with any other voter needs—are almost always paid temporary workers, not full-time employees of local elections offices.
Clay said she became somewhat familiar with the system after her mother worked as a poll worker in the last election cycle. But her mother won't be able to fulfill that role again this year during the coronavirus outbreak because she's the primary caregiver for Clay's grandmother.
"I just thought, it's our responsibility as younger people to step up," Clay said. "Helping people vote is something we can all do."
Older adults— normally a bulwark for voting precincts—are among the most at-risk of facing serious complications if they catch the highly-contagious coronavirus. The Centers for Disease Control and Prevention reports people 65 and older have made up 80 percent of the Covid-19 deaths in the United States.
That's prompted some fears that the risks will be too high for long-time poll workers to work elections during the pandemic, which could force drastic reductions in capacity or even lead to precincts shutting down completely.
"Recruiting poll workers is a challenge for many election officials across the country," U.S. Election Assistance Commission (EAC) Chairman Ben Hovland said in a statement, "and the Covid-19 pandemic has made this need even more critical."
The EAC, an independent, bipartisan commission created through the Help America Vote Act of 2002, reported that the 2018 election required more than 600,000 poll workers across more than 200,000 polling places across the country.
Nearly 70 percent of jurisdictions that took part in EAC's survey said it was "somewhat difficult" or "very difficult" to recruit a sufficient number of poll workers two years ago—well before the coronavirus outbreak.
Nearly 60 percent of the poll workers during the last election cycle were 61 and older, and nearly half of that group was comprised of people older than 70, according to an EAC report to Congress. Fewer than 17 percent of poll workers in 2018 were younger than 40.
Several groups are now springing up to take on massive recruiting efforts, including the Be a Poll Hero project that's leaned heavily on the Gen Z-beloved (and Trump administration loathed) app TikTok to recruit teens and people in their early 20s; Power the Polls, which has been heavily promoted by Comedy Central's The Daily Show; and other grassroots student-led initiatives.
"A ton of groups have become aware of this looming crisis with poll workers," Scott Duncombe, co-founder of Power the Polls, told Newsweek. "Everyone realizes how important it is to our democracy."
Max Weiss, a law student at William and Mary, helped form the Alliance of Students at the Polls, which is working to recruit law students across the country to become poll workers.
"We were thinking about the best ways we can impact the election in a nonpartisan way," he said.
The threat of the coronavirus, and thinking about people like his grandmother who worked two decades as a poll worker but might be at a higher risk, inspired the idea.
"Students are primed to fill that role," Weiss told Newsweek.
One of the education goals of the effort, Weiss said, is to get away from promoting it as "volunteering" at the polls to appeal to more people.
"In a lot of states it's decent pay," he said. "At the end of the day this is a job and there are a lot of people who need a job."
Clay said images of long lines in Wisconsin during the primary earlier this year and news that a shortage of poll workers could further exacerbate the voting systems on Election Day in November roused her interest.
"That scared me," she said. "We cannot allow that to happen."
KC Cambrel, 38, said he also saw reports of people waiting in long lines during the primary season, and worries what could happen in November if the poll worker force is drastically impacted.
"I don't want to sit back and watch it happen," Cambrel told Newsweek. "This is a way that I can actually get involved and do something."
Cambrel, a drag performer who lives in McLean, Virginia, and works for a fashion designer, said he first noticed a call for poll workers on Instagram and has now been sharing with his followers, trying to get more to sign up.
"I had never even thought about it," Cambrel said of the opportunity to sign up to be a poll worker. "If I can take that position, I can fill in for someone who is afraid to do that work or may be at risk."
While it's rare for younger people to experience severe symptoms, it's not guaranteed. Clay said she has done the research and understands the risks.
"It's too important to sit back and do nothing," she said. "It's scarier to think that people would not be able to vote."
Duncombe, the organizer with Power to the Polls, said cutting precincts back isn't just discouraging to voters; it could actually exacerbate health threats.
"It leads to more crowding, more lines," he said. "When thinking about public health, it's a worse health outcome for those who are voting and who are able to work the polls."
Weiss said he's been in contact with secretaries of state to let them know about the student-led efforts. Most have been receptive, he said.
"They are looking down the barrel at 65 days or so to Election Day," Weiss said, "so they aren't really in a position to turn away people who want to help."