Organize Your Fridge to 'The Home Edit' Perfection With These 11 Products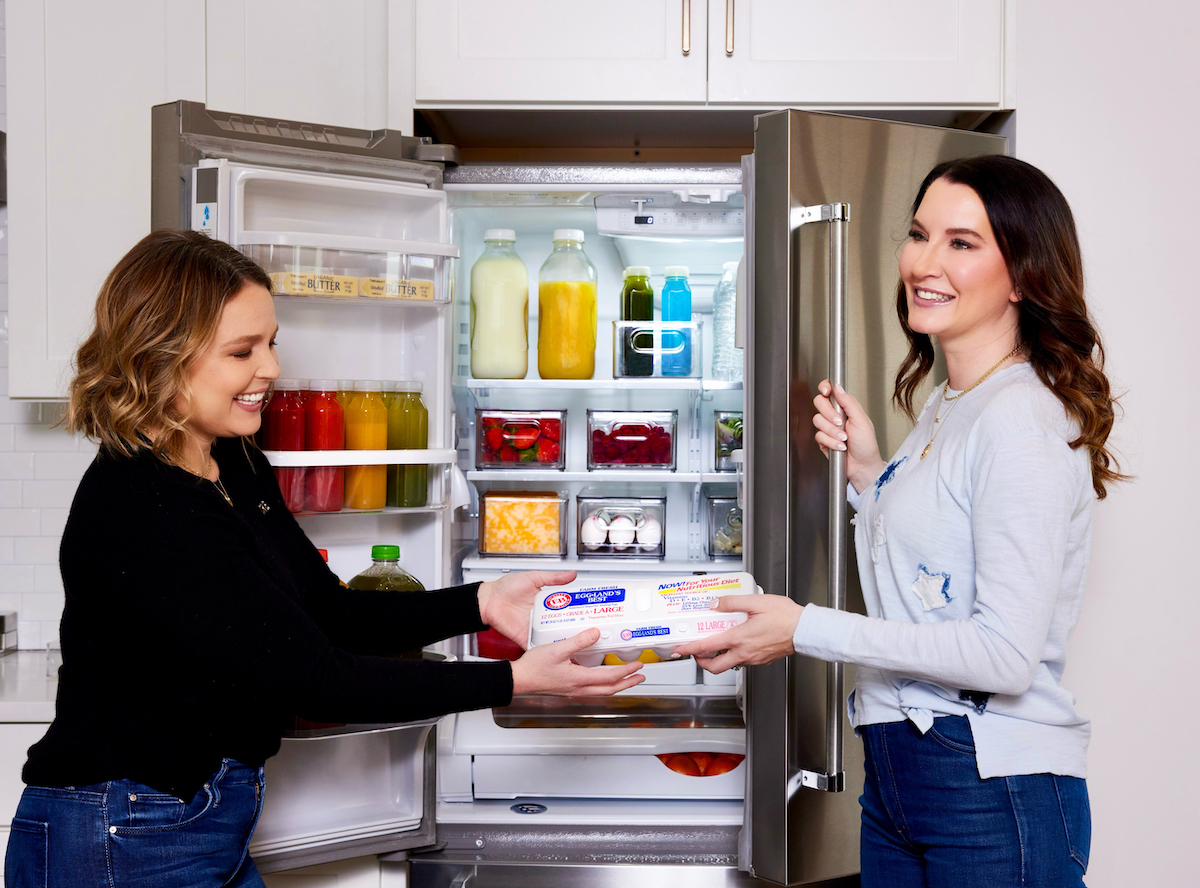 An organized fridge is a happy fridge! Just take it from Clea Shearer and Joanna Teplin of the professional organizing company, The Home Edit. Now that a second season of their Netflix original show (of the same name) recently debuted, Newsweek turned to the queens of color-coordinating organization—shout-out to the rainbow method—for their top tips on keeping a refrigerator in tip-top shape.
"The fridge is a space that multiple people in a household access on a daily basis. Solutions have to be user-friendly or else systems will be hard to maintain and ultimately fail," Teplin exclusively tells Newsweek.
Organizing your fridge can even help you eat healthier. We know what you're thinking: How??? Well, Teplin and Shearer recommend creating a healthy snack area—a dedicated space within your fridge for pairing healthy items together.
"Also, make sure to create a designated zone for healthy snack pairings or meal add-ins like nutritious and delicious Eggland's Best eggs!" Teplin adds. "If you keep these types of wholesome ingredients front and center at eye level, you [and your family] are more likely to grab for them."
11 Products for Fridge Organization Perfection
Ready to get rolling? Keep reading for 11 products to organize your fridge up to The Home Edit's standards! As always, the prices listed may fluctuate over time.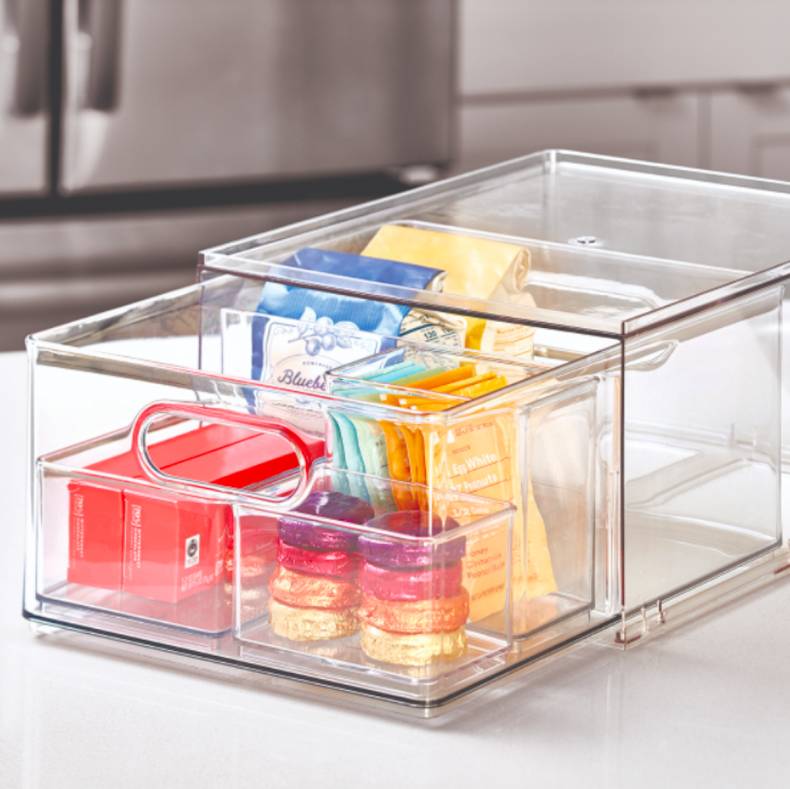 If you didn't know, The Home Edit now has its own line in collaboration with iDesign—available at The Container Store. One of our stand-out favorites is The Home Edit Stackable Drawer. Clear, stackable (duh!) and made of durable plastic, this drawer comes with a removable divider for sorting different items as well as integrated handles that make pulling it out all the more convenient.
Teplin adds, "Bins allow you to create designated zones for each category so there's no question about where something can be found or where it should be put away. Adding a label to each bin makes the system even more foolproof."
Recommended for hand-washing only, people have used this drawer for everything from produce to cheese, with one Container Store reviewer writing, "I am obsessed with this! You can stack them, remove the divider and do so much with this!"
Buy at The Container Store for $39.99.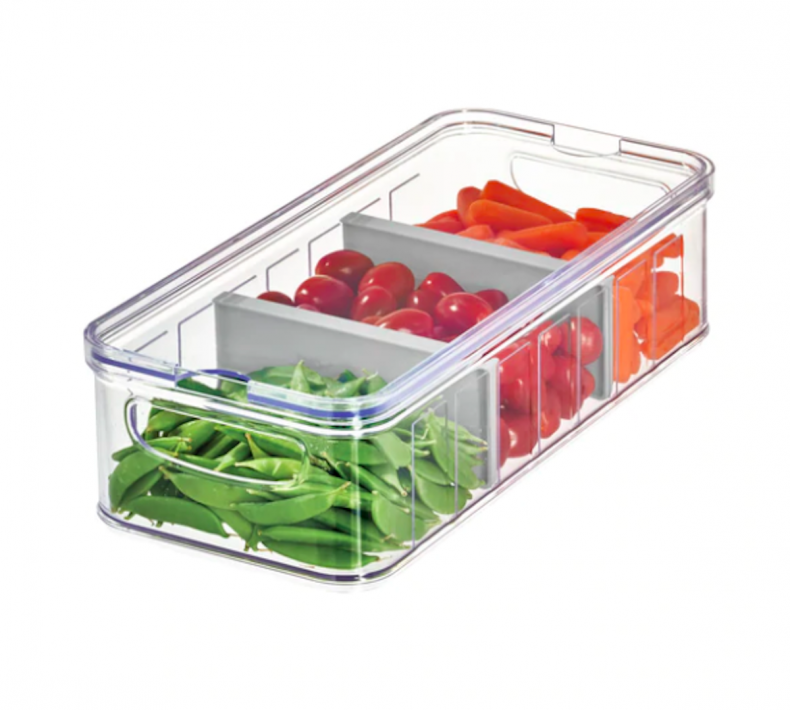 The iDesign Crisp Refrigerator Bin is not like other bins—it's a cool bin. Why? Because it's made with 100 percent post-consumer recycled clear plastic that's durable and BPA-free. Measuring 14.82 inches by 6.32 inches by 3.76 inches, what you'll love most about this clear bin is the two dividers inside. They're movable (and removable), so you can customize the bin for your specific fridge storage needs. Use it to separate peppers from snap peas or carrots from tomatoes—whatever you want!
Buy at iDesignLiveSimply.com for $19.99.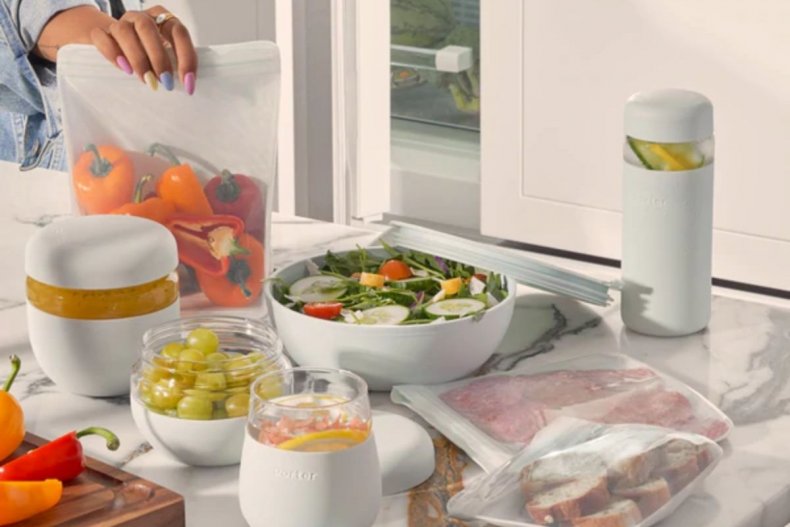 Who says fridge organization has to be boring? Spoiler alert: It's not. The Porter 8-Piece Fridge Bundle makes tidying up your refrigerator exciting and chic with its classic, monochrome design. Each Porter item isn't just sustainable—they're also dishwasher safe (thanks to the premium materials, pure silicone and borosilicate glass) and air-tight, making them perfect for storing even the messiest of foods, like soups or pressed juices. The set comes with one Porter Bowl, Porter Wide Mouth Bottle, Porter Glass, Porter Seal Tight Bowl (16 ounces), Porter Seal Tight Bowl (24 ounces), Porter Snack Bag (10 ounces), Porter Sandwich Bag (34 ounces) and a Porter Stand Up Bag (50 ounces).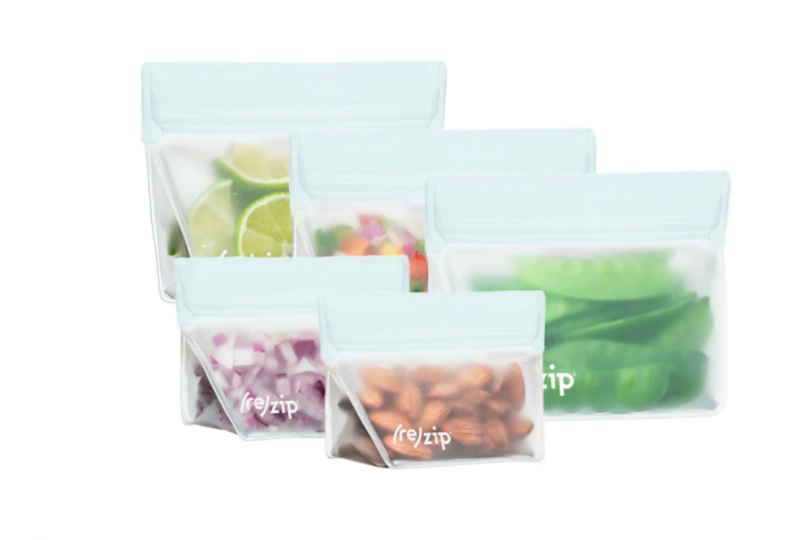 Get ready to fall in love with (re)zip stand-up bags. What you'll love most about them is their undeniable versatility. Use them to tidy up the fridge, yes, but also take them with you on the go. Food-safe, lead-free and BPA-free, the 5-Piece Stand-Up Leakproof Reusable Storage Bag Starter Kit is ideal for storing snacks, sandwiches, produce, bulk food and more. Each bag is freezer-safe, features an expandable base, and can even be washed on low heat in the dishwasher on the top rack. Plus, the eco-friendly benefits are tenfold. After all, one (re)zip can replace up to 300 disposable bags!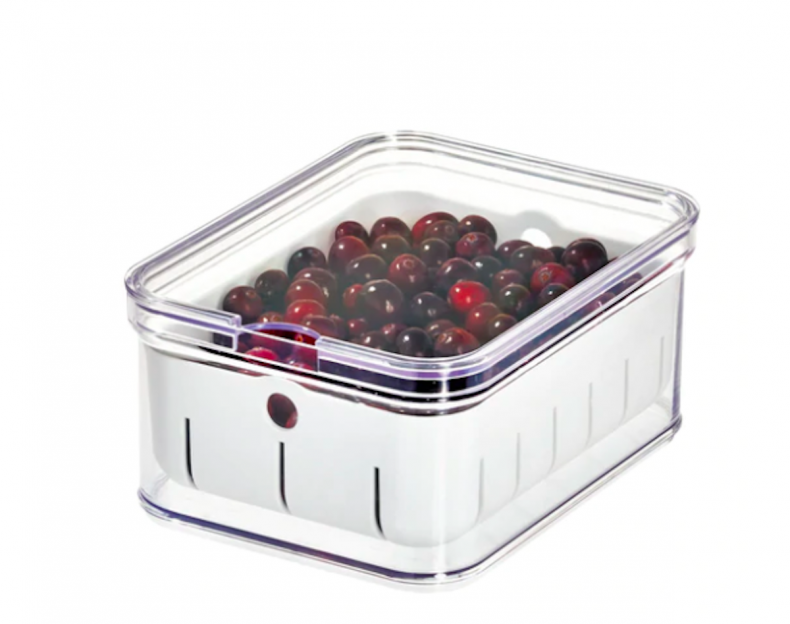 Also made with 100 percent post-consumer recycled plastic, the iDesign Crisp Produce Storage Bin is specifically designed to keep your produce—like strawberries, blueberries, raspberries, grapes, cherry tomatoes, broccoli and more—fresh. It's got an inner colander basket with an open-draining design to accomplish just that. Out of the open drain, liquid can effectively strain through so that you never have to worry about excess moisture (i.e., mold developing prematurely). Plus, its transparent design keeps your fruits and veggies visible and accessible 100 percent of the time. Now, that's convenient!
Buy at iDesignLiveSimply.com for $18.99.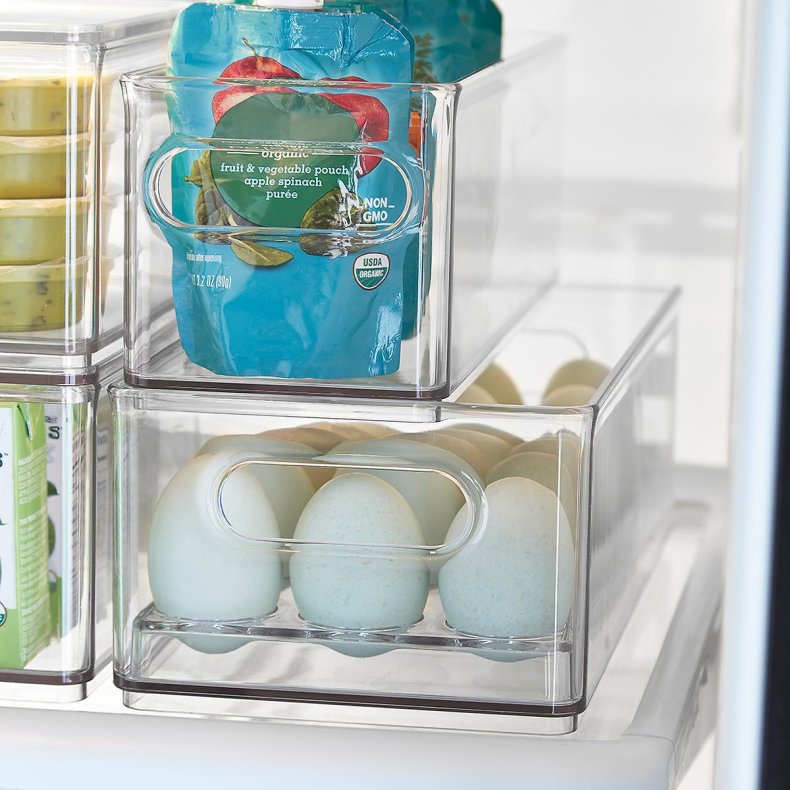 The Home Edit by iDesign Egg Bin is sleek, super clear and makes for fuss-free cleaning. Modular to save you desirable refrigerator shelf space and featuring a removable interior tray that keeps eggs from moving around haphazardly, this transparent bin is durable and made from PET plastic. Only available at The Container Store, it's also stackable (both with and without its removable lid) and can fit up to 15 eggs total. Shearer adds, "Eggs are also very satisfying to organize! We like to transfer them from their original carton to a clear egg bin, so it's easier to see when you are running low."
One Container Store reviewer wrote, "I swapped the top of the egg container out for the drawer from the divided drawer and put the top on the divided draw instead... So nice to be able to pull the drawer out for the eggs... I wish the draw surrounds were sold separately as now I want another for the divided draw. What a help this is to a family of five with a regular-sized fridge! SO Beautiful too!!! OH, and you can add a second row of eight more eggs for a total of 23!"
Buy at The Container Store for $20.99.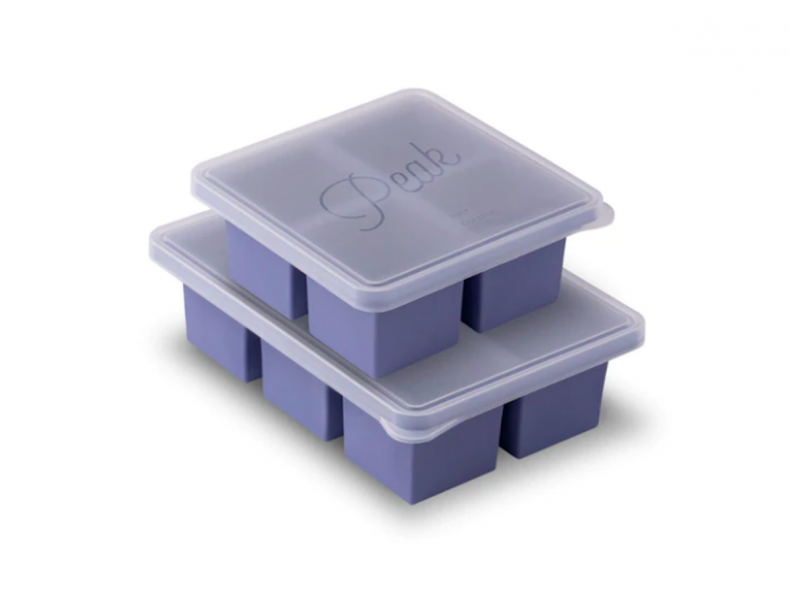 OK, we know this one *technically* relates to your freezer and not your fridge, but hey, in our eyes, it totally counts. After all, no one with a neat fridge has a messy freezer. (Right?) Either way, we love the Cube Cups Freezer Bundle by W&P Design because of how perfectly it turns out four- and six-cube variations of just about anything—ice cubes, serving-size cups of soups, broths, sauces, leftovers and more. Available in either blue or black, the Cube Cups Freezer Bundle is spill-free for easy transfer from your counter to your fridge, made of LFGB-certified silicone and even comes with an easy snap-on lid for convenient stacking. There's even a specific area designated for labeling the date closed and contents on the lid. What's more organized than that?!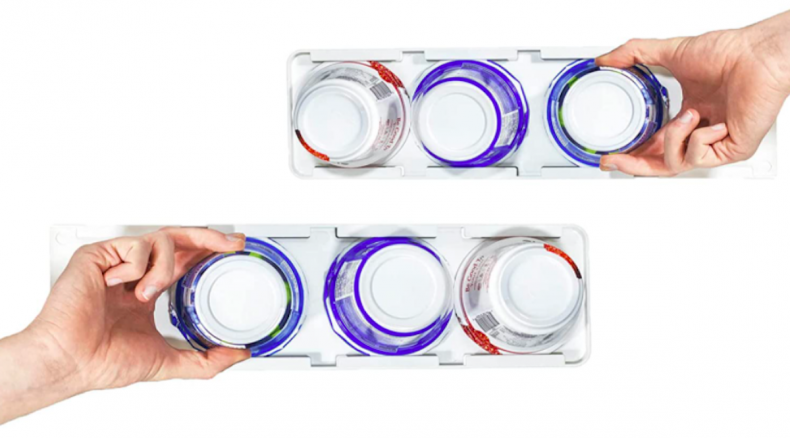 Is there a yogurt lover in your house? Then you need help organizing one of the hardest-to-organize dairy products there is! Most yogurt cups take up a ton of unwanted room, but you can save space and keep your yogurts from taking over the fridge with the Yogurt Slider Organizer. Made of food-grade, 100 percent non-toxic, BPA-free plastic, each organizer accommodates up to four short yogurt cups. One Amazon reviewer even wrote, "Super cute idea! Whoever invented these. I love this, it looks organized, gives me more room in the fridge and I get compliments on it when I have people over. Easy to do. I would recommend this product!"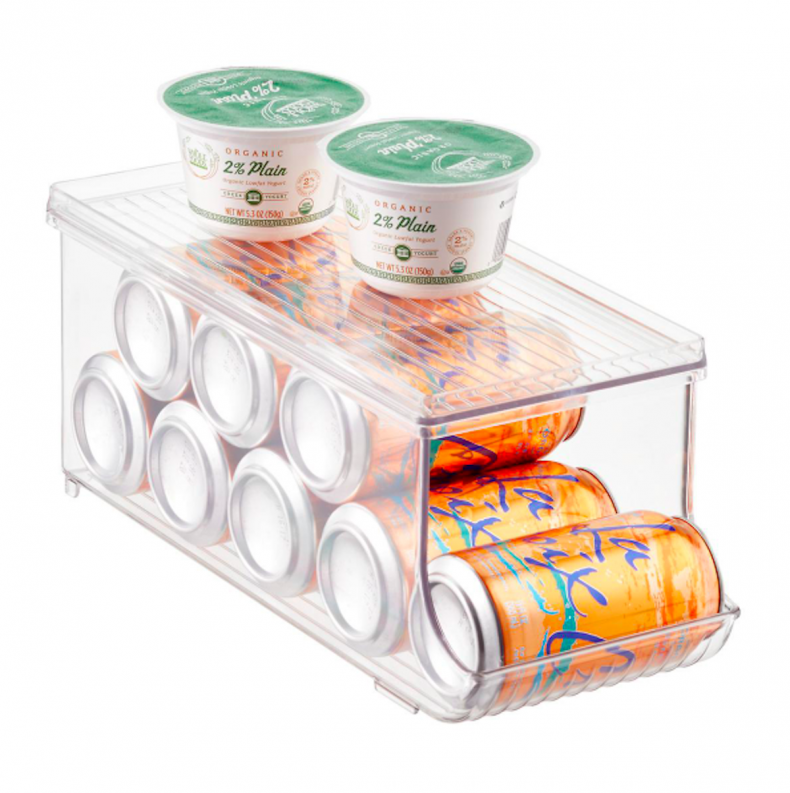 What's Shearer's favorite fridge item to organize?
"Beverages!" she says. "Nothing is more fun than color-coding cans of seltzer."
And luckily, you can live out Shearer's organizing dream with the iDesign Linus Fridge Bins Soda Can Organizer With Shelf from The Container Store. Ideal for keeping cans from rolling all over the place (and for keeping them color-coordinated, as Shearer explains), this translucent organizer can hold up to nine cans. Plus, you can always see how many cans are left, so you can quickly restock! The top tray is also removable to boot, so you always have the option of adding additional storage space if needed. Oh, and did we mention this organizer not only works in your refrigerator but can handle the cold of the freezer as well? Talk about versatility.
Buy at The Container Store for $19.99.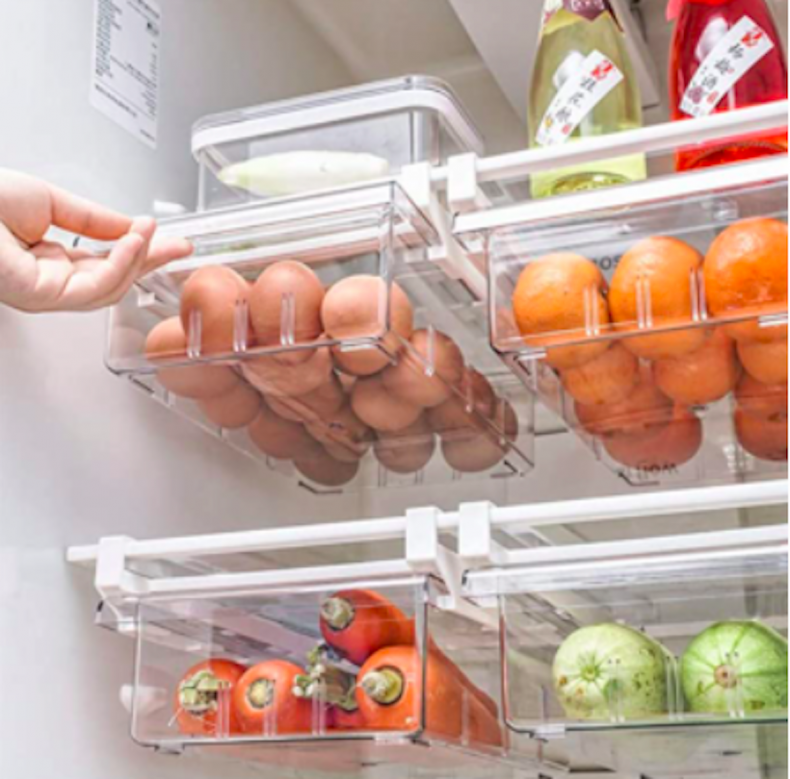 Skip the individual food-item organizers and go straight for the YekouMax Fridge Drawer Organizer, a full-on fridge-organizing system. With more than 1,800 reviews on Amazon, it's clear (get it?!) that buyers love this organizing system for its safe-spacing, portable design that's easy to implement. Its rails extend from 11.2 inches to 18 inches long and feature a convenient smooth-track design to pull out each shelf without issue easily. But that's not all there is to love—the package comes with one fridge organizer and two drawer dividers that can be divided into two grids, four grids or no grids at all. Plus, it's made of food-grade PP, BPA-free plastic that's strong, durable and totally clear, so you can always see what's inside the shelf.
One Amazon reviewer wrote, "This is what I was looking for! Looks like it came with the fridge. My shelf is 17" in length. Easy to install with lots of room. Would buy again if needed."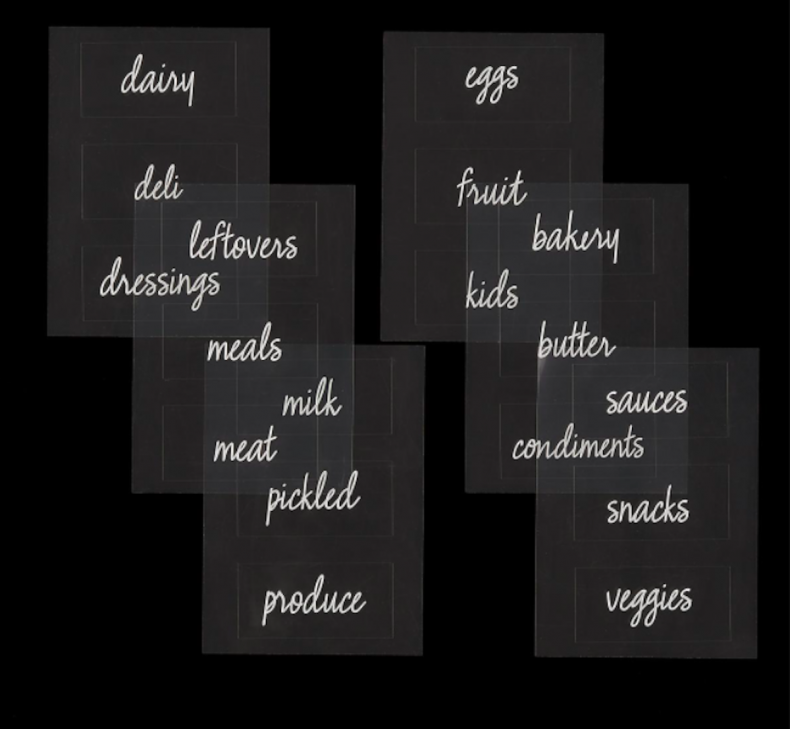 Last but definitely not least—at least when it comes to what Teplin and Shearer deem important—are labels! Luckily, The Home Edit makes and sells its own curated labels: The Home Edit by iDesign Fridge Labels. You get 18 clear adhesive labels featuring the fan-favorite handwriting of Shearer herself. Each label is outfitted with a popular refrigerator or pantry category like 'produce,' 'veggies,' 'snacks,' 'condiments,' 'sauces,' and more. To use, simply peel each label off and stick it to your bin or any other container to add instant style and organization to your fridge.
Shearer adds, "Since fridge items like produce have a high turnover rate, it's best to use broad categories when labeling. Think 'veggies' and 'condiments' versus 'cucumbers' and 'mayo.' This ensures that everything will always have a home!"
Buy at The Container Store for $9.99.
Newsweek may earn a commission from links on this page, but we only recommend products we back. We participate in various affiliate marketing programs, which means we may get paid commissions on editorially chosen products purchased through our links to retailer sites.