Organize Your Home Office With These 11 Must-Have Products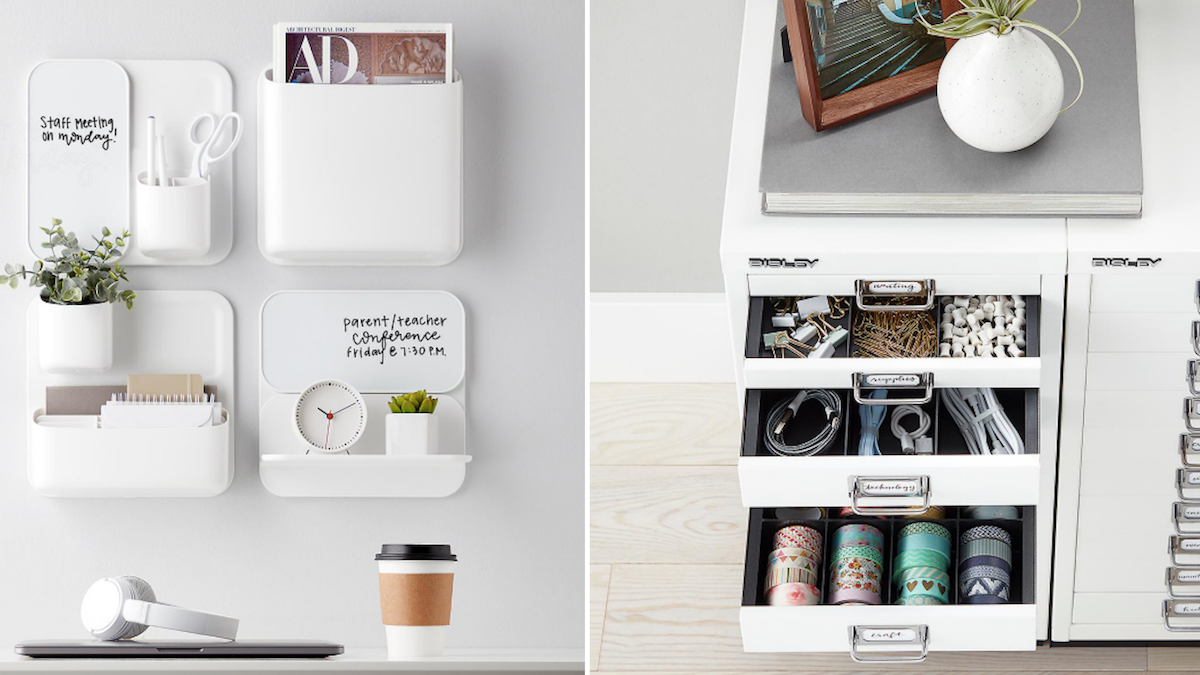 Does your home office need a little love? Nowadays, so many of us are working remotely (even if it's still just a few days a week) and so, having a functional (and fun!) workspace is more important than ever. Part of that is keeping your space neat and organized, of course.
Jessica Litman, of The Organized Mama, provided a few easy tips for organizing and decluttering your home office:
Start with the end in mind: If you decide how you want your office to feel, you can create that after you declutter your things. Clear off your space, then only put back items you need.
Go as paperless as possible.
Can't get rid of all paper? Have a plan for the remaining paper. Store in a tray or magazine holder for documents you want to keep, and shred what you don't need.
Group like-supplies together using drawer or desktop organizers. Keep them readily accessible, so you grab things quickly.
Create a tranquil environment by adding plants. Research states that plants in an office space reduce stress, so add some greenery!
Let's get your home office looking like something out of a magazine!
11 Products to Organize Your Home Office
Get to organizing your workspace with these 11 products. As always, the prices listed may fluctuate over time.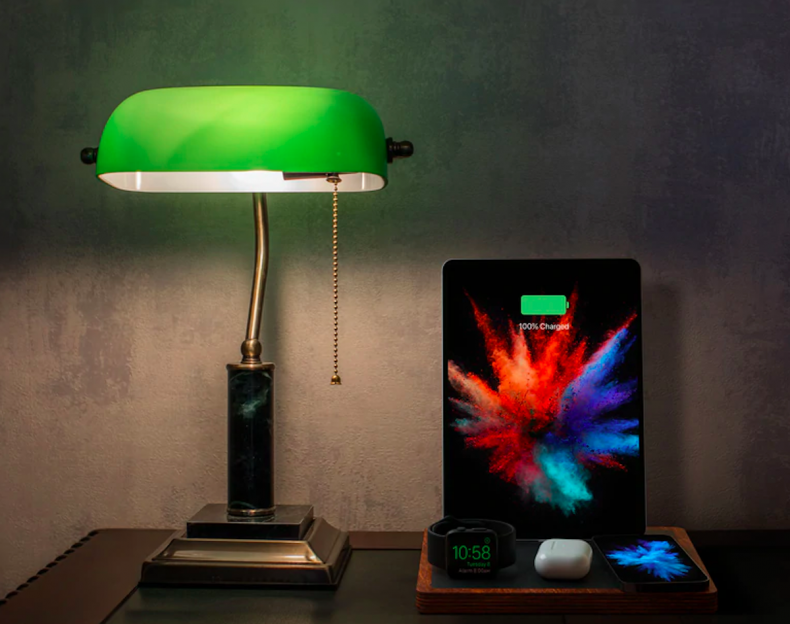 Wireless is the way to go in a pro-tech world where all kinds of cords once reigned supreme, tangling up and making us all crazy. And not just any wireless charger—we love the NYTSTND Quad Wireless Charging Station for its chic design and standout efficiency. Unlike wireless chargers that can give juice to one or maybe two tech products at a time, the NYTSTND Quad Wireless Charging Station runs quadruple duty. That's right—as its name suggests, you can charge four (!!!) of your devices at once and with convenience like that, we'll never be the same.
But with that ease of use aside, you'll also appreciate how much more organized your desktop area will feel once the devices are taken care of. With designated space for your smartwatch, AirPods, phone and even a tablet, it really does make for a less frazzled home office environment.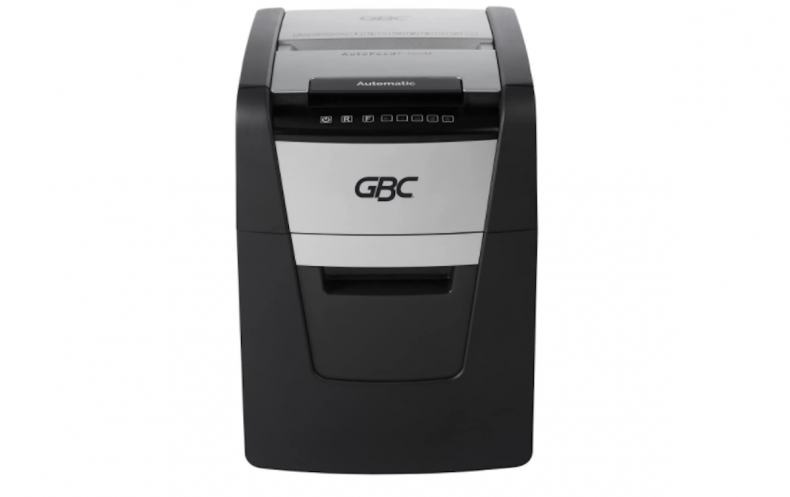 If your home office is susceptible to a lot of paper clutter, you will want to take Litman's paper advice to heart. For all the papers you no longer need to hold onto, having the GBC Autofeed+ Paper Shredder on hand is a game-changer. Its auto feed technology allows you to stack papers (up to 100 sheets!), shut the chamber and shred. You can, however, opt to use the manual feed function, which feeds up to eight sheets at once. Quiet, reliable and featuring a bin-full sensor that lets you know when it's time to clean it out, this heavy-duty paper shredder is guaranteed to help you keep a handle on your paper clutter so that your home office can stay as organized as possible.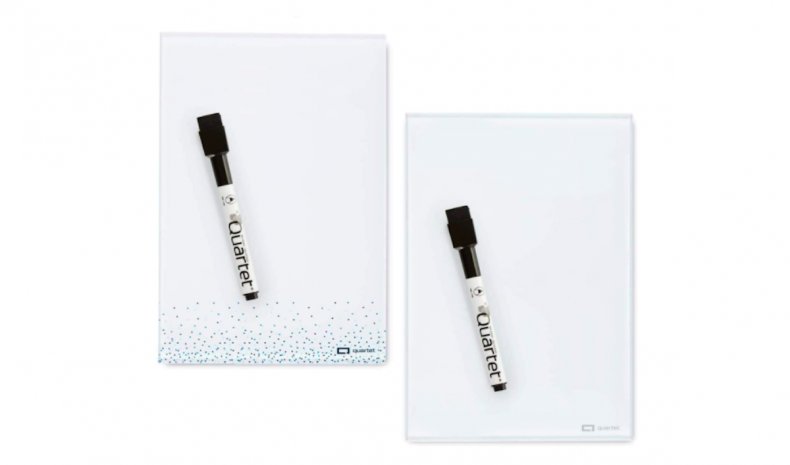 Speaking of reducing paper clutter, the Quartet Glass Desktop Notepad does precisely that in a fun, organized and eco-friendly way. Each notepad pack—which measures 9 inches by 6 inches—includes one white notepad, one dot pattern notepad and two dry-erase markers for easy, wipeable notetaking. Each pad is made of non-absorbent glass dry-erase, so you can quickly write, erase and rewrite without worrying about marker build-up. It wipes off easily without leaving any stains or streaks, making it perfect for everyday use. Throughout the day, take the notes that you need to and then come to EOD, wipe them away (or save them for tomorrow if you need them!). These notebook or planner alternatives also end Post-It Note clutter for a more organized desk area that's both neat and functional.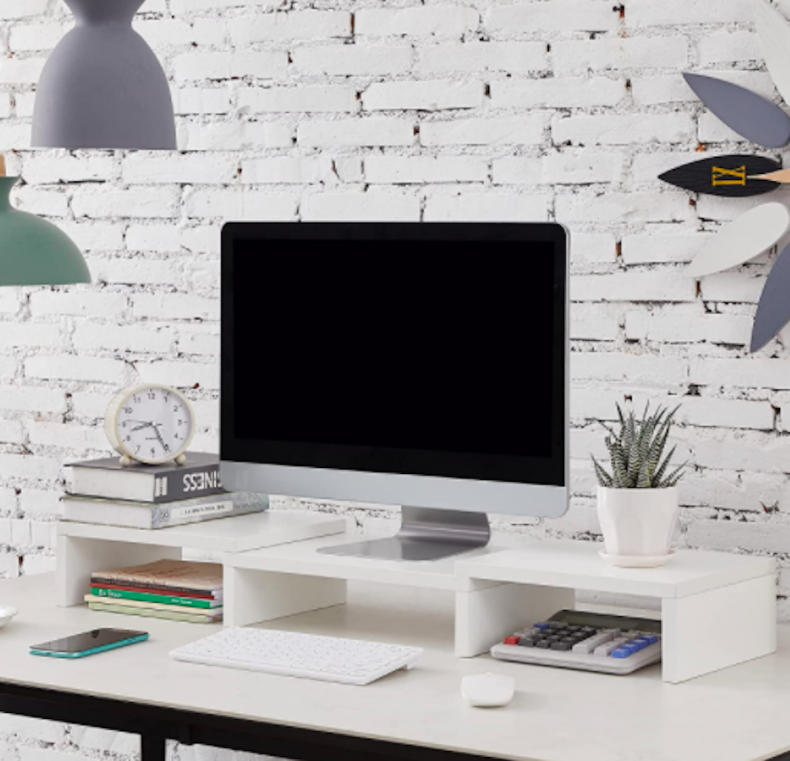 The SUPERJARE Dual Monitor Stand Riser won't just change your life in terms of looking eye-level at your computer (and not looking down, stressing out your neck), but it also provides some much-appreciated storage space. This riser can technically handle two separate monitors. Still, even if you only have one, you can use the additional space for other helpful storage solutions like a pen/pencil holder. And because the riser takes advantage of vertical space, you now also have three storage cubbies you didn't have before. Each one is perfect for organizing the things that generally clutter up your desk—a stapler, calculator, books, notebooks and more.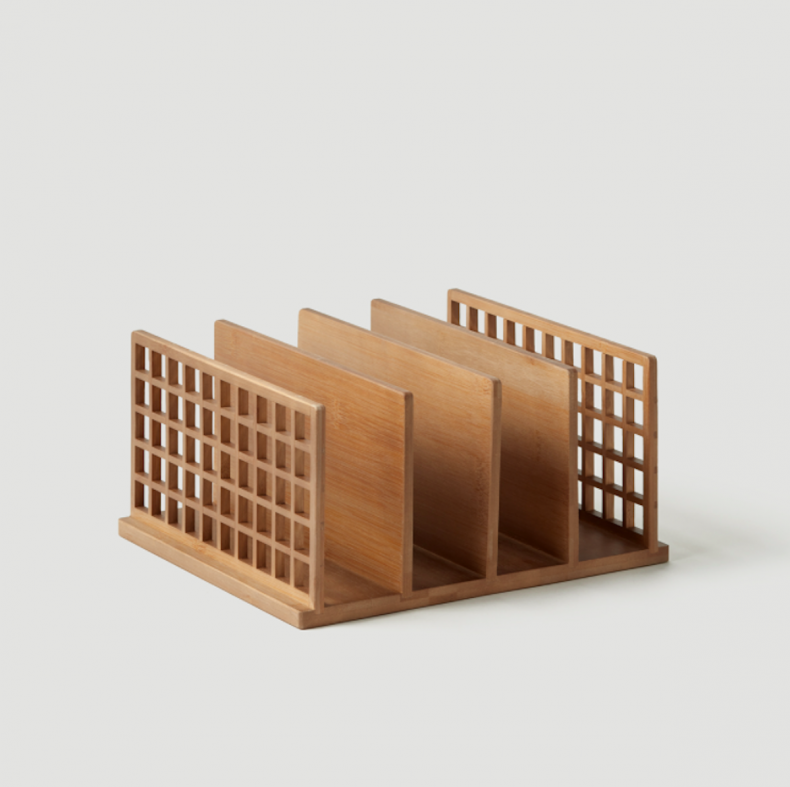 For the important files that need to be kept handy or for organizing mail, the Marie Kondo Shoji Bamboo Collator can help keep your desk in tip-top shape (as in, neat). Made from an easily renewable resource—bamboo—the Collator features four open-access compartments that make it easy to organize what's coming in, going out or what you need to keep on hand. One thing we know for sure? An organized home office definitely sparks joy!
Buy at The Container Store for $39.99.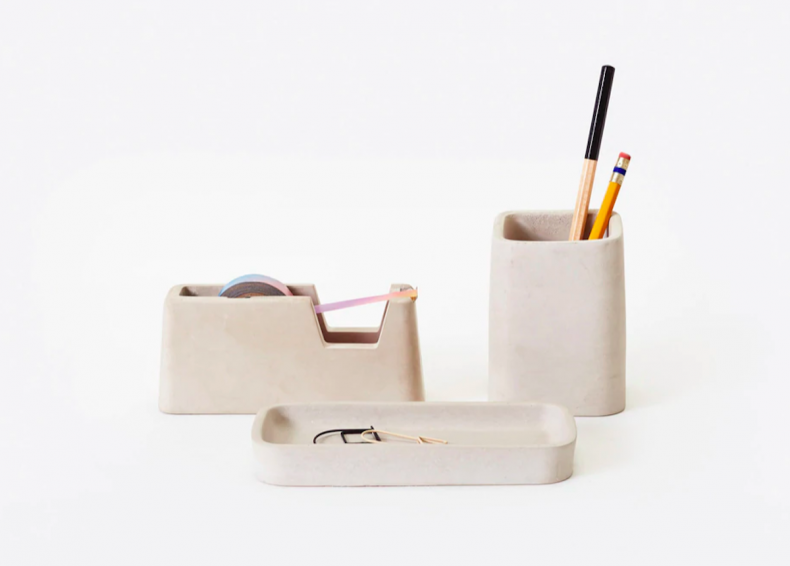 Your home office isn't just about functionality; it should also marry what's useful with what's aesthetically pleasing. And when thinking of aesthetics, it's hard to ignore Areaware. The set is practical and beautiful, designed by Magnus Pettersen, whose pieces most often reflect his Norwegian heritage. The Concrete Desk Set is cast from solid concrete and includes a small tape dispenser, pencil holder and a tray for holding random desk-related items—AirPods, paper clips and whatever else needs a home in a pinch. In true Areaware fashion, the Concrete Desk Set "keeps it simple, clean, organized and uncluttered with an open mind." Plus—it's neutral enough to stand the test of time and go with just about any color palette you may choose for your office space.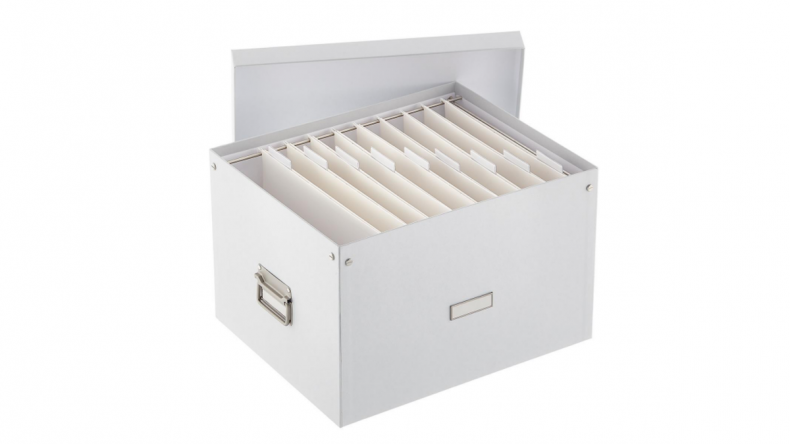 Check out the Bigso Stockholm Letter/Legal File Box for the important stuff that can be filed away. Available at The Container Store in white, graphite, light gray, navy, black woodgrain and cream, each 16-5/8-inch by 13-3/4-inch by 10-1/2-inch file box is made from linen and 70 percent post-consumer recycled paperboard that at the end of its shelf life, is 100 percent recyclable. It's heavyweight and sturdy, so you can trust that it can hold all your most important docs, and it also features a metal label holder, so you always know what's inside which box. Inside, you'll also find plenty of labeled dividers so that you can organize by category, keeping bills with bills, tax information with tax information, etc.
Buy at The Container Store for $39.99.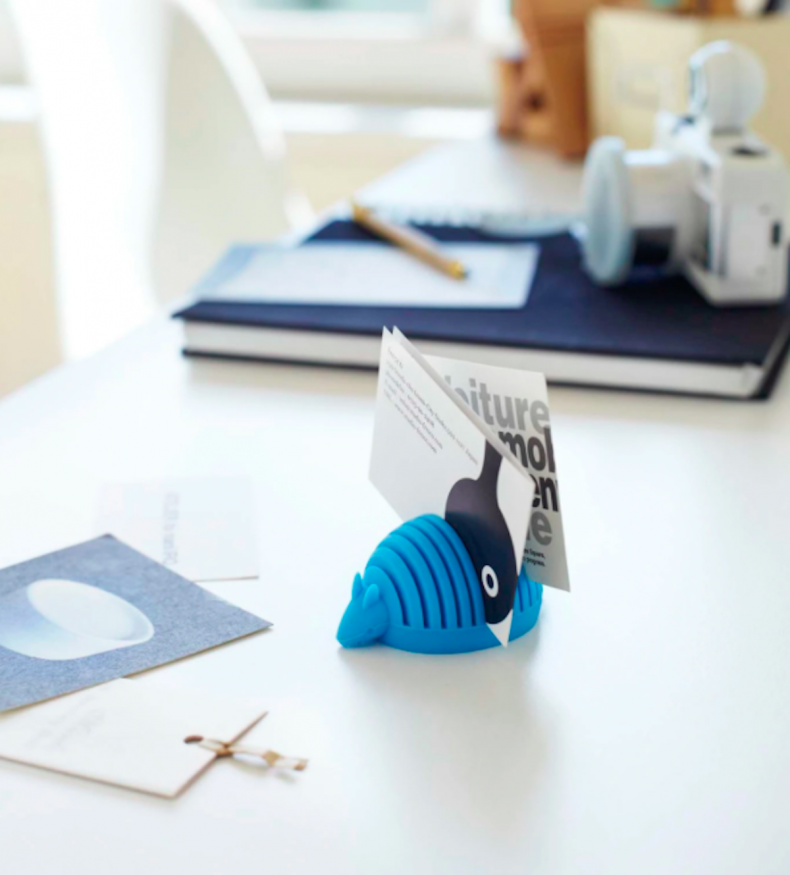 The Silicone Business Card Holder is so fun that you may wonder where it's been your whole life! With networking so crucial today, you've probably amassed loads of paper business cards with virtually no storage solution. Are they overtaking your wallet? Overflowing from a desk drawer? The Silicone Business Card Holder—which comes in the adorable shape of an armadillo—makes storing and organizing essential business cards easy and accessible. Simply stick a business card in each of the armadillo's 12 divets and never lose someone's information again. Plus, you can also use it for more than business cards. Any pertinent note or info that you need on hand, you can just stick it in your new armadillo friend!
Buy at The Yamakazi Home for $6.40.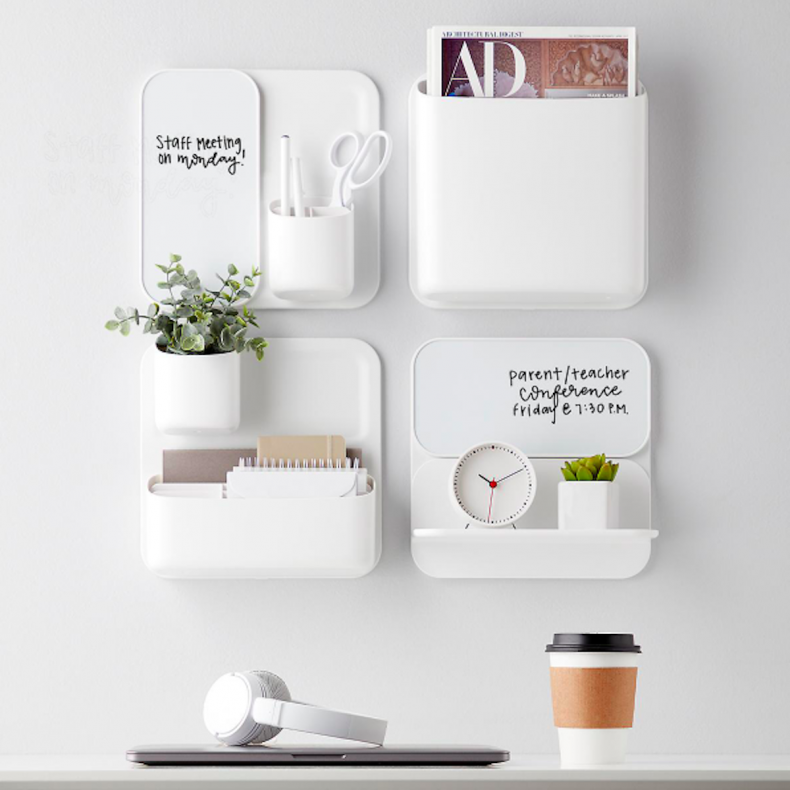 When it comes to getting organized, we LOVE a modular system. The Perch Magnetic Modular System Components is a standout organizational product for so many reasons. For one, it makes crucial use of vertical space. That allows you to be more organized without sacrificing your desk space. Why? Because what used to clutter your desk is now hanging on the wall! Conveniently, they're easy to mount, too. The system comes with mounting hardware and four 3M Command Mounting Strips that integrate into the Wall Plate. Mount it to the wall, and using the magnetic strips, attach your preferred plates and containers (which come in all different sizes and a few different colors, too). You can also rearrange the configuration, which is handy if you find one format isn't working for your home office. It's easily adaptable, and you can use it for just about anything.
Buy at The Container Store from $9.99.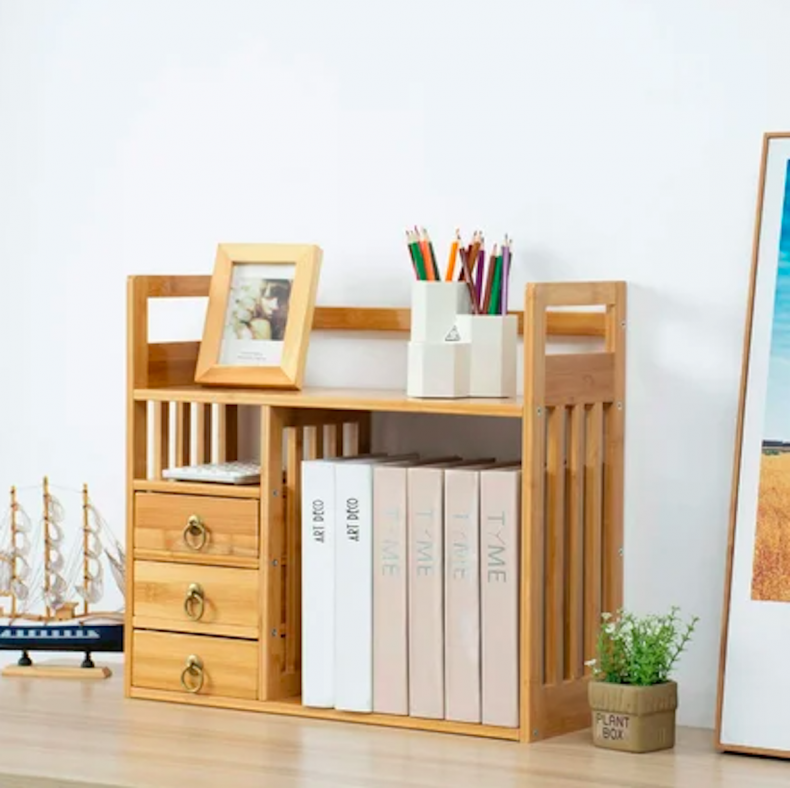 Obviously, any product that utilizes vertical space for storage is a home office organizer's new best friend and the Maydear Bamboo Desktop Bookshelf With Drawers is no exception. This desktop organizer—made of natural bamboo—offers convenient space for books or magazines. It also features three convenient drawers for storing desk-related items like paper clips, thumbtacks, pens/pencils, stamps—you name it. It also has two shelves—one small and one larger rooftop shelf for added storage space that comes in handy. It's the best way to keep important items on your desk while keeping them out of the way!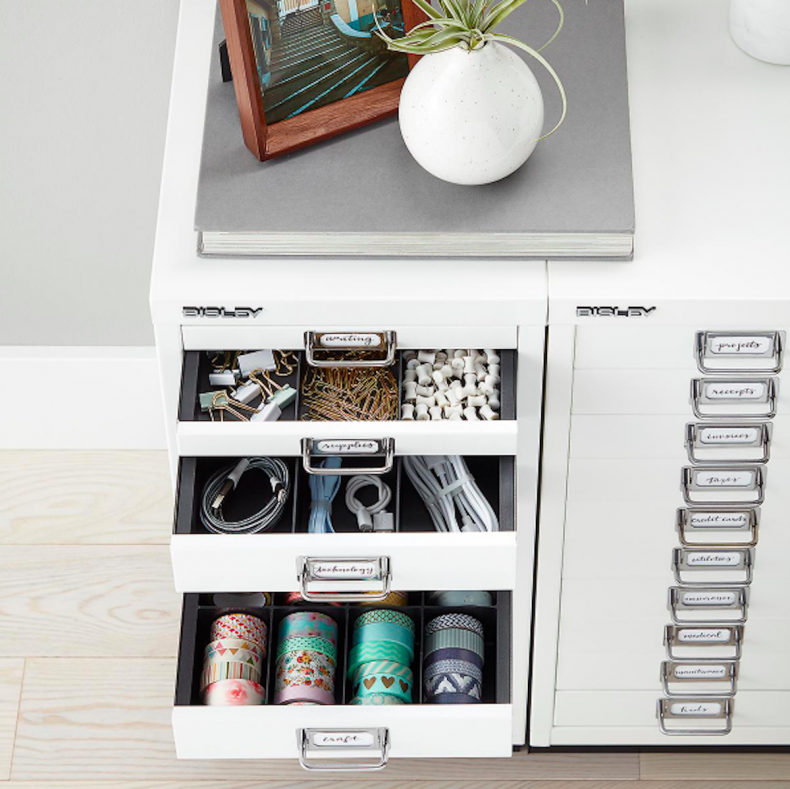 If you tend to shove things in drawers and only organize what's readily available to the naked eye (guilty!), it's time to make a habit change. Home office drawers hold so many necessary items that paying attention to those areas is crucial. Otherwise, you'll never be able to find anything! This is where Bisley Premium Collection Cabinet Drawer Inserts come in—insert them into your drawers, choosing from six different configurations. Each unique layout promises convenient, compartmentalized areas, so each like-minded item in your drawer has a space with its counterparts.
And if you're a big fan of The Container Store, there's good news. The Bisley Drawer Inserts also fit with their matching Bisley Cabinets—the 5-, 8- and 10-drawer cabinets.
Buy at The Container Store for $14.99.
Newsweek may earn a commission from links on this page, but we only recommend products we back. We participate in various affiliate marketing programs, which means we may get paid commissions on editorially chosen products purchased through our links to retailer sites.