After people in Chicago engaged in a night of vandalism, looting and violence earlier this week, Mayor Lori Lightfoot called it an attack planned by organized criminals, not protesters, and promised to bring those responsible to justice.
Lightfoot told TIME during an interview Tuesday that the incident, which began Sunday and continued into the early hours of Monday, was not the result of peaceful demonstrators. Misinformation of a police shooting of a minor in Chicago's Englewood neighborhood had initially caused hundreds of people to flood downtown in protest, but Lightfoot said that the root of the encounter was the effect of an organized raid.
"To be sure, there are people that did join in that were motivated by lots of different reasons, and certainly were motivated by social media posts encouraging people to come downtown," Lightfoot told TIME. "But the core of what happened — that's organized criminal activity...It was a planned attack."
Those involved in Sunday's events arrived angry after hearing reports of an officer-involved killing of a Black man. But Chicago Police Superintendent David Brown said Monday that officers were responding to a call about a man with a gun, and they returned fire after the suspect allegedly shot at them first. Officers struck the man, 20, who is recovering at a hospital and is expected to survive, police said.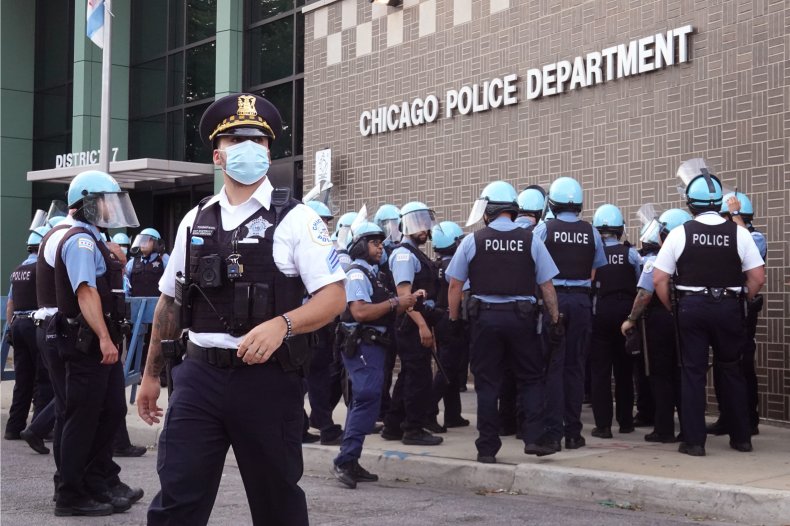 On Sunday, people broke into and looted stores along Chicago's Magnificent Mile. Police officers shot at least one person and had to chase down suspects who had bags filled with stolen items. More than a dozen officers were injured Sunday night from thrown bottles or physical attacks, including being shot at, Brown said. Between midnight and 3 a.m., the 911 switchboard faced 1,800 calls compared to its normal amount, which is in the teens, according to TIME.
The city has seen a sharp increase in violent crime this summer amid a period of civil unrest sparked by the May 25 death of George Floyd, an unarmed Black man who died in Minneapolis police custody. Floyd's death led to a resurgence of the Black Lives Matter movement and ignited protests across the U.S. and around the world, including in Chicago.
But Lightfoot appeared to draw a distinction between the hundreds of peaceful demonstrators recently seen throughout the city, and those who wished to incite violence.
"The criminal activity was not the result of legitimate, First Amendment expression," Lightfoot said in a video statement posted to her Twitter account Monday. "It was not petty theft committed by someone trying to scrape by. It was organized, felony criminal activity, and we will not tolerate this anywhere in our city."
The mayor told TIME that looters knew police staffing would be low early Monday morning and deliberately planned to stir up tension in the city at that time. While authorities have not yet identified anyone in charge of the purported organized raid, a task force comprising police detectives, FBI agents and U.S. Attorney's Office officials are examining evidence, Lightfoot said.
"We're still going through lots and lots of video tape," Lightfoot says. "But people were able to fairly quickly take out cash registers, ATM machines, cut through metal grate, and to get beyond and behind security systems that are pretty sophisticated. That's not your average looter."
Lightfoot had instructed Chicago police to locate any vehicle seen downtown the night of the looting for "being part of a criminal operation."
Lightfoot emphasized during a press conference Monday that those engaged with "this kind of criminal activity" needed to be held accountable, calling on the state's attorney's office and courts to "step up."
But Ariel Atkins, a Black Lives Matter (BLM) Chicago organizer, said during a rally that same day that she and other leaders believed the looting was a direct result of the CPD officer-involved shooting Sunday.
According to a statement by BLM Chicago, the organization rejected the officials' account by pointing out how several details of the shooting could not be corroborated. CPD claims, for example, that there is no body camera footage of the incident, the statement said.
"After police shot this young man, members of the Englewood community are traumatized and want answers," according to the statement. "The people of Englewood showed up immediately because they wanted to protect their community members from harm. CPD, meanwhile, was only interested in protecting itself; their response to these bystanders was sending in hundreds of officers with assault rifles, tear gas, and batons."
The statement criticized Lightfoot's response to the unrest, suggesting that she should provide an outlet for people to "exert control over the policing of their community."
"The Mayor cannot expect people to play by her rules as she refuses to treat them with basic dignity," according to the statement. "These protests can only end when the safety and wellbeing of our communities is finally prioritized."
Newsweek contacted Lightfoot's office for comment, but did not hear back in time for publication.