Organizer of 35 Vigils Supporting 1/6 Says Rioters Will Be 'Patient' for Justice
The organizer of a series of vigils in support of the January 6 rioters stated that they would be "patient" for justice for non-violent offenders who participated in the storming of the U.S. Capitol.
Matt Braynard, the executive director of Look Ahead America, spoke to Newsweek ahead of 35 "Justice for J6" vigils that the group was holding across the country Thursday night to pay tribute to Capitol rioters who have been arrested in the year since the attack.
He estimated that the main vigil being held in Washington, D.C. would likely attract a crowd of 50 to 100 people, with another large crowd expected in Phoenix, Arizona. Braynard added that many of these people would be participating in community organizing for the first time.
Braynard called the jailing of non-violent offenders at the Capitol a "political persecution," echoing a statement on Look Ahead America's website that said these people were being targeted "not for what they did but for their sincere political beliefs."
Braynard told Newsweek that Look Ahead America had been leading this movement "going all the way back to last January when we sent a letter to the Department of Justice and FBI demanding that they drop charges against non-violent offenders."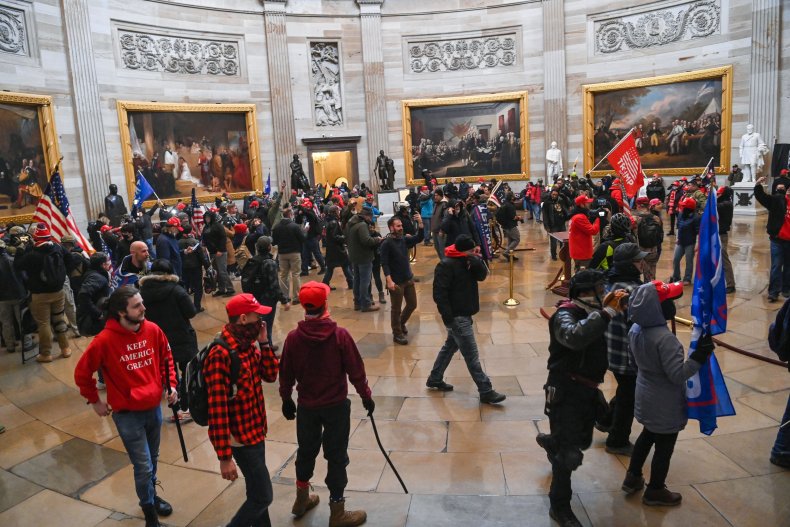 He continued that the goal of these vigils was "to put public attention and public pressure on our government and elected officials to do the right thing and to stop abusing these people and to stop the political persecutions."
Braynard saidthat "we understand that it's not going to happen overnight, but just as the anti-apartheid movement took many years, we will be equally patient."
The anti-apartheid movement was a coordinated effort seen in South Africa throughout the latter half of the 20th century. The endeavor was a pushback against a system of institutionalized racism and segregation that existed in that country until the early 1990s.
Apartheid in South Africa is often historically compared with Jim Crow Laws, a similar set of racial segregation guidelines that existed in the southern U.S. until the mid-1960s.
When asked if the non-violent offenders should face any type of punishment for their role at the Capitol, Braynard stated that "historically, the non-violent offenders, many of whom I've met, were saying they...were given a $50 fine and let loose."
"These non-violent offenders are being put in prison for five years in the sentencing, that's a disparate sentencing as a result solely of their political beliefs, not because of anything they've done," Braynard claimed.
The Look Ahead America website also mentions that it "[investigates] illegal ballots cast in 2020."
William Barr, the former attorney general under former President Donald Trump, as well as the Justice Department, came to the conclusion that there was no evidence of widespread voter fraud during the 2020 election.
However, when asked about this conclusion, Braynard told Newsweek that "Bill Barr stuck his head in the ground and refused to look at our evidence. We put together ample evidence that the number of illegal ballots in Georgia and Wisconsin surpassed the margin of victory and we're preparing similar reports in Arizona and Pennsylvania."
"There were five million votes cast in Georgia, is it not really that hard to believe that 12,000 were cast illegally by people who don't actually have evidence in that state?" Braynard continued.
The 12,000 votes Braynard was referring to was part of an unsubstantiated claim regarding widespread voter fraud in Georgia. Post-election audits have not uncovered evidence that any such fraud took place.