Original Script for Cult Film 'The Room' Even More Bonkers Than Movie Suggests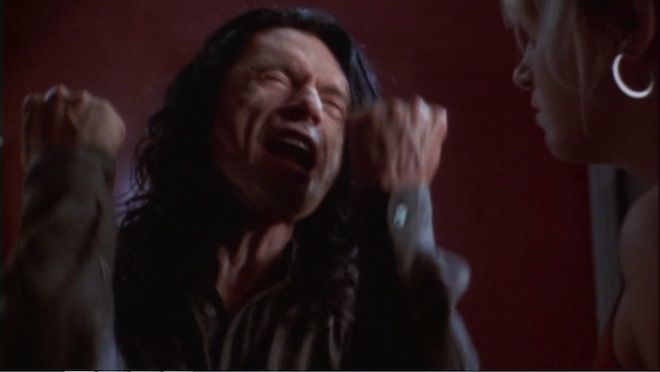 Room, the filmic adaptation of Emma Donoghue's gripping novel, has evolved into an indie sensation and is now a dark horse Oscar contender. But film buffs, take note: It's not to be mistaken for The Room, Tommy Wiseau's early-aughts "black comedy" cult classic now screened for midnight drunken revelers worldwide, which is replete with plot holes, garbled dialogue, brutally long sex scenes and unconvincing characters.
Upon its 2003 premiere in Los Angeles, people demanded their money back just 30 minutes in, and star Greg Sestero remembers that "one guy says he may never get hard again."
The plot of The Room makes little sense, but here's a synopsis: San Francisco banker Johnny (Wiseau) is betrayed by his fiancée Lisa (Juliette Danielle) when she inexplicably decides to seduce Mark (Sestero), his "best friend" (a fact that we are reminded of many, many times). Guns are drawn, footballs are thrown, chicken noises are made, sex lives are questioned, and stupid comments are asked to be kept in pockets. What could go wrong?
The Room's elusive writer, director and star, Wiseau is mum on where the inspiration stemmed from for the disastrous cult film, chalking it up to "life," and insists he acquired the film's $6 million budget from his leather jacket business. Uh, OK. Luckily, Sestero documented the long, strange trip of making The Room in his recent memoir, The Disaster Artist. (Naturally, it's being made into a film and will star the Franco brothers, James and Dave.)
In it, Sestero details The Room's production, and he insists that earlier scripts were somehow even more gnarled and ridiculous. Now he is putting his money where his mouth is, really: During recent live appearances at The Room screenings, Sestero sold copies of the film's scripts. Nathan Rabin over at Splitsider got his paws on a copy, and it's as beautiful and absurd as you'd imagine. Consider the epigraph at the top of the 2001-era script (which began as an idea for a 600-page book, and then almost a play); it reads at once like a Hallmark card and an Existential Philosophy 101 text:
"This play can be played without any age restriction. It will work if the chemistry between all the characters makes sense. Human behavior and betrayal applies to all of us. It exists within ourselves. You love somebody. Do you? What is love? You think you have everything, but you don't have anything. You have to have hope and spirit. Be an optimist. But you can handle all your human behavior or other's behavior (sic). You don't want to be good, but great."
It's unclear if this passage is meant to inspire actors and crew members or if it's just part of Wiseau's inexplicable writing process, but it represents merely a fraction of the weirdness detailed in the early script. At one point, Lisa, who is preparing Johnny breakfast and sick of hearing about his business matters, screams, "Promotion! Promotion! That's all I hear about! Here is your coffee and English muffin and burn your mouth."
How does Johnny follow up Lisa's outburst? "Old Man Donkey lets me know today. I have to think about our future." Presumably, we're expected to know who Old Man Donkey is, without any prior mention to him in the film—a classic Wiseau trope. Never mind one of The Room's finest moments, when Lisa's mom, Claudette, drops a bomb on her: She has breast cancer, a serious development that is never brought up again in the film. (The breast cancer subplot is present in the original, Rabin reports, with "the caveat that these days cancer is no big deal and everyone is beating it.")
Someone who's never brought up in the original draft is Denny, the youngster who told Tommy that he maybe, probably had watched him and Lisa have sex, and may be in love with Lisa himself. Your absence is tearing us apart, Denny!
A lot of material was thankfully shed for the final cut, though. For one thing, it's devoid of the many obtuse subplots that, while making The Room lovably horrible, also made it just nonsensical. Mark is revealed to have another best friend, Peter, who gives him sage advice about his affair with Lisa, saying, "You should stop thinking about [Lisa] and never do sex with her," because clearly women are tyrannical and "doing sex" is a bad thing.
As Rabin notes, Wiseau's "distaste for and fear of women become even more evident" in the film's troubling early draft. This is evidenced by Johnny repeatedly yelling at Lisa and obsessively taping her phone calls when he finds out about her affair halfway through the 74-page script. Most disturbingly, upon feeling betrayed by Lisa in the finale, he takes her infamous red dress and then "lies on the clothes, unzipping his zipper...breathing hard and writhing with pelvic thrusts." Anyway, how is your sex life?