How Klaus and Caroline 'Could Have Ended up Together' on 'The Originals'
Klaus and Caroline could have had something together in the future if The Originals series finale had ended differently, showrunner Julie Plec revealed to TVLine Wednesday.
Klaus Mikaelson (Joseph Morgan) knew he was going to sacrifice himself in the last episode after he took in the dark magic that was killing his daughter, Hope (Danielle Russ Russell). Caroline (Candice King) went to New Orleans to say goodbye and make him fulfill a promise he'd made back when The Originals was first introduced in a backdoor pilot of The Vampire Diaries in Season 4 in 2013: to show her his city. After he did, she kissed him goodbye. A series finale deleted scene (above) shows Klaus telling Caroline about meeting Cami (Leah Pipes) in the first episode. The two women had a lot in common.
"The most fun thing to do when you're bringing a series to a close is going back and scouring for everything you've left open," Plec told TVLine of that promise. "You do everything you can to pay homage to or bookend ideas that you introduced a long time ago." If Klaus hadn't died at the end of the finale (alongside his brother Elijah, played by Daniel Gillies), his and Caroline's moments together on The Originals wouldn't have been their last.
"I think they could have ended up together," Plec said to the publication. "They could have had a moment together, or a series of long moments together." Though they didn't have that, she added, "Klaus impacted her in really profound ways."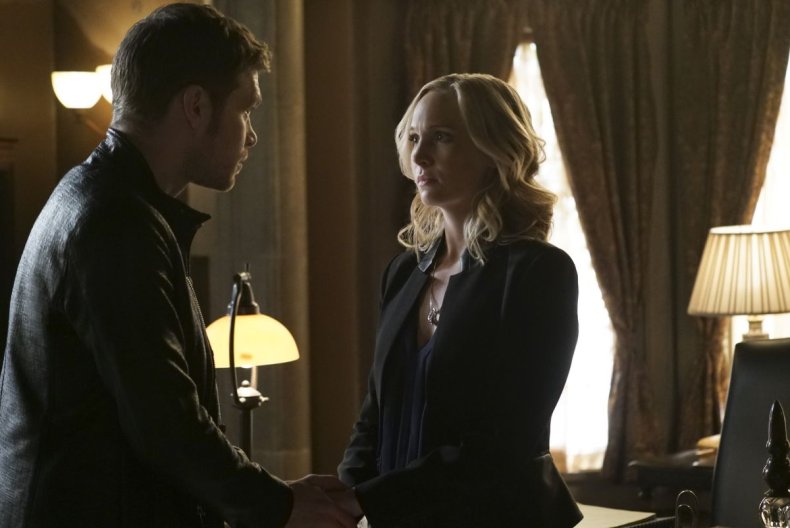 One of the reasons Klaus and Caroline didn't have more than they did on The Originals was because of The Vampire Diaries series finale in 2017. Caroline and Stefan Salvatore (Paul Wesley) got married, only for Stefan to die because he also decided to sacrifice himself for a family member (in his case, so his brother, Damon, played by Ian Somerhalder, wouldn't). The showrunner wanted to "honor Stefan," she told Entertainment Weekly Wednesday. "Once Caroline and Stefan found love and got married and she lost him, it never really felt right to have Caroline move past Stefan's memory to go travel the world for all eternity with Klaus Mikaelson, as much as they have a connection and a powerful bond."
That doesn't mean Caroline can't eventually find love again. "In time, you can learn to love someone new even after you've lost someone," Plec told TVLine, but added she's busy being a mother and running the Salvatore School, the setting of The Originals spinoff—and will be in the middle of a mystery on Legacies. "There's an episode where she doesn't come home for something she should come home for, which opens the door to a mystery about why she's been gone," Plec teased.
Legacies premieres Thursday, October 25 at 9 p.m. ET on The CW.