Orlando Bars and Restaurants Close Again as Coronavirus Cases Spike
Restaurants in several neighborhoods in Orlando, Florida, have been forced to close their doors once more after both employees and diners have tested positive for coronavirus.
Several of the restaurants and bars near the University of Central Florida and in the Mills 50 and Doctor Phillips neighborhoods have shut down to undergo sanitizing and cleaning. For many of the establishments, employees will not be allowed to return until they receive a negative coronavirus test.
The decisions come amidst growing coronavirus case numbers statewide and Florida Governor Ron DeSantis' announcement that the state would impose further restrictions — such as handing out fines or pulling liquor licenses — on establishments found not to be in compliance with social distancing rules.
During a press conference June 20, DeSantis said he had seen reports of "people just jam packed" in some restaurants and bars throughout the state, thus violating the limited capacity rules.
"There are reasons why it was done that way," DeSantis said. "When those very reasonable guidelines are disobeyed, well, it ends up defeating some of the purpose of what we are trying to accomplish."
In Orange County, where Orlando is located, restaurants and bars have been allowed to operate at full capacity outdoors and at 50 percent capacity indoors since May 18.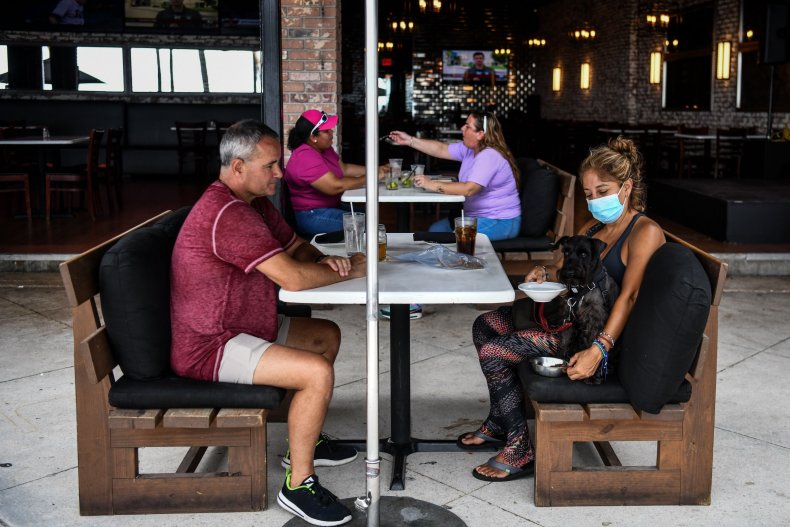 Will's Pub, located in downtown Orlando's Mills 50 neighborhood, announced June 19 on its Facebook account that a customer who had dined there the previous day had received their positive coronavirus test results the next morning.
"We immediately started rolling security camera footage," Will Walker, the owner of Will's Pub, told Newsweek. "We happened to be pretty slow that night, so we were able to contact everybody that [the customer] had come into contact with."
Several Will's Pub employees were friends with the customer and had exchanged hugs with them that night, Walker said.
"You watch the video and the hugs — there's a hesitation every single time," he said. "It was like watching a B horror movie. It was legitimately that real."
Walker said he did not have an exact timeline for when the bar would reopen. In the meantime, he is awaiting coronavirus test results for all his staff in addition to enacting additional safety measures such as purchasing steam cleaners and adding plexiglass barriers around the bar.
"Orlando, it's not faring well right now," Walker said.
As of June 22, 5,157 people in Orange County have tested positive for coronavirus, according to data from the state's health department. The county had its single-day record for new cases June 20 when 437 new positive cases were announced, according to a press release.
Newsweek was unable to reach Orange County officials for further comment before the time of publication.
Florida has reported a total of 100,217 cases as of June 22, becoming the seventh state to reach the 100,000 case threshold.