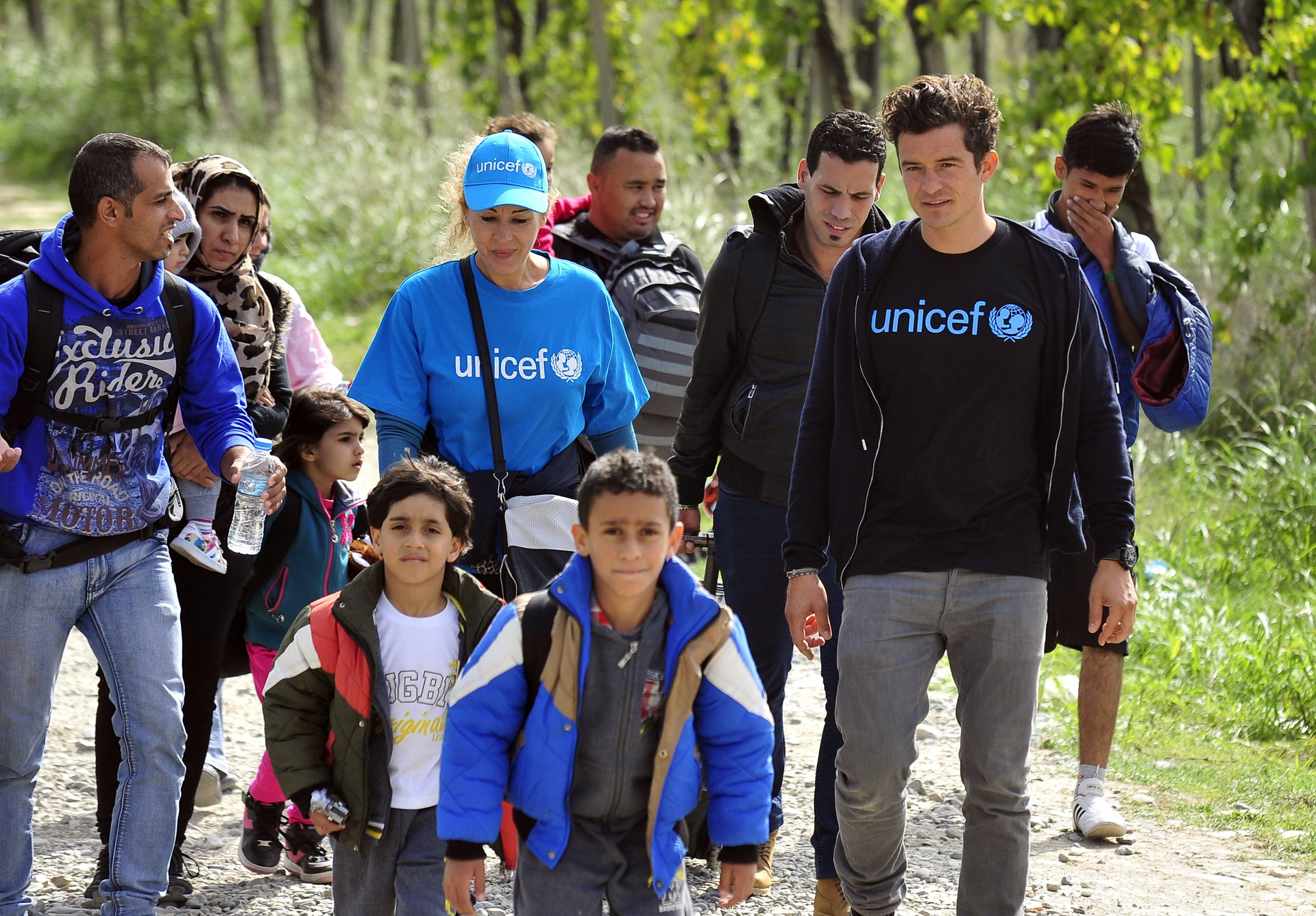 UNICEF Goodwill Ambassador Orlando Bloom, who recently traveled to Macedonia and Greece to meet refugees, says countries around the world should take in more people fleeing war and persecution who have become part of the "massive human disaster" that is the refugee and migrant crisis in Europe.
Speaking to Newsweek from Los Angeles, Bloom described scenes at the Greece-Macedonia and Macedonia-Serbia borders, where he saw thousands of men, women and children streaming through toward northern Europe in what he calls a "biblical exodus." He says the refugees and migrants he met were exhausted, often confused about where they had to go and reluctant to register with authorities in Macedonia and Serbia out of fear that they might eventually be deported back to those countries.
"It's very simple. It's human beings under huge stress with nothing, really, but the clothes on their backs and the money in their pocket, trying to create a new life for themselves and fleeing for their lives," says Bloom, who traveled to Europe with UNICEF in late September.
"I think everywhere should be taking more in," he says. "It's a massive human disaster."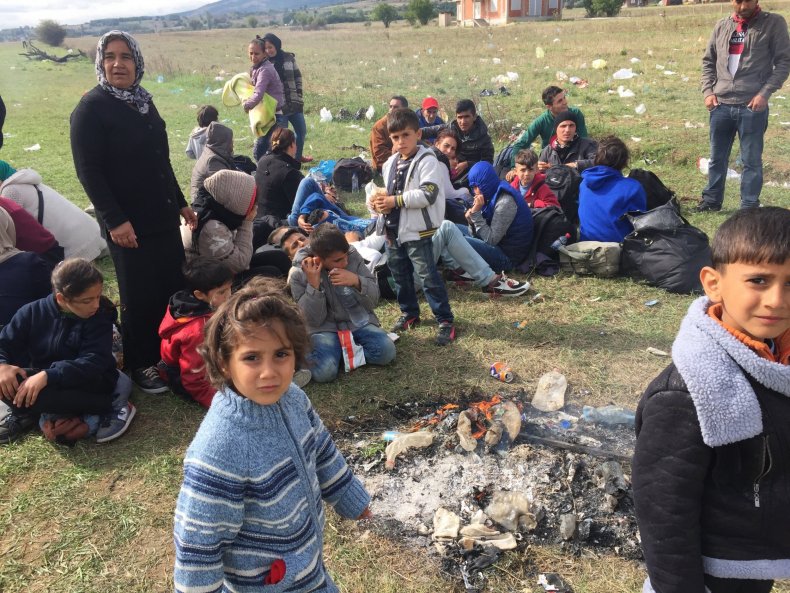 More than 700,000 refugees and migrants entered Europe between January and September of this year, an enormous increase over the 282,000 that arrived in all of 2014, the European Union border agency Frontex said earlier this month. In September, 172,843 refugees and migrants entered Europe via the Mediterranean Sea, compared with 33,944 during the same month last year, according to the United Nations's refugee agency. Most of the European arrivals are from Syria—where 4 million refugees have fled a brutal civil that has been raging since 2011—followed by people from Afghanistan, Eritrea and Iraq.
"It's truly heartbreaking," says Bloom. "I really believe that these people will have a hugely positive impact wherever they end up."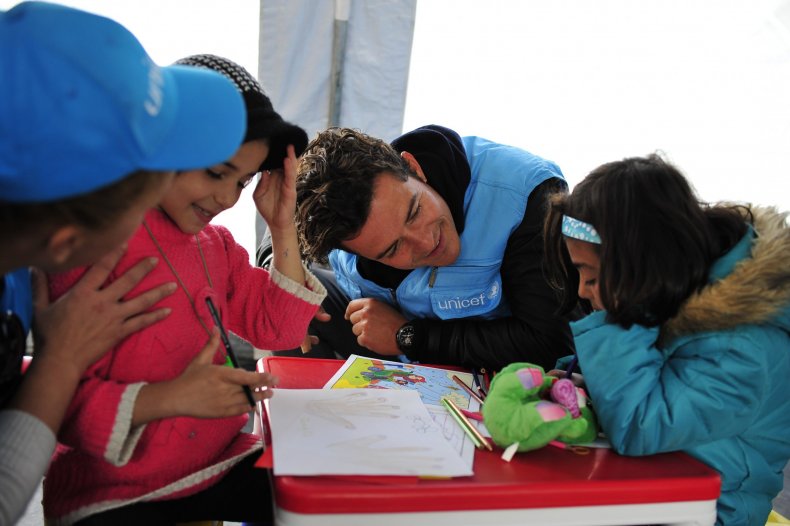 When Bloom visited, there was already fear among the refugees and migrants he met about the approaching winter weather. It's a concern shared by many: Jean-Claude Juncker, president of the European Commission, spoke last month about the risk posed by freezing conditions. Even in September, Bloom says he saw people huddled around fires to keep warm while waiting for the next bus or train. "The terrifying thing is that winter is now upon us," he says. "When I was there, just three weeks ago, it was bloody cold."
Two stories in particular stood out for Bloom. In one, a nine-month-pregnant woman he met on the Serbian border, who was traveling with her husband and two young children, was distressed because the family was given numbers and didn't know what they meant. (They turned out to be registration numbers.) In the other, a 17-year-old boy named Tarek was traveling alone after seeing his best friend die from a shrapnel wound in Syria. Tarek was taken in by a refugee family after helping one of their daughters when she fell out of a boat on the way to Greece.
Bloom shared his notes on the trip with Newsweek:
As a UNICEF Goodwill Ambassador, I've witnessed some of the atrocities that children across the world face. In Liberia earlier this year I met children who had lost their parents to the Ebola outbreak; families who were desperately trying to come to terms with the destruction the disease had caused; and heroic health care professionals who were working around the clock to prevent the virus from spreading.

In 2014, I went to Jordan where I met children and families who had fled unspeakable violence in Syria and who are living as refugees in Za'atari camp. Back in 2007, I travelled to Nepal where I took part in a children's theatre show to encourage children and young people to speak out to their parents, teachers and communities about the problems they come up against.

When I first started working with UNICEF, I had thought that the more children I met, the more hardships I'd witnessed, and the more tales of devastation that I heard, I would become slightly desensitized to it all. I was wrong, and my latest trip proved that there is nothing that would stop the sight of sheer trauma and desperation in children's eyes from affecting me.

Day 1

It was just after dawn when we arrived at the refugee and migrant reception centre near Gevgelija, the southernmost city in the former Yugoslav Republic of Macedonia, at the Macedonian-Greek border. I watched in disbelief at the number of people walking in search of safety and opportunity in one of Europe's many countries. It was like a mass exodus; a sea of children, families, and young boys. The majority of these refugees started their journeys thousands of miles away, escaping horrific conflict in their countries they once proudly called home. Countries including Syria, where nearly 12 million Syrians have been forced from their homes by the fighting, half of whom are children.

It was hard to take in what was happening. Thousands of people—children, mothers and fathers—were trying to board a train to take them to the next stop on their treacherous journey—the Macedonian-Serbian border—in the frantic hope of eventual safety. It was at the station I met a 17 year old boy, Tarek, who was waiting to board the train. Tarek was forced to flee violence in Syria, where he watched his best friend get killed by shrapnel. I saw the backpack he was carrying and thought to myself that he was one of the lucky ones to be able to carry a spare sweater in case he gets cold. But it's all relative. He left Syria alone to make the arduous journey across land and sea. He talked about his boat ride to Greece—a 10 year old girl fell into the water and almost drowned. Tarek jumped out of the boat to save her. The family of the girl he saved saw him alone and took him under their wing. Tarek was tired from his journey, he was missing out on his education, he spoke of his fear of the unknown, and he missed his family a lot but felt comfort from his 'new family'. They are all hoping to build a new life in the Netherlands.

It was hard to digest what they had been through. Like many families who have been forced to flee bloodshed in their home countries, they were driven to make choices about their children's safety that no parent should have to make. Life or death choices. I can't even come close to imagining how it must feel to get on a boat in the middle of the night with my child and travel across seas that had claimed the lives of thousands of others who had made the same perilous journey.

I returned to the centre where UNICEF has set up a child-friendly space which gives refugee and migrant children and their families a safe place to rest and to play. In this space they also receive food, water and warm clothes. The support staff screen children and women and give them psychosocial support and first aid or refer them to other services.

After hearing more of these terrifying stories, I re-joined the mass exodus and walked for a time with a family of four who were on their way to the Macedonian-Serbian border. Like most of the families, they were travelling with just the clothes on their backs. They had no belongings, no toys for the children, no food or water—just their memories of home. They looked exhausted and scared, scared of what they'd been through and scared of the unknown of what was ahead of them.

I too started to make my way to the Macedonian-Serbian border.

It was getting dark and cold. Some people were beginning to seek shelter wherever they could find it. Searching desperately for some warmth, safety and rest to give them the strength to start yet another relentless journey. Most just wanted to get whatever food, water, and warm clothes they could and keep moving. They were desperate to cross the next border, worried that other European countries would close borders to refugees and migrants.

Day 2

I arrived at Preševo, Serbia. Like yesterday, the quiet voices of thousands were creating a murmur, with the same combination of exhaustion and fear across people's faces. I couldn't fathom the level of pain and the level of stress that they'd experienced.

In Preševo, I was able to visit another child-friendly space set up by UNICEF. That faint murmur disappeared and was replaced by the sound of children laughing and playing. It was incredible to see that amongst the chaos and feelings of fear, there were pockets of safety where children were singing, drawing and playing games. They were speaking to others in their own languages and being offered some support to help them come to terms with what they'd been through. But mostly, they are able to escape their realities for a few hours.

Another day was closing in. I had mixed feelings. I felt privileged to have seen what was unfolding and understand more about the children behind the statistics that I'd heard so much about in the news. But I also felt shocked and disturbed to hear what these children and families had been through, and I know those feelings will stay with me for a long time.

Right now, the children on the move travelling through Europe, and those who are displaced in their home countries or taken refuge in neighbouring countries, are in desperate need of our support. Winter is on its way, and I'm terrified that these children and their families will perish in the cold. To help UNICEF provide refugee and migrant children and their families with protection, healthcare, safe water, adequate nutrition and education please visit http://support.unicef.org/. $80 could purchase Winter Kits for two children, so they'd be well protected against the elements with a warm coat, boots, mittens and gloves. $30 could give 10 children who have been travelling for long distances a medical check-up from a mobile health team.—Orlando Bloom
"It was very apparent the horrors, the atrocities of war that so many of these young families and children were experiencing," Bloom says. "What made it that much worse was that it was people who came from the equivalent of our middle-income families, with jobs and lives."
Bloom adds that he could not imagine undertaking the journey with his young son, Flynn. "If I had to do this journey with my son and if I had to do this journey myself...we have no idea how lucky we are," he says.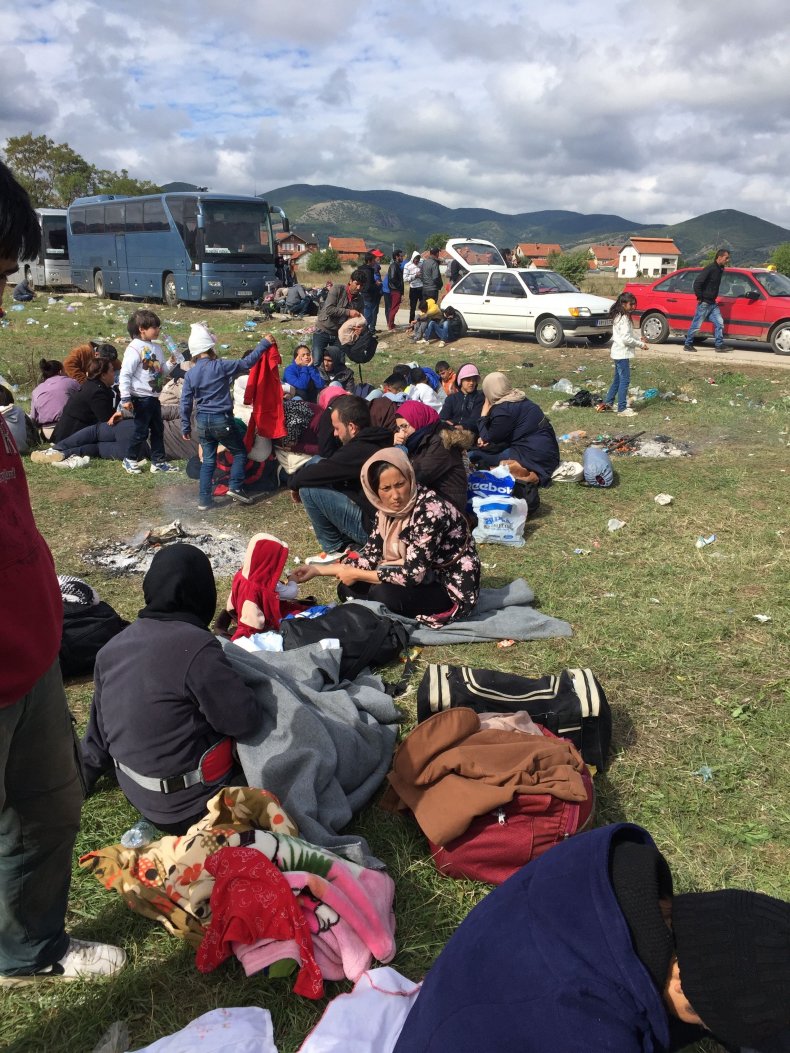 Bloom notes the chaotic feeling at the Serbian-Macedonian border, compared with the relatively routine circumstances at the Greek-Macedonian border. He says Europe's borders are in a state of flux as countries continue to grapple with how to accommodate waves of refugees and migrants. Many have had to adjust their routes north over the past few weeks, after Hungary closed its southern borders with Slovenia and Croatia, leaving people stranded in freezing rain and mud.
A distressing video captured by the U.K.'s Channel 4 News shows crying children and their parents wading through a river at night to enter Slovenia from Croatia. Bloom says there was fear among the people he met that borders will close soon.
The actor has traveled to a number of countries with UNICEF, including Liberia, Nepal and, last year, Jordan, where he visited the sprawling Zaatari refugee camp that is home to more than 80,000 Syrian refugees. Though he has been a UNICEF goodwill ambassador since 2009, visiting the sites of human and natural disasters remains a deeply moving experience, he says.
"When you see these beautiful children and families, you can't imagine what they've seen," he says. "I was really discombobulated by the whole experience."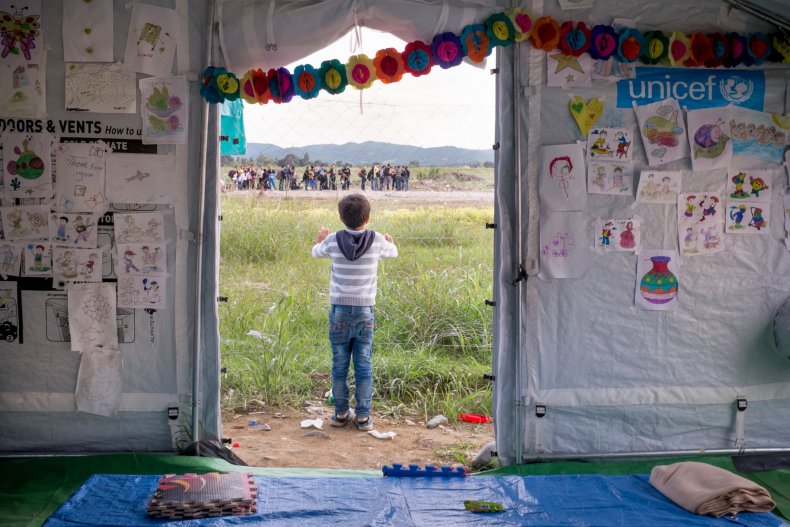 Bloom wasn't a stranger to everyone along the European borders. He says he was recognized by a few people, although it was more for his role as Will Turner in the Pirates of the Caribbean movie series than his turn as Legolas, the golden-haired elf in the Lord of the Rings and Hobbit films.
"We had the odd selfie on the train with a couple of guys," he says.