Will the FDA's Policy on Blood Donation From Gay Men Change After the Orlando Massacre?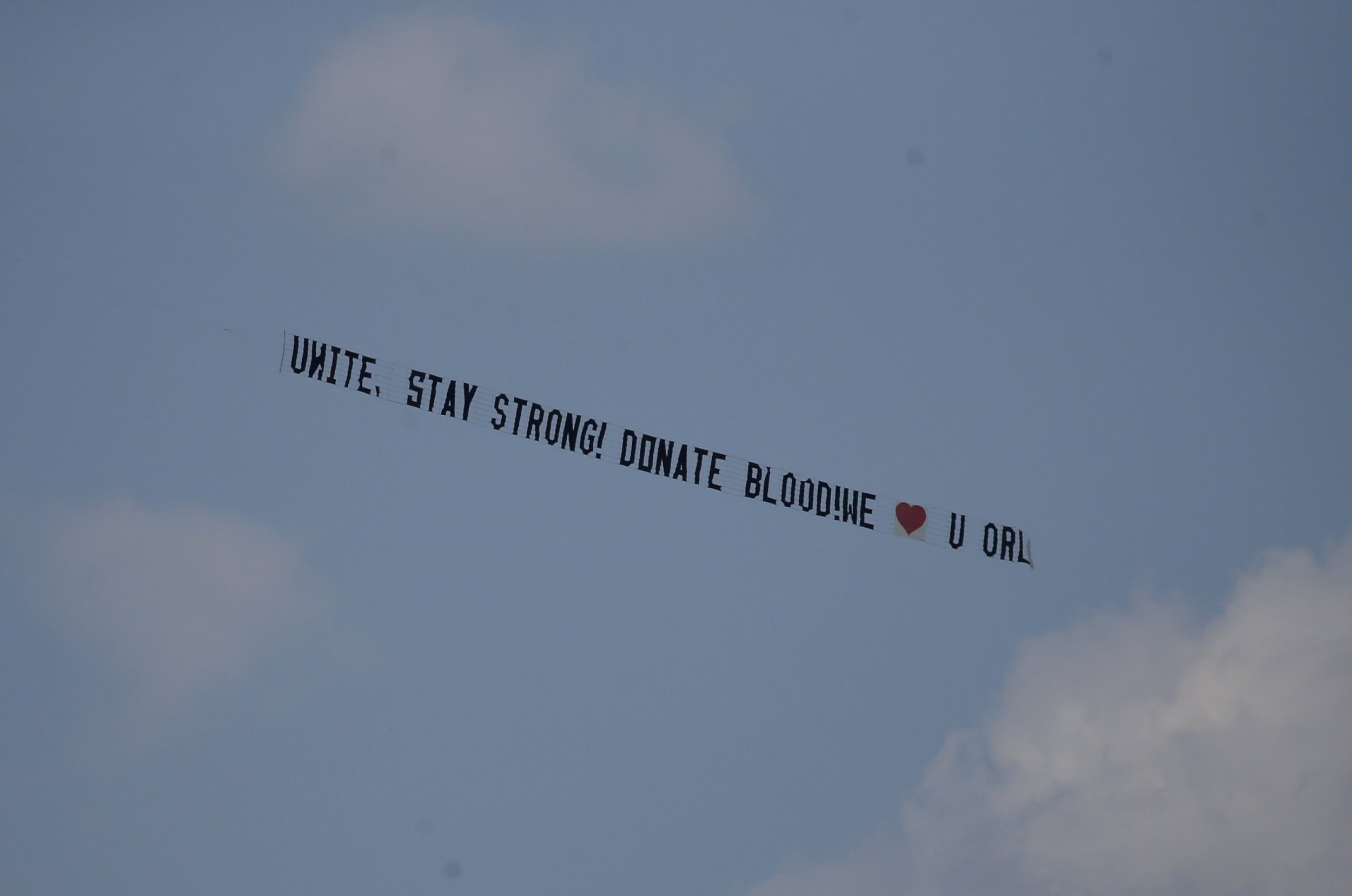 Updated | When news broke early Sunday morning of a mass shooting at a gay nightclub in Orlando, Florida, that killed 50 people and left over 50 critically injured, residents of the city began lining up in droves to offer their support at local blood banks. But the community hit hardest by the tragedy—gay men—was left feeling powerless because of a ban enacted by the U.S. Food and Drug Administration more than 30 years ago that prevents gay men and men who have sex with men (MSM) from donating blood.
When the policy was put into place in 1983, it was the height of the AIDS crisis, and diagnostic testing for HIV was unreliable. However, today, testing methods are dependably accurate, and technologies like the Intercept Blood System exist to prevent potential contamination of the nation's blood supply. Which is why, on Tuesday—which happens to be World Blood Donor Day—LGBT activists and medical experts spoke out against the antiquated public health policy.
"Our federal blood policy is based on the '80s, when fear and hysteria ruled," says Anthony Hayes, vice president of public affairs and policy for Gay Men's Health Crisis (GMHC). "We have a policy that is based on discrimination instead of science and data. It's policy based on whom someone may sleep with."
On Tuesday, six members of the U.S. Congress (led by Representative Mike Quigley of Illinois, who is the vice chairman of the House LGBT Equality Caucus), sent a letter to FDA Commissioner Robert M. Califf requesting the agency completely lift the ban that prevents MSM from donating blood.
The FDA loosened its ban slightly last year, when it announced in December that men who have sex with men can now donate blood but must wait 12 months after their last sexual encounter with another man. The United Kingdom, Australia and New Zealand are among the other countries that have a one-year policy. However, Hayes and other gay rights advocates have called the one-year wait time revised policy "a de facto lifetime ban," and the GMHC recently launched a campaign rallying for blood donor equality with one poster that reads "One year of celibacy? Are you f***ing kidding me?" (Some of the other posters include "My blood is type O, not type homo" and "My blood is type A, not type gay.")
"Due to the FDA's deferral policy for gay and bisexual men, many healthy potential blood donors are prohibited from donating," Quigley said in a press statement issued Tuesday. "The cruel irony of this deferral policy is personified by this particular terrorist attack, where the victims were targeted for being members of the LGBT community and the gay and bisexual men who wanted to donate blood for those in need were banned from doing so."
In September 2014, 80 members of Congress sent a letter to Secretary of Health and Human Services Sylvia Burwell calling for the FDA to change its blood donor policy to one that's based upon individual risk assessment. (That effort resulted in the partial lift of the ban and the implementation of the 12-month wait period.
The FDA says banning MSM from donating blood has helped reduce HIV transmission rates from blood transfusion from 1 in 2,500 to 1 in 1.47 million. However, the American Red Cross, America's Blood Centers, the American Medical Association and other medical organizations have all said at some point the blood donation ban is no longer scientifically necessary.
The updated guidelines mean a gay man with a documented HIV-negative status who is currently in a monogamous sexual relationship with another man is still not permitted to give blood—unless he stops having sex with his partner for a full year.
Meanwhile, other populations that conceivably present a much higher risk for HIV transmission—such as heterosexual men and women who have unprotected sex with multiple partners—aren't required to wait a period of time before donating. (The FDA's 12-month wait time also applies to men who have sex with HIV-positive women or any commercial sex worker and to women who have sex with men known to be HIV-positive.)
According to the Williams Institute, if the FDA were to lift the current ban on blood donations from MSM, an estimated 360,600 more men would be likely to donate, which would provide some 615,300 additional pints to the nation's blood supply each year. Overall, lifting the ban completely would increase the nation's total blood supply by as much as 4 percent.
Sean Cahill, director of health policy research at the Fenway Institute's National LGBT Health Education Center, says advances in technology in the past few decades should be enough to make lifting the U.S. ban a reality. Nucleic acid amplification, approved by the FDA in 1999 and now the gold standard for diagnostic testing, is able to detect HIV and other viruses and bacteria in blood as little as just a week after exposure. Before NAT, public health relied on a test to detect HIV antibodies, which the immune system doesn't produce until three to six months after initial infection, meaning it was plausible for the virus to enter the donor blood supply, should someone with an unknown positive status decide to give blood within that window of time.
In December 2014, the FDA also approved the Intercept Blood System, the first technology that eliminates all potential pathogens from donor blood. The system, which has been used in Europe since 2002, works by damaging—and therefore disabling—the RNA and DNA of viruses and bacteria so that they won't be able to reproduce once in a blood transfusion recipient's body. The FDA waited to approve the system until more data on safety and efficacy became available after the device spent some time on the market.
These technologies have helped the risk for HIV through blood transfusion remain incredibly low, especially in more developed nations. According to the World Health Organization (WHO), the prevalence of transmission of HIV through blood transfusion is 0.002 percent in high-income countries, 0.12 percent in middle-income countries and 0.85 percent in low-income countries.
Restrictions on blood donations from MSM are still widely enforced throughout the world, but many countries have started to reverse those policies. In November, France completely lifted its ban. Gay health advocates have been pushing for a policy in the U.S. that is similar to those enforced in Italy and Argentina, which utilize individual risk assessment instead of demographic-based blanket policies. Researchers in Italy say the move to individual risk assessment rather than outright ban of all MSM hasn't resulted in more HIV-positive blood donations.
Dr. Ed Kelley, director of the service delivery and safety department at the WHO, says the agency recognizes that individual risk assessment is a reasonable alternative to a blood donation ban of MSM, but the agency cautions that the approach has some flaws.
"There are practical problems in administering a questionnaire to reliably identify a safer subset of MSM, which involves asking detailed questions about highly sensitive and intimate areas of sexual behaviour at the point of donation," he said in an email statement.
In this year's campaign for World Blood Donor Day ("Blood connects us all"), the WHO said there is an urgent need to increase unpaid voluntary blood donation to meet projected needs by 2020. According to WHO, nearly 50 percent of blood donations are collected in high-income countries, which accounts for less than 20 percent of the world's population.
This story has been updated to include information on the letter sent Tuesday by members of Congress to the FDA commissioner that requests the agency lift the ban on blood donations.