'Not Donald Trump': Orlando Paper Announces Endorsement Hours Before President Launches 2020 Campaign
An Orlando newspaper released a scathing presidential endorsement opposing Donald Trump hours before he is set to officially announce his 2020 re-election campaign in the city.
"Trump's successful assault on truth is the great casualty of this presidency, followed closely by his war on decency," The Orlando Sentinel's editorial board wrote in an article titled "Our endorsement for president in 2020: Not Donald Trump."
"Trump has diminished our standing in the world. He reneges on deals, attacks allies and embraces enemies," read the article published Tuesday morning.
The piece criticized Trump's extensive history of lying while in office, his praise for authoritarian leaders and his addition to the national debt. The editorial board noted that it was not necessarily endorsing the eventual Democratic candidate and would gladly endorse a Republican or independent challenger, but that it did not want to "suffer" a second Trump term.
"We'd even consider backing Trump if, say, he found the proverbial cure for cancer or—about as likely—changed the essence of who he is (he won't)," the article said.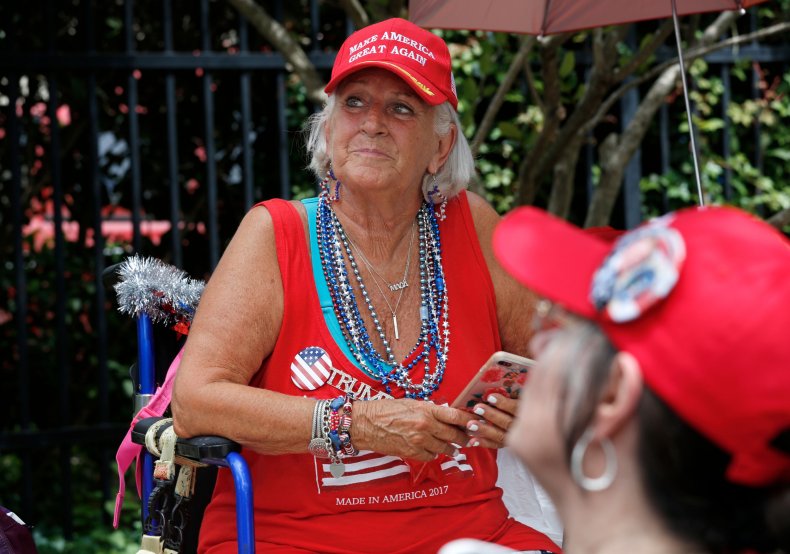 The Trump campaign did not immediately comment when contacted by Newsweek. But ahead of Trump's official campaign launch in Orlando on Tuesday night, the president's 2020 strategic communications director sought to claim Trump's failure to deliver on all his 2016 campaign promises has enabled the president to build a platform for the next election.
"In a way, that makes a great platform for the president's 2020 campaign to make sure that we can continue to work on those things that he has done," Marc Lotter said Tuesday when pressed by CNN's John Berman on Trump's promise to decrease the national debt and repeal and replace Obamacare. The national debt has increased more than $2 trillion since Trump took office, and the president failed in efforts to get rid of Obamacare.
Trump claimed—apparently falsely—that there were "thousands" of supporters lined up two days before the rally to attend his election announcement. Some Trump supporters did line up outside the arena in Orlando over 24 hours before the event to cheer the president, but his arrival in the city is also expected to generate protests. A 20-foot-high Baby Trump balloon—a version of which was first used to mock Trump during his 2018 visit to the United Kingdom and has since been used in the U.S.—is expected to fly down the street from the president's 2020 kickoff.
While the president is officially launching his re-election bid on Tuesday, he has held election-style events since taking office. The rally in Orlando will be the 550th campaign event since the president announced his bid in 2015. A report released last week by the Center for Public Integrity found that the president had an outstanding balance of $841,219 bill in unpaid public safety costs from political rallies.
His campaign led all presidential candidates in fundraising for the first three months of 2019, generating over $30 million.