Body camera footage captured a Florida police officer with his knee on a man's neck after a traffic stop.
Officers from the Orlando Police Department had initiated the stop as a a woman, Janet Feliciano, pulled into her driveway on West South Street in the neighborhood of Parramore in July last year, WFTV reported.
A short time later, Officer William Jimenez tried to enter Feliciano's home to arrest a man who was a passenger in her car for an alleged seat belt violation—a civil infraction.
In footage that was captured on a body camera moments later, Officer John Earle is seen using his knee to restrain that man. "Can you get off my neck? I can't breathe! I got asthma," the man is heard shouting in the video as officers place him in handcuffs.
It comes to light after the U.S. has seen weeks of sustained protests sparked by the death of George Floyd, a Black man, in Minneapolis police custody in late May. Floyd died after a white police officer kneeled on his neck for almost nine minutes while he gasped for air, saying he couldn't breathe.
That officer, Derek Chauvin, has been charged with second-degree murder and manslaughter while three other officers involved in Floyd's death are also facing charges.
The man who was restrained by the Orlando police officer said he had been trying to protect his pregnant sister, according to WFTV.
An officer had dragged her from the doorway of their home and slammed her to the ground, according to the station. In another clip from body camera footage, Officer Luke Austin is heard screaming at her to "put your hands behind your back, right now!"
Video shot from a different angle showed an officer kept his knee on the unidentified man's neck even after he had been handcuffed—despite the police department's use-of-force policy stating that the neck area should be avoided by officers.
"My weight's not even on you, dude. Relax," Earle is heard saying while restraining the man.
Orlando police chief Orlando Rolon defended the officers' actions to WFTV, saying he didn't see any policy violations in the videos. He said the man being restrained was "able to communicate the entire time."
Rolon added that Orlando police officers are not trained to use neck restraints.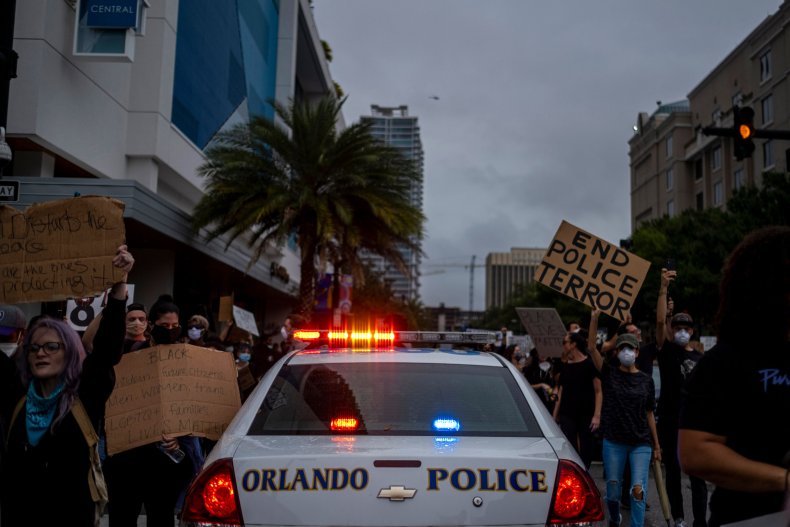 Attorney Howard Marks, who represents the family, told Newsweek that the civil rights of his clients "were violated by numerous officers and the Orlando Police Department failed to even investigate."
"This is just another example of the systematic pretextual traffic stops of African American citizens conducted by law enforcement in the Central Florida," he said. "These illegal stops often are escalated by law enforcement and result in unjustified and unnecessary violence and excessive force against the minority community."
He said that Feliciano had been stopped two weeks before that incident "on the pretext that the windows of her vehicle were so dark you could not see inside."
"However, in this incident the police said they could see in the vehicle and that the passenger was not wearing a seatbelt," Marks said. "My clients do not believe this allegation by the police."
He also noted that a seat belt offense in Florida is a civil infraction, not a criminal violation.
"The officers in this case illegally forced their way into my clients home, pulled her children out and body slammed both to the ground. The police put the knee on the neck of the son and you could hear him say I cannot breathe.
"In addition, they arrested the daughter and son because they attempted to stop the officers from illegally entering the home. The charges were dropped by the State Attorney's office. The remainder of the family was required to sit outside the home for seven hours as the police illegally entered the home and destroyed much of personal property in the home."
Marks said the family had filed a complaint with Orlando Police's internal affairs department. But Rolon said the investigation stalled because the family didn't co-operate. But he also told the station that the department hadn't reviewed the body camera footage from the incident until cellphone footage was brought to their attention by WFTV two weeks ago.
Rolon also said the officers had probable cause because one said he could smell marijuana coming from the house. According to WFTV, the passenger who was restrained was never cited for a seat belt violation and no one was charged with marijuana possession.
However, Earle has been disciplined in the past for turning off his body camera twice and also has more than 30 supervisory referrals during his six years with Orlando Police, according to WFTV.
On Monday, the police department announced new policies and procedures, including a ban on chokeholds and no-knock warrants.
The department said on Twitter that it had "reaffirmed our commitment to existing policies, and also to new policies that are being implemented, so officers have improved training & techniques for future interactions with the community."
In a statement, Rolon said the department is "dedicated to protecting the safety of every member of our community and treating everyone we encounter with fairness and respect."
The Orlando Police Department has been contacted for additional comment.
This article has been updated with comments from Howard Marks.