After Orlando Shooting, LGBT Bars Rush to Tighten Security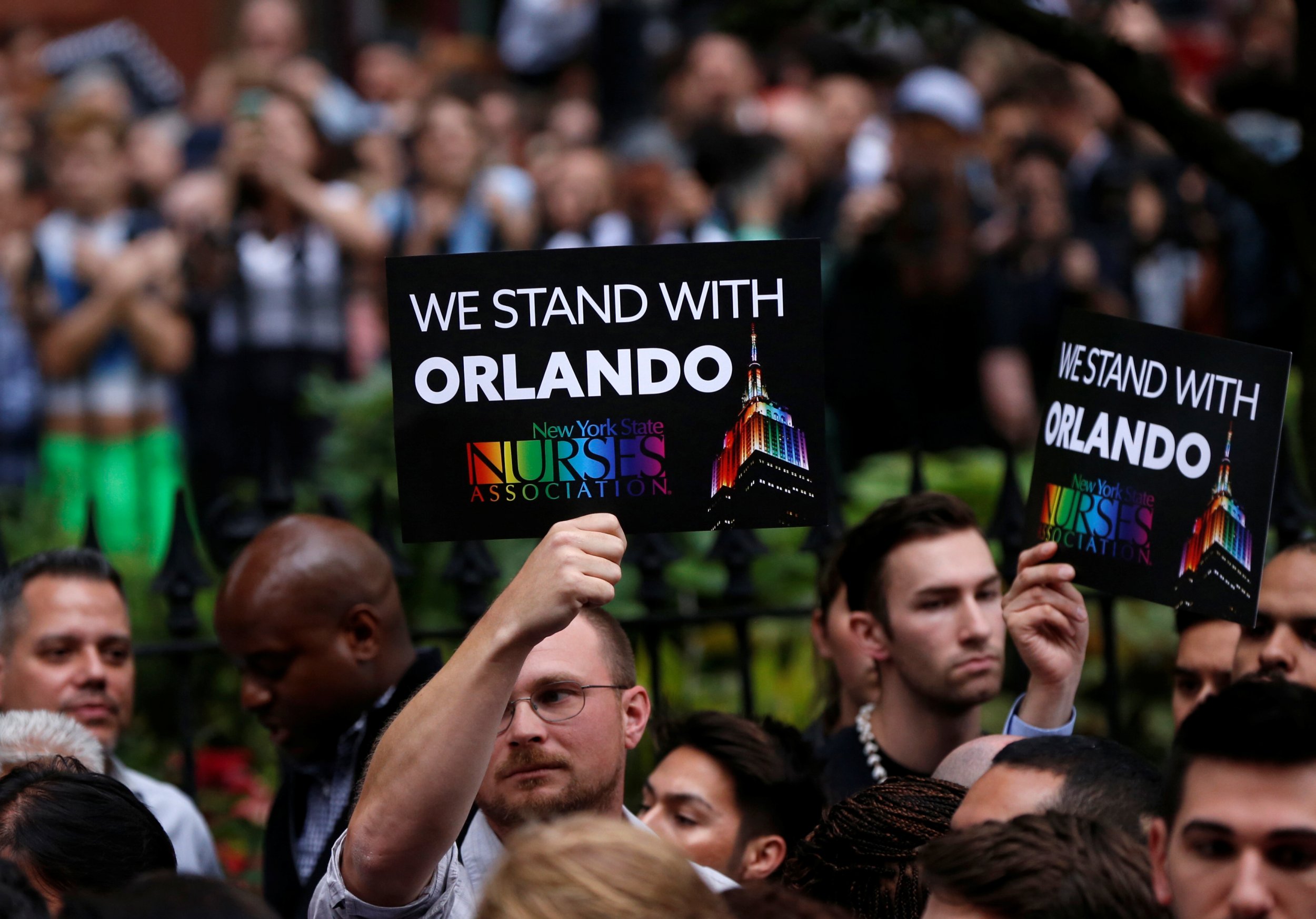 In the aftermath of the attack that killed 49 people at a gay nightclub in Orlando, Florida, LGBT bars and clubs throughout New York are rushing to tighten security.
On Monday, the New York Police Department unveiled plans to station units at LGBT nightclubs and landmarks, including the Stonewall Inn. Since then, bar owners have kept their doors open while addressing widespread fears of anti-gay attacks inspired by the Orlando massacre.
"I'm buying metal detectors to check everyone," Italo Lopez, general manager of the Monster, a bar in the West Village, tells Newsweek. "Whoever has a bag has to be checked, from now on." Those machines will be put into use as soon as they arrive, Lopez says. Boots & Saddle, a drag lounge in Greenwich Village, has also implemented a bag search policy.
Ted Arenas, owner and manager of Rise Bar, a gay bar in Hell's Kitchen, says he'll probably increase security for Pride Week, though he declined to say what those measures would entail.
Rob Hynds, who owns the popular bar Boxers a few blocks away, says he's encouraging bouncers to do pat-downs and adding new signage to point out emergency exits. He is also organizing a staff training so bartenders know how to react in an emergency situation.
"We've thought about everything from putting armed guards at the door to having armed security, but at the end of the day I don't think that's the answer," Hynds says. "If someone has a semi-automatic weapon, that [guard] doesn't have much of a chance. He's dead."
New York boasts one of the largest and most vibrant LGBT scenes in the world. The community has been on edge since the massacre, which was perpetrated by a gunman who had apparently visited the Pulse nightclub a dozen times before.
On Monday, a crowd of thousands gathered at the historic gay bar, the Stonewall Inn, to hold a vigil in honor of the victims of the Pulse nightclub shooting. Just outside the Christopher Street–Sheridan Square subway station in Manhattan's Greenwich Village, a crowd of queer and straight, young and old people amassed around the perimeters of the square amid a sea of rainbow flags, smartphones and banners about love. They chanted "Love trumps hate," sang songs about angels and repeated words of support in unison as the names of the 49 victims were read aloud.
Later that night, police arrested a belligerent man who threatened to shoot up a Brooklyn bar, Happy Fun Hideaway, "Orlando-style."
At establishments like the Stonewall, these security measures are new, but the fear of hate crimes is painfully familiar.
"Listen, the gay comunity historically has always had hatred out there," Hynds adds. "I'm not shocked by it. All the minority groups get their share of it, whether it's black, Hispanic or Jewish or any other."
Garrett Ford, a bartender at Phoenix Bar in the East Village, says his mother has been worried about his safety since the shooting. "She's just been worried. She keeps trying to talk me into installing some sort of panic button." The bar is being "extra vigilant" this month, Ford notes.
At LGBT establishments across the city, a month meant for celebration—June marks the annual LGBT Pride Month—has been wracked with sudden grief.
"Everyone that works in this community...has a feeling of grief and a feeling of support and a feeling of perseverance," says Ford.
"It's been very somber," says Hynds of the atmosphere at his bar, Boxers. But the funereal vibe is tinged with strength and resolve. "The other side is, you know what? Bad people can't stop good people from loving and getting together and doing the things that they enjoy. That will ultimately win out."