Orlando Police Officer Called Black, Hispanic Clubgoers 'Savages' Before Racial Facebook Tirade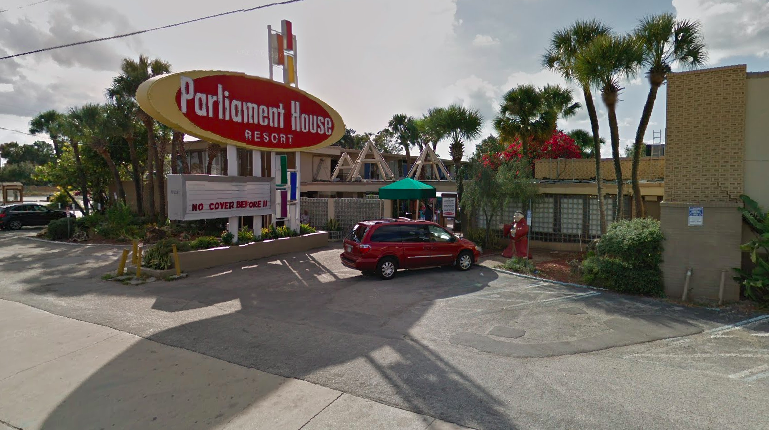 An Orlando, Florida, police officer reportedly called a group of clubgoers "savages" and used pepper spray on them months before he faced criticism for a racially charged Facebook post. The May 2017 incident, which occurred at the LGBT nightclub Parliament House, came to light after internal investigation records were released.
The incident happened when officer Robert Schellhorn and two other Orlando officers said they had to intervene when a fight broke out. Body-camera footage reportedly showed Schellhorn telling the group, consisting of mostly black and Hispanic patrons, "Time to go, savages."
Minutes later, Schellhorn was heard telling another officer, "This is typically Sunday night, it's just busy. All these [expletive] savages that [expletive] come out." The footage led to an investigation by Internal Affairs Director Dwain Rivers in October 2017, the Orlando Sentinel reported.
Orlando Police Department (OPD) investigators did not find that Schellhorn's use of "savages" at Parliament House was racist, the newly released records revealed. Deputy chief Dean DeSchryver said in a discipline recommendation that the officer used the word "savage" to "describe people who have a different philosophy that his own, fail to follow direction from someone of authority, or act in a manner he feels is appropriate."
Schellhorn told Internal Affairs that the crowd was "acting like animals."
The nightclub incident was not the only time Schellhorn used the word "savages" against people of color. Two months before the investigation, Schellhorn came under fire after he launched a racist tirade against professional NFL players.
"What exactly are the 'black rights' these useless savages are standing up for???" Schellhorn wrote on Facebook, according to WKMG. "Do black folks somehow have different or greater rights than everyone else?"
The officer called NFL players who knelt during the national anthem "overpaid thugs," the Orlando Sentinel found. Schellhorn also referred to Heather Heyer, who was killed while protesting white nationalists in Charlottesville, Virginia, as "an asshole killed by another asshole."
After the video from the May 2017 incident became public on Wednesday, Chief John Mina told WKMG, "I think that he has definitely learned his lesson, from what I've heard. I would be shocked if we ever had any incident like that again."
The two incidents led to Schellhorn to be given an 80-hour suspension. In lieu of serving out that suspension, Schellhorn forfeited 160 hours of accrued time off, OPD spokesman Sgt. Eduardo Bernal told Newsweek.
Bernal said that because the Parliament House incident was discovered after the Facebook post, the department could not use progressive discipline when handing out Schellhorn's punishment.
The Fraternal Order of Police filed two grievances on behalf of Schellhorn, calling the suspensions excessive and calling for his exoneration. The matter then headed to arbitration, Bernal said. The conclusion of the arbitration will be legally binding.