Photos: U.S. LGBT Pride Parades Carry On After Orlando Shooting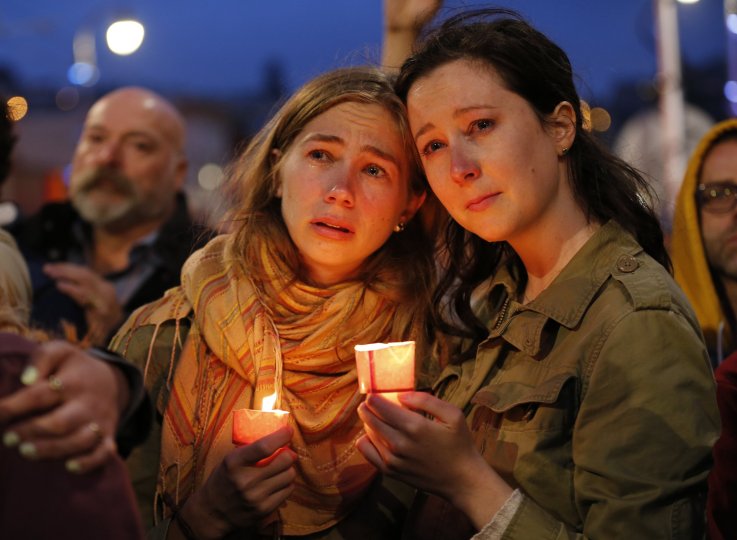 Security fears across the U.S. following the massacre in Orlando, Florida didn't prevent people from displaying their pride and their grief on Sunday and Monday.
Early on Sunday morning, a gunman opened fire in the Pulse nightclub in Orlando, killing 49 people and injuring 53 others, before being killed by police. Hours later, a heavily armed 20-year-old man who had explosives in his car was arrested in Santa Monica, California after claiming he wanted to "harm" the L.A. Pride Parade, part of the 46th annual Los Angeles Pride festival.
It later turned out that Santa Monica Chief Jacqueline Seabrooks, who initially tweeted out information about the alleged gunman, had received incorrect information; the suspect said he planned to attend the parade, but not inflict harm. Law enforcement at the local and federal levels ultimately decided against canceling the event, but security around the parade was increased, according to local media .
"We stand in solidarity with our community and grieve for the victims and families affected by this horrific and senseless act of violence," the festival said on Sunday via its Twitter account. A moment of silence was held during the parade on Sunday morning.
On the other side of the country, Boston also held its annual block parties held to celebrate LGBT pride month. At sites across Boston, a city that was touched by violent tragedy in 2013, security was also ramped up in response to the shooting in Orlando.
"Clearly this was a hate crime geared at the gay population, and we're going to make sure they are safe," said Boston Police Commissioner William B. Evans, who spoke during a scheduled counter-terrorism drill at Fenway Park.
Vigils were also held across the U.S., from the historic Stonewall Inn in New York City, the site of anti-LGBT riots in the 1960s, to San Diego.