Orlando Shooting Puts Spotlight on AR-15 Rifle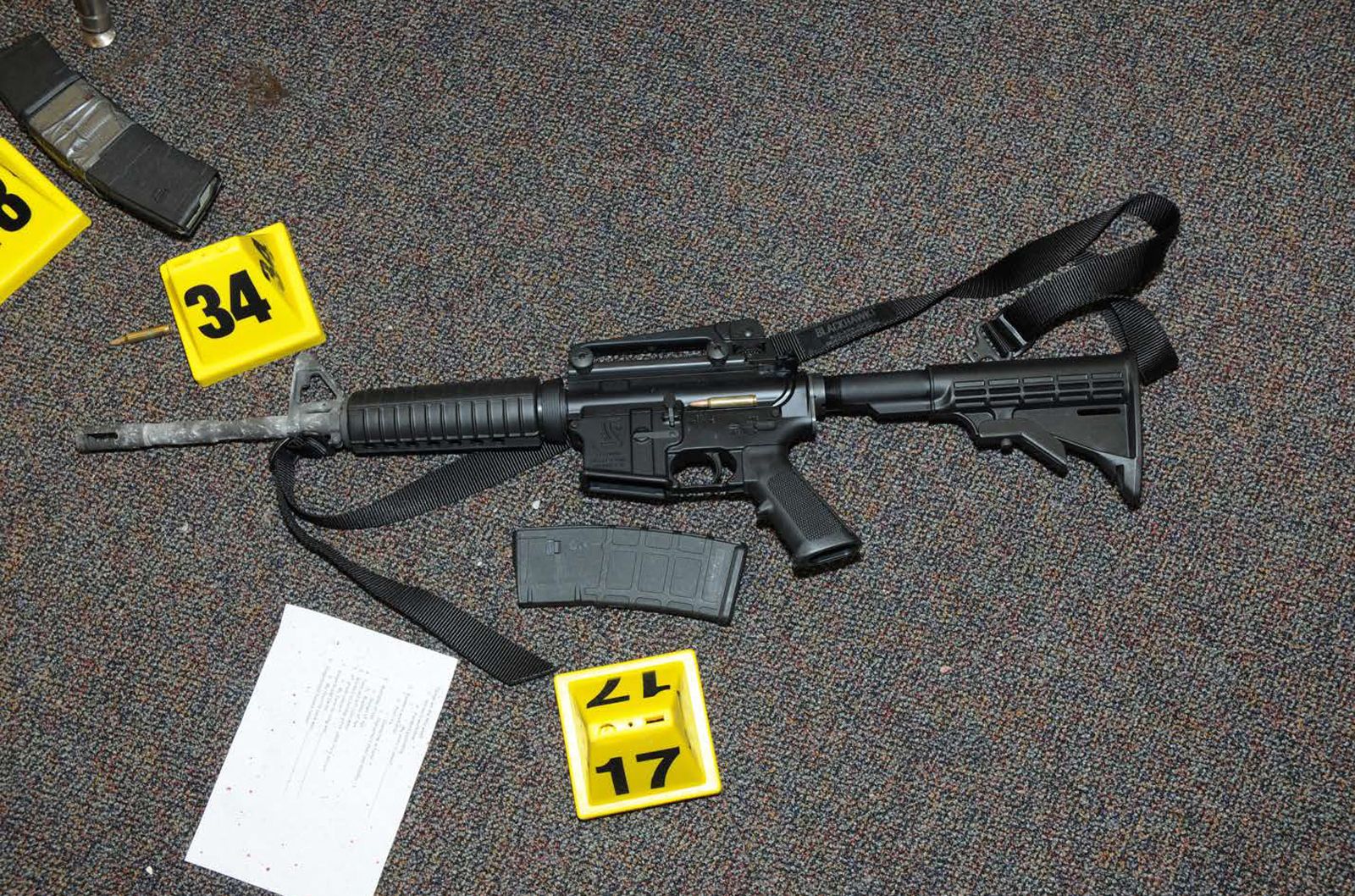 Updated | The National Rifle Association calls the AR-15 "the most popular rifle on the market today." It accounts for one-fourth of all rifles manufactured in the United States. And Americans acquire about a million new AR-15s every year to use for protection, marksmanship competitions and high-powered hunting, according to the NRA.
The AR-15-style rifle also is chosen by gunmen to carry out mass murders, most recently over the weekend at a gay nightclub in Orlando, Florida. Before that, it was used to kill 14 workers in December 2015 at a facility in San Bernardino, California; to kill 26 individuals in December 2012 at Sandy Hook Elementary School in Newtown, Connecticut; and to kill 14 moviegoers in July 2012 at a theater in Aurora, Colorado, to name just a few instances.
The Orlando tragedy—the country's worst mass shooting ever and its second-worst terrorist attack after September 11, 2001—quickly reignited the conversation about whether AR-15-style rifles should be sold to civilians, and put a spotlight on the legal efforts to ban it. The 29-year-old Florida gunman used two weapons to kill at least 49 victims, and injure another 53 more, early Sunday morning at Pulse, the targeted nightclub.
Photos: U.S. LGBT Pride Parades Go On After Orlando
The Bureau of Alcohol, Tobacco, Firearms and Explosives confirmed the shooter had carried a semiautomatic pistol and a ".223 caliber AR-type rifle," a weapon similar to the Bushmaster AR-15 semiautomatic rifle a gunman used to fatally shoot 20 first-graders and six educators—in less than five minutes—at Sandy Hook Elementary on December 14, 2012. The AR-15 is "designed to kill humans quickly and efficiently," according to the Law Center to Prevent Gun Violence. Sales of the weapon have spiked nationally in the wake of mass shootings.
"It is no wonder that this weapon was chosen by today's shooter, as it has been by so many before him and as it undoubtedly will be again," Josh Koskoff, a lawyer representing families affected by the Sandy Hook massacre, said in a statement Sunday. "It is the gold standard for killing the enemy in battle, just as it has become the gold standard for mass murder of innocent civilians."
Assault weapons are relatively new: During the 1980s, the gun industry sought to reverse a decline in consumer demand for firearms by developing and marketing new types of weapons based on military designs, including assault weapons, according to the Law Center. Later, beginning in 1994, a federal assault weapons ban was enacted. But since the law expired in 2004, gunmen have used such weapons to carry out massacres in a nightclub, church, schools and movie theaters. Only seven states—California, Connecticut, Hawaii, Maryland, Massachusetts, New Jersey and New York—and the District of Columbia have enacted laws banning assault weapons.
The Newtown shooter obtained the rifle from the Connecticut home he shared with his mother, whom he killed before the rampage. Prior to the massacre, the state's assault weapons law had a test that might have captured some of the AR-15 rifles, but likely let most of them slip through, according to the Law Center. The state changed its law in 2013, in the wake of the Sandy Hook Elementary shooting, to ban the AR-15 by name.
Florida has some of the weakest gun measures in the country. It received an "F"-grade and ranked 28th in the most recent annual state scorecard published in 2015 by the Law Center. Not only does Florida not require background checks on private gun sales, but it also doesn't regulate assault weapons or large capacity ammunition magazines.
Gun-control advocates are using the courts to take on the AR-15. Ten families affected by the Sandy Hook massacre are suing the maker, distributor and seller of the rifle in a Connecticut court, in an effort to hold the businesses accountable for the fatal shooting. Lawyers representing the families argue the rifle shouldn't have been entrusted to the general public because it is a military-style assault weapon that is unsuited for civilian use. They say the companies knew—or should have known—about the high risks posed by the rifle, including the ability for a shooter to use it to inflict maximum casualties and serious injury.
"The gun industry pretends the civilian AR-15 is vastly different than the military version, because it does not have select fire. This is a charade—the industry knows that the weapon is most lethal in semi-automatic, 'one shot-one kill' mode—yet these companies continue to sell it to civilians, abandoning reason in exchange for profit," said Koskoff.
In February, lawyers for the gun companies argued in court that their clients can't be sued for firearms used in crimes because they are protected under a 2005 federal shield law that provides gun businesses general immunity from civil lawsuits. But a Superior Court judge refused to dismiss the lawsuit, and the trial is planned for April 3, 2018. The shield law received some attention during the presidential primaries because independent Vermont Senator Bernie Sanders supported the legal protections for the industry, while Democratic front-runner Hillary Clinton opposed them.
Mark Barden, whose 7-year-old son, Daniel, died at Sandy Hook Elementary, called the AR-15 "an instrument of war, designed for the battlefield, that is sold and marketed to the general public." The 10 families suing the firearms companies highlight the businesses' careful marketing campaigns, including "consider your man-card reissued."
We've heard it before, both from President Barack Obama and gun-control activists: It's too easy for convicted felons, domestic abusers and others who pose a risk to public safety to get their hands on guns in the United States. "We make it very easy for individuals who are troubled or disturbed or want to engage in violent acts to get very powerful weapons very quickly, and that's a problem," Obama said Monday morning, following a meeting with counterterrorism officials in the wake of the Orlando massacre.
Much of the gun-safety movement is focused on pushing Congress to close loopholes that make it easy for so-called dangerous people, including individuals on suspected terrorist watch lists, to legally buy any type of gun. Authorities have said the suspect in the Orlando shooting—who was shot and killed by police—had been placed on such lists and was investigated by the FBI in recent years.
The Brady Campaign to Prevent Gun Violence works to extend background checks at the national level to all sales of firearms, including transactions at gun shows and on the Internet. Brady President Dan Gross on Monday said the group in recent years hasn't put banning assault rifles at the forefront of its policy push.
"We're focused on what we can do to prevent the most possible gun violence, and we are certain that the best way to do that is not by focusing on taking certain guns from all people. But what we agree on, which is keeping all guns away from certain people," he said.
Still, these kinds of weapons can escalate a shooting to cause mass casualties. A review of mass shootings between January 2009 and July 2015 by Everytown for Gun Safety found that incidents where high-capacity magazines—or assault weapons likely equipped with them—were used resulted in an average of 13 total people shot and about eight more killed, compared to other mass shootings.
In a speech to supporters Monday afternoon, Clinton, now the Democratic presumptive nominee who has made enacting stricter gun laws a major part of her campaign, demanded a solution to prevent individuals who pose a risk to public safety from accessing guns.
"I believe weapons of war have no place on our streets," Clinton said, simultaneously acknowledging that an assault weapons ban won't completely solve the problem. "That may not stop every shooting or every terrorist attack, but it will stop some and it will save lives."
Correction: A previous version of this article stated that the Orlando gunman chose the AR-15 rifle to carry out his attack. It has been updated to clarify that the shooter carried a .223 AR-style Sig Sauer MCX semiautomatic rifle.