Orrin Hatch Calls Christine Blasey Ford 'an Attractive Witness' and 'Pleasing' in Kavanaugh Hearing
During a break in the Senate Judiciary Committee hearing Thursday on allegations of sexual assault against Supreme Court nominee Brett Kavanaugh, Republican Senator Orrin Hatch described Christine Blasey Ford—the woman making the allegations—as "an attractive witness."
"I don't think she's uncredible. I think she an attractive, good witness," Hatch said. Asked to clarify what he meant, senator of Utah added, "In other words, she's pleasing."
It struck some as an odd choice of words, considering the gravity of the allegations being made by Ford.
The senator's communications director came to his defense. Matt Whitlock tweeted: "Hatch uses 'attractive' to describe personalities, not appearances. If you search his past quotes, you'll see he's used it consistently for years for men and women he believed has compelling personalities."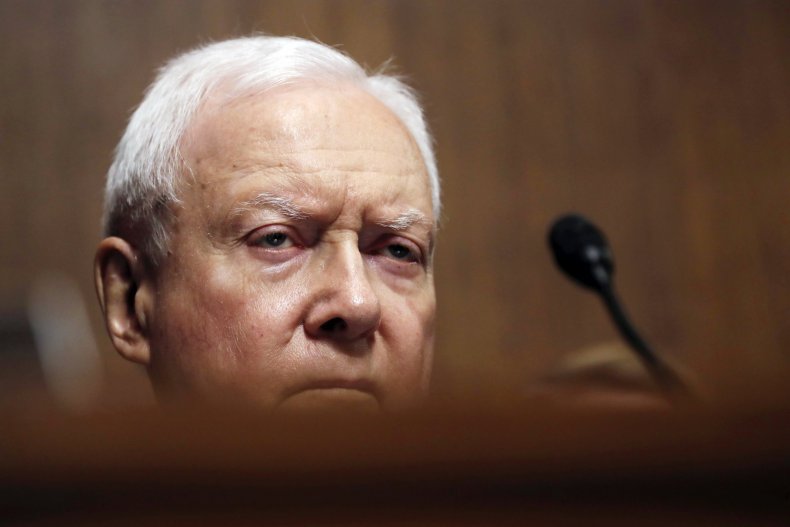 Ford's testimony at the hearing was emotional as she went over the alleged attempted rape at a party when she and the future judge were in high school outside of Washington, D.C. Tearing up, she said she most vividly recalled Kavanaugh and his friend, Mark Judge, and "the uproarious laughter between the two, and their having fun at my expense. I was underneath one of them as they laughed, two friends having a really good time with one another."
In her written testimony, Ford recalled the details of the alleged incident that she said had a lasting impact on her life.
"I believed he was going to rape me," the testimony read. "I tried to yell for help. When I did, Brett put his hand over my mouth to stop me from screaming. This was what terrified me the most, and has had the most lasting impact on my life. It was hard for me to breathe, and I thought that Brett was accidentally going to kill me."
Before the hearing, Hatch questioned Ford's credibility, saying she was "mixed up."
"The judge, who I know very, very well [and] is an honest man said this didn't happen," Hatch said, according to The Hill.
The hearing on Thursday was being closely watched by much of the country and carried tremendous weight. Senate Republicans have a vote scheduled for Kavanaugh's nomination on Friday.
Update: This story was updated to include further comments from Orrin Hatch.