Orson Welles Film 'Chimes at Midnight' Is Ringing In a New Era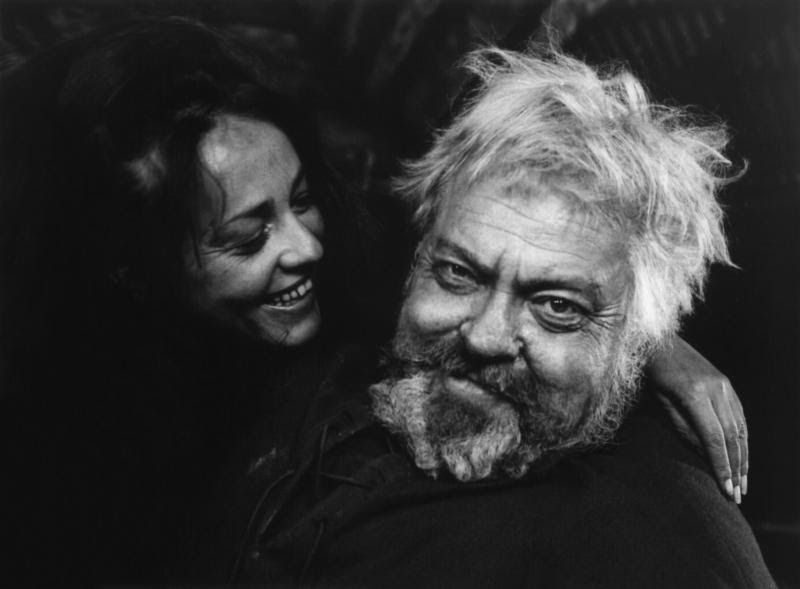 It's high time that Orson Welles's late-career Shakespearean superflick Chimes at Midnight be given some recognition. A mostly forgotten drama in the Welles canon (it was a Cannes pick but widely panned in the U.S.), the 1966 film sees the auteur attempting to honor an underrated Shakespearean figure: Sir John Falstaff, a great comedic character who appears in Henry IV, Part I and Part II, The Merry Wives of Windsor, Richard II and Henry V. Welles, who plays the lamentable Falstaff with sincerity and swarthiness in equal measure (for measure), also directed the film, wrote the screenplay and contributed production design. It's a triumph in no small part because the loyal Falstaff seems worlds away from the the brooding genius behind Citizen Kane, a man also known for his infamous doomsday broadcast War of the Worlds.
But it's in this film, rolled out recently in the U.S. 50 years after its initial release, that Welles actually may have come closest to an autobiographical on-screen performance. For instance, Welles and Falstaff certainly share a penchant for wheelings and dealings. One is never quite sure who the cunning Falstaff might try to forge an alliance with in Chimes. Welles, meanwhile, sweet-talked a Spanish producer into financing the independently made film, even going so far as agreeing in exchange to direct an adaptation of Robert Louis Stevenson's Treasure Island and to play Long John Silver, according to NPR. (He never intended to do so, and got away with making it a short.)
Francois Truffaut once astutely noted that Welles's films centered on "weakness of the strong." And like the bumbling, big-hearted man he plays in Chimes at Midnight, Welles fancied himself a well-meaning cinema giant whose great insecurity stemmed from feeling betrayed by the business. After briefly rubbing elbows with Hollywood's finest, he was just as quickly painted as a bloated has-been in the time that followed the glory days of Touch of Evil and The Magnificent Ambersons. It's not that far removed from the wrenching betrayal Falstaff experiences in the film from his childhood friend, Prince Hal. One can easily imagine the prince (by then crowned King Henry V) as a mouthpiece for a Hollywood producer, telling Welles: "Know that I am no longer the man I was."
Welles boasts several Shakespearean adaptations in his canon, including Macbeth (1948) and Othello (1952). He was a Shakespeare fan practically from birth: The family story goes that Welles at the tender age of 2 pleaded with his mother to read him a meaty, unabridged version of Shakespearean plays instead of the watered-down children's version. As a teenager and burgeoning young actor at the Todd Seminary for Boys in Illinois, Welles took on the mighty task of attempting to consolidate eight of his beloved Shakespearean histories into one sort of super-play—something of a predecessor to Chimes at Midnight, which also drew from a hodgepodge of Shakespeare's histories. It was also as a teenager that he first encountered his mentor, muse and monster, Falstaff.
Convinced that there was more to Falstaff than the few lines of comic relief Shakespeare allotted him in his plays, Welles sought to make him a more visible presence on the stage. Welles reprised the character in the late 1930s during a stint with the Theatre Guild, in an ambitious play titled Five Kings, and again in 1960, when he put on a stage version of Chimes at Midnight throughout Ireland. Welles's niche fascination with Falstaff eventually morphed into the film adaptation of Chimes, which draws its title from a line uttered by its hero in Henry IV, Part I.
Chimes is one of the last films Welles would make before his death from a heart attack in 1985, and certainly one of his most grandiose. Yet it isn't that different from the ones that made him a household name and onetime Hollywood staple. The period piece centers on an England poised to make the transition from the medieval era into the Renaissance—at the time, he said it sought to depict "the death of Merrie England" with the demise of "chivalry" and "simplicity" in the name of artistic and social progress. It's at once an embittered lament and a poignant elegy, much like his masterwork Citizen Kane, which muses on a lost time. If Welles were alive today, he'd probably be in post-production for a film that waxed on the lost simplicity of snail mail in a time text messaging.
Whether Chimes is the masterpiece Welles believed it was remains up for debate. But it is an unlikely and profound Shakespearean film, in that it won't confound those who coasted through high school thanks to "No Fear Shakespeare" even as it won't likely anger Shakespeare purists. Despite the generous melding of plots, lines and sensibilities from Shakespeare's arguably densest plays, the black-and-white picture is still a stunningly original watch. This is partially because Chimes moves at an unusually fast pace, especially given Shakespeare's penchant for slow-burning plots.
It also flexes some sophisticated camera work, with handheld shots deliberately placed far below eye level, and it trades long shots for quick cuts and interplays fast and slow motion during a climactic Battle of Shrewsbury scene (said to later inspire the battle sequences in war standards Braveheart and Saving Private Ryan). What anchors Chimes, though, is Welles's staggeringly expressive performance. In it, our hearty hero breaks hearts and cracks wise, and brushes off insults like "your means are slender and your waist great" with panache. If Welles had been silent throughout the entirety of the film, he'd still find ways to make audiences gasp.
Why revisit this film now? For one thing, there's a renewed interest in Welles, whose centennial was celebrated in May 2015. But it's also in no small part due to the efforts of the arthouse distributor that released Chimes, Janus Films, which tasked itself with the challenge of resuscitating long-lost cinematic gems and ushering people back into the theater along with them. Last year, the distribution company released the acclaimed documentary A Poem is a Naked Person, a Les Blank gem from 1974 that is loosely about the country singer Leon Russell while also being a meditation on how the stories behind movie-making are often far stranger and more compelling than what's shown on the silver screen.
While it was received relatively well in Europe and screened at Cannes upon its release, Chimes received a scathing review from the acid-tongued Bosley Crowther of The New York Times, who wrote that the film "is a big, squashy, tatterdemalion show, and it has no business intruding so brashly in the serious Shakespearean affairs of the Lancasters, the Percies and the Mortimers, which Mr. Welles does get to from time to time in this freely selected composite of scenes from Shakespeare, as it were." While it's unclear if Crowther's review contributed to the film's short run in the U.S., it's worth noting that it didn't see a wide release of any kind.
Bickering over rights kept the film from being released on home video and, later, DVD. And so Chimes at Midnight never really saw much of the light of day until being resurrected 50 years later—now, to critical acclaim. It's not too late to ring in the New Year by catching a screening: Chimes at Midnight is at New York's Film Forum until January 12.