Orszag Departure Would Leave Economic Void at White House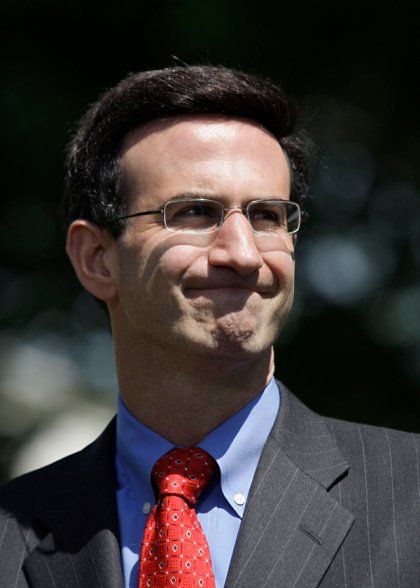 White House budget director Peter Orszag's reported plans to step down from his post in July will likely trigger a contentious scramble to replace him amid widespread concern over America's sluggish economy and $1.6 trillion deficit.
The 41-year-old's achievements as director of the Office of Management and Budget include advancing President Obama's economic-stimulus program and health-care reform, as well as the administration's first two spending blueprints.
While Orszag is not exactly a household name, he is something of a celebrity inside the D.C. Beltway (and, among other things, surely the first ever OMB chief to inspire his own fan site; evocatively titled Orszagasm with the tagline "Putting the OMG back into the OMB"). Rumors of his departure—which would represent the first from President Obama's cabinet—have been building for some time. He is getting married in September and is reportedly keen to leave enough time for his successor to organize President Obama's next budget in February.
Orszag's office has not publicly confirmed the reports. "Peter's focused on his work, not on Washington speculation," said his spokesman, Kenneth Baer.
But that hasn't slowed the buzz about his replacement. Names being floated include Laura Tyson, a director of the National Economic Council under President Clinton; Rob Nabors, a former OMB deputy director now working for White House chief of staff Rahm Emanuel; and Gene Sperling, currently an adviser to Treasury Secretary Tim Geithner. Check out The Washington Post's Federal Eye for the early-form guide.
Whoever it is, President Obama's nominee is likely to face a brutal confirmation process given the rapidly approaching congressional elections, the hyperpolarized atmosphere on Capitol Hill, and public concerns about the deficit and economy in general. The American Prospect's Tim Fernholz calls it "the perfect stage for political showboating."
Though it is not unusual for OMB directors to serve for only a couple of years, Orszag's departure will leave a vacuum on Obama's economic team. Ironically, after presiding over big-spending programs that have been pilloried by Republicans, Orszag had switched in recent months to become an advocate for fiscal restraint (as opposed to more stimulus spending). The bipartisan debt-reduction commission that Orszag championed is due to report in December— by which time the man himself will likely be long gone.